What Is the Halo Effect :10 Ways It Affects Your Relationship
What is one of the most fundamental aspects of being human? Having imperfections or flaws. This is the one undeniable part of being human.
The fact that human beings are beautifully flawed is what makes being human so unique. Every individual is unique. And therefore, every romantic relationship (as it involves two imperfect individuals) is unique.
But what is the halo effect then? How does it play into the fact that humans are flawed creatures?
Well, romantic relationships or marriages aren't evenly or perfectly formed.
Why?
Human beings are a blend of their unique personality traits, quirks, flaws, vulnerabilities, strengths, and triggers.
So, human beings cannot love in equal measure. A lot of partners in a romantic relationship feel that they love their beloved more than their beloved loves them.
Here is where the question: what is the halo effect becomes significant.
Yes, maybe your curiosity has been peaked by now about what is the halo effect, right? Or maybe you agreed to the idea that you feel like you love your significant other more than they love you?
Don't worry.
Let's navigate our way through understanding what is the halo effect, real-life examples of this unique effect, how human beings are impacted by the halo effect (with an emphasis on love life), and how people can protect themselves from this effect.
Halo effect: What is it?
Let's begin by answering the question: what is the halo effect?
The halo effect is a concept that falls under the domain of social psychology. To understand halo effect psychology, it's important to understand the meaning of cognitive bias.
The halo effect is a type of cognitive bias wherein you may be strongly influenced by your idealized views of an individual.
When you find a trait or characteristic (so it could be a physical characteristic or an aspect of the other person's personality) so attractive or appealing that your overall evaluation of that person is positive, it is called the halo effect.
Let's focus on the halo effect in relationships. Putting a halo on your beloved means that you'll be prone to only seeing the good in your beloved's actions, thoughts, emotional reactions, and behaviors.
Although it's alright to adore your girlfriend, boyfriend, spouse, or partner, it's important to understand what is the halo effect because this bias potentially blinds you to the flaws of your partner.
That's why understanding halo effect is important.
Halo effect: Examples in real life
Now that you're well-acquainted with what is the halo effect, let's look into some halo effect examples.
When it comes to pointing out some real-life instances of the halo error to understand what is the halo effect, different domains can be considered. These include interpretation of health, relationships, workplace recruitment, etc.
When it comes to recruitment in the workplace, a recruiter, while going through a candidate's resume, may notice a credential or skill that is very appealing. Owing to the halo error, the recruiter may, therefore, make a snap judgment that this candidate is perfect for the job.
So, during the interview, the recruiter may only ask questions (to the candidate) that validate their judgment of the candidate. Questions that can potentially challenge the candidate may be avoided.
With respect to the interpretation of health, you may perceive a person who is slim to be very fit and healthy just because they're slim. When in reality, that person could be dealing with different mental health issues, poor eating habits, unhealthy sleeping patterns, and so on.
A halo effect example in relationships would be the phenomenon of love at first sight. Say you suddenly come across a man who is very handsome and tall. You may fall for him just based on the physical attractiveness of that person without considering his character.
The halo effect: How it's affecting your romantic relationship
Examples of halo effect have been covered. Now let's delve into how the halo effect is ruining your love life (potentially).
A big part of understanding what is the halo effect is understanding and acknowledging the harmful ways in which it may shape your romantic relationship.
1. A judgment, once made is difficult to modify
That's just the peculiar thing about making judgments in life. It's a solidification of your opinion. So, in matters involving your feelings, when you make hasty judgments about your significant other, you'll struggle to acknowledge that your evaluation of that person may have been inaccurate.
2. Love based on physical attractiveness
An essential part of understanding what is the halo effect in romantic relationships is understanding that it is largely based on the physical attractiveness of your partner.
People who are attractive are just easier to forgive. It's easier to overlook or forgive the unhealthy behaviors or actions of that person. So, you risk being stuck in a romantic relationship with a person who isn't a match for you.
Here's a take on the halo effect and attractiveness:
3. Inappropriate rationalization of the imperfections
When you slowly start realizing that your partner who you've idealized isn't so perfect, you end up trying to find explanations to justify their behavior or actions. What you're actually doing is attempting to validate your initial judgments about your beloved.
4. Feeling like there's inadequate reciprocation
When you give into the halo error, you find yourself spending a lot of your energy and time glorifying and appreciating your beloved. You acknowledge their positive traits and you probably overdo it.
However, you may find that your significant other doesn't do this for you. So, you may feel inferior in the relationship.
5. 'Real' dangers of getting exploited
Due to the halo error, you may often end up ignoring signs that indicate that the person you're attracted to isn't what they seem. This can cause you to end up in situations where you get exploited without being aware of the same.
6. Connecting with 'wrong' people
If you're attracted to someone because of the halo error, as mentioned earlier, you end up looking for ways or explanations to justify their wrongdoings or unacceptable behaviors. Owing to this, you may end up connecting with the wrong people.
7. Black and white perception of the world
Relationships established based on the halo error are often very black and white. There is no space for reconsideration of judgments. For a while, you may only be focusing on the positive attributes of your beloved (white) and then suddenly find yourself hyper-focused on their negative attributes (black).
8. No space for any benefit of the doubt
In the halo error, when you finally realize that the person you're attracted to is far from what they had been idealized to be, it can be shocking. It's difficult to acknowledge. Therefore, you may end up not giving any benefit of the doubt to your beloved.
9. Feelings of frustration
When you're exposed to the reality of the relationship where you're forced to acknowledge that your initial judgment about the person of interest was not accurate. This can make you feel extremely frustrated.
10. Regret
Often, a common consequence along with frustration when acknowledging the flaws and red flags of your beloved is the feeling of regret. You may regret your attraction or the relationship altogether.
The halo error: how to overcome this?
You know what is the halo effect and you've understood its potential impact on your romantic relationship. So, now you're probably wondering how you can overcome the halo effect or protect yourself from the halo error, right?
It's a simple 3-step process.
The steps are:
Step 1: Be aware
Working on your awareness is the first step in combating judgment errors. Remember that judging a person solely based on your first impression of them can have harmful consequences.
Remind yourself of these harmful effects like being exploited, regret, frustration, inviting the company of people who aren't a match for you, and so on.
Step 2: Pace yourself
Pacing the speed of your decision-making or judgment formation deliberately is important. Remind yourself: "Hold on, slow down. You're rushing again. So, don't do it!".
If you'd drop the L bomb on the first or second date and jump into a romantic relationship previously, then don't do that anymore. Just slow down. Go on multiple dates (in different settings) and then decide whether a relationship is favorable or not.
Step 3: Be systematic
A systematic approach for romantic relationships may seem strange to you. But it's the best way to apply one's analytical reasoning skills. Come up with your list of absolutely unacceptable attributes (the no-no's) and the must-haves.
For instance, if you're an ally or a member of the LGBTQIA+ community, then if you see that your date is making jokes or unfavorable comments about the community, then your date probably isn't a match for you.
Conclusion
Considering the unconscious nature of cognitive biases, if you're struggling to overcome the halo effect in communication or romance, you may consider counseling or doing a course on combating this bias.
Share this article on
Want to have a happier, healthier marriage?
If you feel disconnected or frustrated about the state of your marriage but want to avoid separation and/or divorce, the marriage.com course meant for married couples is an excellent resource to help you overcome the most challenging aspects of being married.
Learn More On This Topic
You May Also Like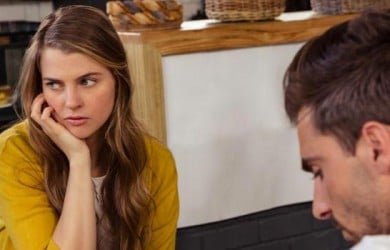 Popular Topics On Married Life