The Anatomy of a Bad Marriage- What to Do If You're in One
There is a great, a mediocre, and a bad marriage. And what's interesting is, you might even not know which one you have. This is because when two people are deeply involved, emotionally, physically, and in your plans for the future, you tend to lose the objectivity. This is normal.
But, in cases of a truly destructive relationship, or simply a bad case of marriage, you do need to regain the insight into what's happening. Because a bad marriage can mean a bad life.
This article will help you understand all there is to know about bad marriages and what to do about them.
What bad marriage is and what Isn't
All marriages hit a rough patch here and there. Every relationship is sometimes tainted by harsh words or inadequate emotional interaction. There is always something that the couple is not happy about, and you can expect an insult or a silent treatment to happen from time to time.
There can be infidelity also in all those decades that you will spend together. But, all of this doesn't mean that you're in a bad marriage, not at all. This only means you and your spouse are human.
But, the "symptoms" of a bad marriage do include all of the above. The difference is in their severity and frequency, especially compared to the rest of the relationship.
A bad marriage is the one in which one or both partners repeatedly engage in toxic behaviors, with no real effort to change.
In other words, a bad marriage is entwined with all what a trusting relationship shouldn't be about.
It's a marriage in which there is physical, emotional, sexual, or verbal abuse. There are repeated infidelities, and they aren't followed by a genuine effort to mend the damage or to quit. The partners communicate in a non-assertive manner, insults are on a daily menu, there is a lot of toxic exchanges.
A bad marriage is often burdened by addictions and all the consequences of this disorder.
A bad marriage is one in which there is no true partnership, rather a maladaptive cohabitation.
Why people stay in a bad marriage?
There is no simple answer to this question, especially if you were to ask such a person. One of the main emotions one experiences, when they deliberate upon whether or not to abandon the sinking ship, is fear.
Fear of change, of the unknown, and a more practical anxiety regarding how they will manage financially and with all that comes with a divorce. But, this is a shared feeling for everyone who gets a divorce.
What is special about people who stay in bad marriages is the strong psychological association with the relationship and the spouse, even when it is a highly toxic one. To the point of an addiction. As we said at the beginning of this article, some might even not be aware of how bad their marriage is.
This usually happens because of codependency that develops in an unhealthy marriage. How it occurs can't be explained succinctly, but in essence, two people enter a relationship with predispositions to develop a harmful relationship, mostly due to their childhood experience of the world around them and the world of romance.
If these wrong tendencies aren't taken care of with a help of a professional, the two tend to form a very venomous relationship that is bound to result in a hurt, suffering, and a lack of meaning.
How to leave a bad marriage?
Leaving a bad marriage can be extremely difficult. Adding to the many issues that arise with codependency in a psychological sense, there are also practical issues that hinder the needed separation.
In toxic marriages, one or both partners tend to be extremely manipulative, especially emotionally manipulative. This skews the perspective and thus, the plans for the future life. Furthermore, the submissive partner (or both) usually become very secluded and have little to no support from the outside.
This is why you need to start building your support system. Open up to your friends and family about what's been going up in your life. You'll be surprised by how much empowerment you will receive with this step alone.
Then, regain your energy, and direct it towards something that is healthy for you. Get back to the things you love to do, find hobbies, read, study, garden, whatever makes YOU happy.
However, for the majority of those who are stuck in a bad marriage, this isn't enough. They are so deeply entrenched in the ways of their relationship that they need support from a professional.
So, don't be ashamed to seek help from a psychotherapist, as this is the beginning of your new, healthy life, and you deserve all the assistance you can get.
Share this article on
Want to have a happier, healthier marriage?
If you feel disconnected or frustrated about the state of your marriage but want to avoid separation and/or divorce, the marriage.com course meant for married couples is an excellent resource to help you overcome the most challenging aspects of being married.
More On This Topic
You May Also Like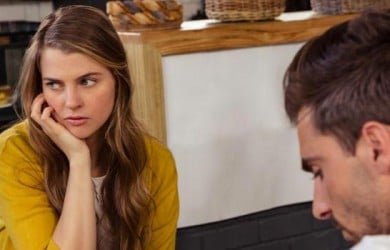 Popular Topics On Married Life