How to Rewire Your Brain and Rekindle Your Marriage
How you can repair hurt, anger, and breaches of trust by changing your narrative.
I've been where you are right now, on the verge of divorce, lying awake at night asking myself, "Is this it?"
I've been stuck in the cycle of anger, blame, arguments, threats, and withdrawal. I remember having the same fights over and over again, asking for the same things, and gaining no traction. I was frustrated, angry, and starving for affection.
For me, these issues, combined with my former husband's inability to be faithful, led to divorce. But for you…It doesn't have to be this way.
Get real and raw with me for a moment: if you are not in physical or emotional danger, your marriage is worth fighting for.
Everything worth pursuing requires effort, framework, and strategy.
Organizations at risk of losing significant employees do everything in their power to accommodate their framework to keep those employees.
Sports teams shift their strategies and double their efforts to recruit and retain key players. It shouldn't be any different to rekindle your marriage.
Did you know you can rewire your brain for love and rekindle your marriage by combining neuroscience and cognitive behavior therapy?
Also watch:
It's true! I've seen clients mend their marriages using several strategies and modalities; I'll share a few ways to reinvent your marriage and get your marriage back on track :
Rewire the brain
Your brain is capable of rewiring in response to both negative and positive stimuli.
Stress and conflict negatively affect brain function and structure and can even change your biochemistry.
However, mindful meditation combined with emotional and physical habits and intentionality can help you stop with the negative thoughts, rewrite your vocabulary with empowering language and change the way your brain responds to stimuli.
Rewiring the brain takes discipline and commitment, but it's the first step in healing a marriage. I try to take some of that stress away from my clients by guiding them as they learn these techniques.
Release old patterns
If you struggle to be vulnerable with your partner, you're probably stuck in patterns of denying and storing emotions.
When you suppress your emotions, you literally alter your brain, teaching it to associate healthy emotions with pain.
The good news is, facing your vulnerability can literally rewire your brain to think and feel differently.
When you rewire your brain, you're able to think clearer, which means you'll have an increased awareness of the habits you practice every day that are actually damaging to your marriage.
Become conscious of the habits that don't actually serve you, and decide to release them while your partner does the same.
In order to create new patterns, you'll have to set up a structure that supports them and will support them every time you slide back into bad habits.
What surroundings and triggers do you need to remove so you can move forward? What patterns perpetually put you back in the cycle of anger and blame?
Don't allow your emotions to dictate your growth; recognize them, release them, find a stronger connection to your partner, and rekindle your marriage.
Reduce negative emotions
Our thoughts trigger our emotions. Our daily thinking patterns lay the stage for what we believe and how we live our life.
In relationships, when we feel exposed, we become stressed or fearful and move towards negative thinking and withdrawal.
Try to notice when your thoughts lead you to shut down emotionally, and take time to reflect on those thoughts; are they based on reality or assumptions?
When you're conscious of your mind and body balance, and you feel secure, you begin to deactivate your fear center, which allows you and your partner to build trust and vulnerability with one another.
Releasing negative emotions like anger, blame, suspicion, and doubt frees up space for healthy emotion regulation. Replace those emotions with gratitude and affirmation.
Studies conducted to realize the positives of negative emotions suggested that how negative emotions promote a relationship and give way to positive emotions.
To rekindle your marriage, you must become a champion for yourself and your partner.
Reinvent your narrative
If your marriage has been on the rocks for a while, think back to who you used to be as a couple and what you like about those people.
Now think about your ideal version of yourselves as one unit – where you'd like to go together.
Assess how you've been feeling and acting, what changes you want to make, and how you can make them.
Change happens when you show up, you're willing to be vulnerable, and you're willing to reinvent your story.
It's normal to seek attention and validation in your marriage. Humans are born wired for connection – it's in our DNA. The truth is, physical, emotional, and mental connection is vital to our survival and our flourishing.
Human connection releases dopamine into the brain and makes us happy, boosts our self-esteem, and gives our life meaning.
You knew that when you were head-over-heels in love with your partner, but now? Now you're not so sure. You've simply forgotten why you said "I do" in the first place.
Whether you're teetering on the verge of an affair, or even had one (or two), deep down your subconscious desire is to reconnect to the person you married and get back to your "why."
It may be that you're stuck on the hamster wheel of repetitive arguing, or maybe there's so much unresolved anger that you don't know how to handle the issues anymore.
You'll be heading down the divorce path if you don't do something fast.
Your mental and physical health is determined by your mindset and perception. If you see your marriage failing, and that's all you can see, that will become your reality.
But if you choose to look at your relationship with hope and gratitude, you can rekindle your marriage.
Brain rewiring is much different than therapy and can help you repair hurt, anger, lack of communication, breaches of trust, or disconnection rapidly and efficiently. You just have to show up and put in the work.
Your marriage is worth fighting for. And yeah, to rekindle your marriage, it will take all of your energy, determination, time, and emotional capacity to fix all the broken pieces.
But when it comes to your marriage, you can rebuild, reinvent, and reemerge.
Share this article on
Want to have a happier, healthier marriage?
If you feel disconnected or frustrated about the state of your marriage but want to avoid separation and/or divorce, the marriage.com course meant for married couples is an excellent resource to help you overcome the most challenging aspects of being married.
Learn More On This Topic
You May Also Like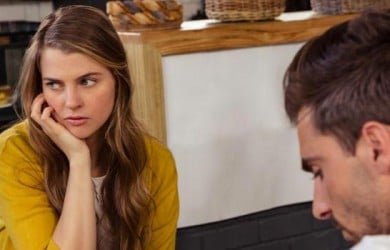 Popular Topics On Married Life