How Can Couples Nurture Their Inner Child for a Healthy Marriage
The scripture, "The two shall become one flesh," suggest that couples put their natural, physical, and worldly resources together to effectively live in this world as a unit. Not that we are to negate the true essence of who we are, but to collaboratively live in love and harmony with one another is a challenge.

An important issue worthy to discuss is the idea of the inner child. You and your inner child, plus your spouse and their inner child makes four entities!
Our inner child holds all our painful past experiences
The inner child (subconscious thoughts), holds all our painful past experiences. It has recorded everything, especially the feelings the experience caused. If we have not healed, and nurtured the wounded inner child, this child will ruin and sabotage our adult lives!
For example, if a child believed he was not important because he received less attention than his siblings, this same inner child may be triggered and reacts in marriage when the spouse "seemingly," pays more attention to the new baby.
Furthermore, imagine a child that has been placed in several foster homes. As soon as the child begins to attach and connect, they are often uprooted and placed into another home. The adult's inner child may feel insecure in healthy relationships and may sabotage a good marriage to protect their wellbeing.
Open and honest communication is vital to address any unmet needs, and familiar feelings of the past. This will help your spouse to gain a better understanding of you and will assist him or her in meeting the need.
For a healthy marriage, you should know who you have on a deeper level
Although many people are initially attracted to physical appearance, it is truly what is on the inside, that will determine happiness, and longevity of the marriage.
It has been said, "attitude determines altitude," such is true in any relationship. Either your attitude will construct, or destruct! Therefore, it is crucial that couples are not functioning from a place of pain, but wholeness and wellness!
In marriage, we take vows to commit in sickness and health, accepting the totality of our spouse, inner child, adult self.
It is not unconditional love if we have only fallen in love with the beautiful person on the outside and negate the broken, hurting a child on the inside.
Consequently, in order to obtain and maintain a healthy fruitful marriage couple must develop patience, understanding, and unconditional love.
Merely stating faults will exacerbate your spouse's pain
Open communication with love is the first step in helping your spouse in identifying any root issues that he or she may not be aware of. It is vital that your spouse understands that your love is unconditional and that you are not merely stating faults.
Merely stating faults will only cause your spouse to confirm messages of the past, exacerbating their subconscious pain.
It is also of extreme importance that you are constantly identifying your own triggers, and to be open for constructive criticism from your spouse so that you are can bring healing to the pain of your past.
The message of love is conducive in inspiring a better version of self
When we demonstrate unconditional love and support, it sends the message of love! When we perceive that our spouse loves us beyond our shortcomings, it enables us to be more transparent and trusting. The message of love is conducive in inspiring a better version of self; hence a healthier, stronger, closer marriage!
Of course, no marriage is perfect; but once we gain an understanding, and awareness of self and your partner, it not only reduces arguments, but it increases empathy, and forgiveness.
As you can see, there are many steps to fully accepting and embracing your spouse, but when we begin to see the cracks in our own vessel, it helps us to extend grace to others and make way for a strong, healthy marriage.
Whether or not your inner child is healthy, 'the four shall become one!' In other words, your spouse married all of who you are, the good, the bad, the ugly.
However, you get to decide what type of marriage you want. You can become a better version of yourself and catapult your spouse into becoming a better version of themselves, by fully embracing, accepting, and working together to live in peace and harmony, functioning as a unit. Taking this step is the pathway to building a healthy marriage.
I will leave you with my motto: "Whatever you don't address, you give permission to exist!"
Share this article on
Want to have a happier, healthier marriage?
If you feel disconnected or frustrated about the state of your marriage but want to avoid separation and/or divorce, the marriage.com course meant for married couples is an excellent resource to help you overcome the most challenging aspects of being married.
More On This Topic
You May Also Like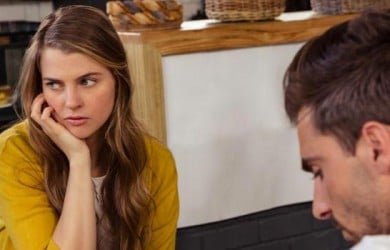 Popular Topics On Married Life