Meeting a Good Guy After a Toxic Relationship
Toxic relationships are incredibly damaging to your self esteem. Moving away from a toxic relationship takes courage. All that drama, shouting, sarcasm and disagreements take their toll. You might feel like you have to walk on eggshells all the time because for a while you did.
Toxic relationships can even feel strangely addictive at times. Sometimes it seems like all the nastiness brings a certain excitement with it. Deep down you know it's not healthy, but be gentle with yourself if you feel the pattern of addiction to the relationship. The highs of a toxic relationship can seem as wonderful as the lows are awful.
Being in a toxic relationship affects your future relationships, but it is possible to heal and have a wonderful connection with another partner. Here are 10 things that happen when you meet a good guy after a toxic relationship.
1. You think it's too good to be true
It's hard to trust at first after being in an unhealthy relationship. You might find yourself thinking that it's too good to be true, and wondering when the other shoe will drop.
This is completely normal. Unhealthy partnerships make it hard to trust yourself – or anyone else. You'll question yourself, and your new partner, a lot. Take your time and be kind to yourself.
2. You over-analyze everything
To begin with, you'll assume that everything has an ulterior motive. If they don't call for two days, you'll assume they don't want to see you anymore. If they seem quiet, you'll assume they're angry with you.
If you feel comfortable, let your new partner know why you have difficulty trusting them, so you can work through it together at your own pace.
3. You expect fights
If you've been in a toxic relationship, you're used to fighting all the time. We're willing to bet you found yourself fighting over the smallest, pettiest things, while big fights quickly turned ugly and painful.
All couples fight sometimes, but in a healthy relationship, the times when you're not fighting outnumber the arguments by a big margin.
It will take time, but you'll learn that there isn't always a fight on the horizon, and you can disagree without it turning into a huge falling out.
4. You apologize too often
Sometimes the only way to diffuse the fights in a toxic relationship is to apologize. This is especially true if your partner was emotionally abusive and turned their anger on you at the drop of a hat.
Your new partner might wonder why you apologize so much. Let them know that you're working on some stuff from the past. In time you'll learn that you don't need to apologize for everything.
5. You doubt what they say
Promises to change, or always be there for you? Chances are you've heard them before – and they weren't kept! When you've been in a toxic relationship, it's hard to trust what your partner says.
There's no quick fix, but as time passes and you see that they mean what they say, you'll feel more comfortable. You can even journal about your feelings and about all the times they've kept their word, to help you move forward.
6. You experience unknown feelings
Toxic relationships are frequently filled with dread, anxiety, and fear. When you're in a healthy relationship you'll find yourself feeling new things – peace, comfort, acceptance, and safety.
Let yourself enjoy it and in time those good feelings will become the norm.
7. You get the space you need
Being in a healthy relationship gives you the space you need to experience a positive, nurturing connection.
Don't rush your new relationship – appreciate the change in atmosphere, and let yourself enjoy having a healthy connection to another person.
8. You start to forget your ex
At first, it can feel like you'll never forget what your ex put you through. Truthfully, some of the scars will stay with you, and you will still remember the relationship from time to time.
However, as time passes you'll think about your ex less and less and find yourself living in the moment.
9. You learn what it's like to be loved for who you are
When you're in a toxic relationship, you never feel good enough. It seems like there's something wrong with you, and if you could just fix it, things would be better.
It's both strange and liberating to realize that you were never the problem. Now you can relax and enjoy being loved for exactly who you are.
10. You learn to trust yourself and your new partner
It takes time, but you will learn to trust yourself and your feelings about your new partner. You'll also learn to trust them. You'll know that when they make a promise, they mean it, and when you disagree you can do so safely while still respecting each other.
Hang in there – this last stage is worth waiting for.
Toxic relationships are damaging, but there is hope. Having a toxic relationship in your past doesn't stop you having a warm, supportive relationship in the future.
Share this article on
Want to have a happier, healthier marriage?
If you feel disconnected or frustrated about the state of your marriage but want to avoid separation and/or divorce, the marriage.com course meant for married couples is an excellent resource to help you overcome the most challenging aspects of being married.
More On This Topic
You May Also Like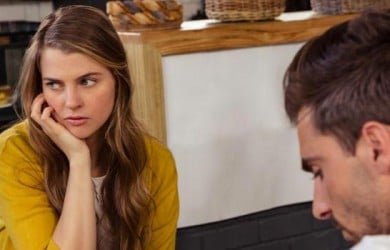 Popular Topics On Married Life