6 Reasons Why Marrying an Older Woman Can Be Surprisingly Rewarding
Marrying an older woman may not necessarily be a common decision in today's society, but it doesn't mean that it's not a rewarding decision.
Regardless of the age gap, marrying an older woman can bring you many benefits, not least because old women tend to be more self-aware, confident, clearer about what they want and more emotionally stable.
But, if you think that marrying an older woman will ensure that you will be cared for and nurtured and have all your needs met, you will be disappointed.
Older women who date younger men are most certainly not the kind of women who need to nurture to validate themselves!
They are over that.
There are many surprising advantages of marrying an older woman – here are some of the best ones –
1. Marrying an older woman creates a stable and secure lifestyle
Marrying an older woman often means that they don't give you mixed messages, decide to switch things up (seemingly irrationally), or spend a load of money on something they don't want at a later date.
Also, it does not mean that they try to switch up (or down) the relationship status quo randomly because they've decided that they need more from you. No, marrying an older one means that you'll know where you stand, where the boundaries are and where your relationship is heading.
This is because an older woman knows what she wants, she has a strong sense of her personal boundaries and will respect your boundaries.
So, if you are marrying a woman older than you, be sure you are bound to get benefit from this highly desirable quality.
2. Marrying an older woman means that you'll create wonderful memories
Older women tend to have an appreciation of what's important in life, so they'll tend to want to create wonderful memories and will want to indulge in the fundamental joys in life such as spending time with the people they love and doing things that they love to do.
This will probably be more important for most older women than keeping up with society, which means that you too get to enjoy creating amazing memories and fulfilling life.
3. Marrying an older person means that you'll have space for things you want to do
Older women don't tend to assume that your desire to spend time alone or on a hobby is a reflection of your relationship together or that it might represent a lack of desire on your part for spending time with your spouse.
Older women appreciate that we all need our space and most will probably actively encourage you to enjoy your 'you' time.
4. Marrying older women can create a strong sense of intimacy
When you marry an older woman, you might be surprised to learn that they are more open, in all ways.
They want intimacy and are willing to make themselves vulnerable for the sake of intimacy. They will work with you, seek to understand you and also themselves. They won't take things personally if somethings don't work out and they'll pursue the things that do.
5. Marrying an older woman means that your emotional life will be calmer
Older women tend to be more in control of their emotions than younger women.
They are more self-aware, more consistent and more balanced than the younger ones. They don't tend to be influenced by the seemingly trivial things that a younger woman might be.
They also tend to know their boundaries and respect their boundaries – which means there are no curveballs or mind games.
Older women can also tend to handle relationship problems more realistically and are more likely to seek to solve problems fairly, instead of throwing tantrums or issuing ultimatums to get what they want.
But if they want something, they'll probably just tell you!
6. Marrying an older lover might bring you a more fulfilling sex life
Younger women tend to be insecure.
Usually, young ladies don't always know what they want or how to deal with the advances of virile young men.
Whereas older women do, they won't just put up with something that isn't working for them, or fake feeling satisfied. They'll make sure you are both satisfied sexually which means that that, along with the intimacy that they can develop with you will create a fantastic and totally fulfilling life.
There are more perks involved with relationships involving an older woman
While marrying an older woman is not a popular choice there are many beneficial factors that most people might overlook.
We've highlighted many of the above but we haven't even gotten around to the great conversations (there probably won't be any topics that an older woman can't handle), space to explore your tastes and choices in all aspects of life and the relaxed, indulgent and cultured experiences that marrying an older woman will bring.
Share this article on
Want to have a happier, healthier marriage?
If you feel disconnected or frustrated about the state of your marriage but want to avoid separation and/or divorce, the marriage.com course meant for married couples is an excellent resource to help you overcome the most challenging aspects of being married.
More On This Topic
You May Also Like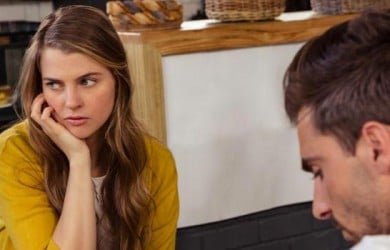 Popular Topics On Married Life