A Marriage Ruined: When Things Go Wrong
We never like to imagine it when we are first starting out in our married lives, but the statistics are there: 46% of marriages in the United States end in divorce. Not all marriages end for the same reasons, so we thought we'd talk to some divorced people to get a sense of what ruined their relationship. Everyone's story is unique, but all can help us understand some of the pitfalls to avoid so that we can enjoy happy long-lasting marriages.
1. We married too young and too fast
Susan, who divorced at 50, tells us what happened to her marriage. "I met Adam at a military function; my brother was in the Air Force and invited me to this party on base. We were very young—in our late 'teens, and the attraction was instant. I think I also was attracted to what I knew about military life—that by marrying Adam, I would have this life of travel and community. So when he was about to be deployed six weeks after we met, I married him. What a mistake.
We were way too young and barely knew each other.
And of course all those deployments were tough on our marriage and family life, but we held it together for the kids. But our household was filled with fights and anger, and once the kids were grown and gone, we divorced.
If I had to do it all over again, I would never have gotten married at such a young age, and I would have waited and dated the person for at least a year to get a good sense of who they truly were."
2. Horrible communication
Here's what Wanda had to say about her marriage. "We never talked. This is what ultimately ruined our marriage. I would boast to my friends about how Ray and I never fought, but the reason we never fought was because we never talked at all.
Ray was emotionally closed off, totally avoidant of any subject that might make him feel something.
And I have a big need to open up to my partner about things—happy or sad things. For years I tried to get him to engage with me…to talk about issues that were posing problems in our marriage. He'd just shut down and sometimes even leave the house.
Finally, I couldn't take it anymore. I deserved a partner who was able to be open with me about everything, who had emotions. So I filed for divorce and I'm now seeing a great guy who is able to be emotionally intimate. What a difference it makes!"
3. The serial cheater
Brenda knew her husband had had an active dating life before they became engaged. What she didn't know, however, was that he had a need to continue seeing multiple partners even after they tied the knot.
"I was so in love with my handsome, fun, party-animal husband," she tells us. "Philip was the life of the party, and all my friends told me how lucky I was that my husband was so attractive and social.
I never suspected that he was active on dating apps and websites until I got a Facebook message from some woman informing me that my husband had been having an affair with her for the past two years.
What a wake-up call! I had no idea but I guess that's the danger of all these internet-based hookup sites—your guy can be having a double life and hiding it so easily. So I confronted him and I realized that this was part of his personality and not likely to change. I filed for divorce soon after that. I've got a great boyfriend now, one who isn't as good-looking nor social as Philip, but who is trustworthy and wouldn't know what a dating app is! "
4. Different paths
Melinda tells us that she and her husband just grew apart. "It's very sad because in my mind marriage is for life. But as we got older, our interests and lifestyles just went in different directions. I guess we could have worked harder to appreciate each other's individual needs, but I really wanted my "old" husband back, the guy who was my best friend, with whom I just hung out when we weren't working.
About 15 years into the marriage, this all changed. He spent his weekends doing his own thing—either tinkering in his workshop or training for another marathon. These things didn't interest me in the least so I developed my own network of friends, and he wasn't part of that.
Our divorce was a mutual decision. It just didn't make sense to stay together if we weren't sharing anything.
I hope I'll find someone who wants to share my life passions, but for now, I'm just doing my own thing, and my ex is doing his."
5. No sex life
Carol tells us that the absence of a physical, intimate life was the straw that broke the camel's back and led to marital ruin.
"We had started our marriage with a good sex life. OK, it wasn't ever the glue that held us together, and my ex didn't have the same level of desire that I did, but we would have sex once a week, at least.
But as the years went by, this dwindled down to once a month. Pretty soon we'd be going stretches of six months, one year, without sex.
When I hit 40, and I was super comfortable in my skin, my libido was on fire. And my ex just wasn't interested. I said to myself that I'd either have to cheat on him or leave him. I didn't want to have an affair—he didn't deserve that—so I asked him for a divorce. Now he's with someone much more compatible (she isn't interested in sex, according to him) and so am I. So all's well that ends well!"
Share this article on
Want to have a happier, healthier marriage?
If you feel disconnected or frustrated about the state of your marriage but want to avoid separation and/or divorce, the marriage.com course meant for married couples is an excellent resource to help you overcome the most challenging aspects of being married.
More On This Topic
You May Also Like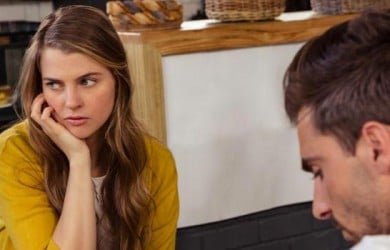 Popular Topics On Married Life