Is He Losing Interest or Just Stressed? 15 Signs of Disinterest
Relationships are sweet… until they are not.
Most couples go through these phases in their relationships. At first, everything starts on high notes. They spend their time thinking and talking to themselves, believing they won't be able to do without the other.
Without warning, the next phase hits like a ton of blocks.
For some reason, one person begins to act like they are tired of the other. If you have had this experience, you may ask yourself: "is he losing interest, or is he just stressed?"
Before getting deeper into this conversation, let's first establish a fact. There are many signs a man is losing interest in a relationship. If this ever happens to you, you wouldn't need a lot of time to figure it out.
Let's discuss the signs of losing interest in a relationship.
Do guys become distant when they are stressed?
A study carried out in 2018 revealed an interesting response that men have to stress. According to this study, stressed men have diminished activity in brain regions responsible for understanding and processing others' feelings. As a result, they tend to get distant, irritable, and more annoying than usual.
Beyond just affecting men, research documented by the National Center for Botechnology Information shows mutual stress will always take a negative toll on relationships, except both partners identify what's gone wrong and work together to rectify their challenges.
So, a simple answer to the question is, "Yes. A guy can become distant when he is stressed."
Is he losing interest or just stressed?
Although there are many signs he lost interest in you, you must know that stress isn't the only reason why this may occur. However, the only way to tell if he is losing interest in you is to look out for the signs we will discuss in the next section of this article.
Related Reading: 

6 Tips To Recognize and Do Away with Relationship Stress
15 signs he has lost interest
Here are the top 15 signs showing that he is losing interest in you and being in a relationship with you.
Also Try : 

Is He Losing Interest In You
1. He has stopped asking you questions
Although they can be annoying, questions are a sign that you are with a partner who is interested in you and wants to understand how your mind/life works. One of the major signs he lost interest is that he suddenly stopped asking questions.
Even when you desperately want him to probe a bit further.
What are some questions you can ask him instead? Watch this video for ideas.
2. He seems to be avoiding you
At the start of your relationship, he used to be all over you. He adored your company and would steal any opportunity to be with you. Now, it seems like the reverse is the case.
One of the easiest ways to tell for sure that a guy is losing interest in you is when he begins to avoid you. You may find him going out of his way to avoid you or being dismissive when you unavoidably stumble into yourselves.
3. He stops being responsive over the phone
Think of this as an extension of point two. He starts avoiding you, and when you take the bull by the horn to call him on the phone, it suddenly feels like you are talking to a stranger.
Once, he used to be lively during these phone conversations, but at this time, getting him to talk to you might be like pulling teeth.
4. He no longer notices anything you do
Did he lose interest in me?
Well, here's another sign for you.
Another sign that a guy has lost interest in you is that he stops noticing the things he used to notice. As far as he is concerned, you may wear the best clothes and he wouldn't give you a second look.
When a guy suddenly becomes oblivious of what he used to notice about you, it could be because he is over you.
5. He looks for the slightest excuse to fight
The times you spend together (physically, texting, or talking on the phone) feels like a terrible fight between enemies. He takes every opportunity to argue, quarrel, and bicker – even over the small things that wouldn't have been an issue with him otherwise.
6. Intimacy just went out the door
Cast your mind back to the beginning of your relationship. Can you remember the sparks that used to fly whenever you were together? Can you recall how you could never get your hands off each other?
Another sign that he is losing interest is that the physical intimacy in your relationship dies suddenly. Seeing as intimacy directly affects relationships, it is only a matter of time until the lack thereof begins to impact every other aspect of your relationship.
7. On the flip side, all you now do is have sex
If it seems that all you now do whenever you get together is go down and dirty on yourselves, that could be another sign that something is off.
When a guy is committed to a relationship, he will invest time and resources in exploring other parts of the relationship except for sex.
If this is the case, it could be that he is using sex as a tool to satisfy himself and trying to shy away from every other thing that comes with the full package.
8. He has gone full throttle on flirting with others
Another way to know that he is losing interest and isn't just stressed is that he has started flirting with others. Sometimes, this can be embarrassing as he may even try it when you are with him.
Regardless, when a guy suddenly starts flirting with others every time he gets the opportunity, it is a sign that something is wrong.
Related Reading: 

Why Do People Flirt? 6 Surprising Reasons
9. He's no longer trying to impress your family and friends
When a guy wants to be with you, one of the things he does is that he tries to impress the people that matter to you.
By doing this, he tries to get into their good books because he knows that making a good impression on them will help move your relationship in the right direction.
However, when he starts losing interest in the relationship, he would stop trying to impress your friends and family. After all, does he stand to lose anything?
10. He has become vague
Your once transparent and loyal man has suddenly become the king of cryptic men. He no longer factors you into his plans and he might also act as though you aren't there when you try to get involved.
If you live together, one thing you may notice is that he might begin to come home late without giving any explanations. And if you try to demand an explanation, you may just see a side of him you didn't know existed.
11. He may become abusive
You may be surprised to know that so many people are in abusive relationships. Statistics show that, on average, about 20 Americans are abused by an intimate partner per minute. When you do the math, this amounts to almost 10 million people annually.
One sure way to know that he is losing interest and not just stressed is that he may become abusive. This could take any form; physical, mental, or emotional.
Related Reading: 

Intimate Partner Violence: What Is It & How to Prevent It
12. He is now being rude
A man won't constantly be rude to you when he still wants you in his life. When he starts being rude with how he talks and interacts with you, it could be because he is no longer interested in the relationship.
This can quickly deteriorate into nagging, where he picks up unnecessary fights and complains about everything, even the things he used to love.
13. It may have slipped out from his mouth
It is easy for people to come back on their knees and with their mouths full of apologies when they have said terrible things "in the heat of anger."
While this may not be your call to hold on to everything he has said and make a fuss, it could give you a glimpse into what's on his mind.
He may have blurted out something like this in the middle of a fight. If he has, you may want to pay closer attention.
14. He is no longer there for you
"Am I overthinking it, or is he losing interest?" Here's another way to tell for sure.
Your partner is the first person who should be there for you in the good and bad times.
If it suddenly feels like he is no longer there (and he always has a reason why he cannot be available when you desperately need him), that could be the sign you are looking for.
15. Deep down inside, you just know…
When he has lost interest, you will know for sure. It may come as a deep nasty feeling in your gut or as a sinking realization when he has started acting strangely.
One of the biggest signs that a man has lost interest in you is that you would know. One of the best things you can do at this stage is to address the issue and decide the best course of action for your relationship.
In a nutshell
Have you found yourself asking this question; "is he losing interest or just stressed?"
While stress can deeply affect a relationship, it is not the same as when he loses interest in you. The signs of lost interest are evident almost immediately, and the experience isn't one you want to covet.
Once you notice these signs, seeking professional help should be your next course of action. You can do this as individuals or together. Making sense of what you are going through becomes easier with your therapist.
Share this article on
Want to have a happier, healthier marriage?
If you feel disconnected or frustrated about the state of your marriage but want to avoid separation and/or divorce, the marriage.com course meant for married couples is an excellent resource to help you overcome the most challenging aspects of being married.
More On This Topic
You May Also Like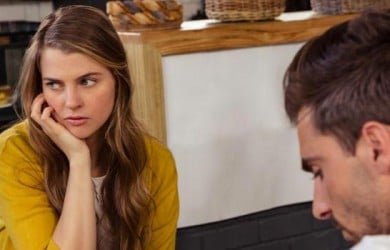 Popular Topics On Married Life