How to Fix a Marriage Without Counseling – Revisit the Basics
Many couples who find their marriage is on the brink of a divorce wonder how to fix it without counseling. The reasons are different – in some cases, the partners are reluctant to seek professional help because they feel it would mean that they failed. In other cases, one of the spouses doesn't want to visit a therapist for several reasons. Or, they both feel that the problems haven't come to that point yet. In any case, the good news is – you can fix a marriage without counseling. All you need is a lot of patience and willingness to work on the issues. Here are some basic postulates of a good marriage, and how to bring them back to yours.
Learn how to communicate
It's never too late to learn the tenets of good communication, no matter how long you've been talking to each other as if you were the ultimate enemies. It's impossible to over-emphasize the importance of good communication in any sort of relationship, especially in marriage. Because whatever other problem there might be, and no matter how much affection and care there is between you, without communicating in a healthy manner, you can't get over your disagreements.
So, what is good communication? It is a sort of a communication in which there is no manipulation (even when it's well-intended), no deception, no blame or aggression. In essence, the most significant thing is to always be direct. That doesn't mean that you have to be rude, on the contrary. Being direct in communication means simply expressing your thoughts, needs, and suggestions without any sort of manoeuvring.
Don't presume, simply ask
For example, if you're angry with your husband because he stays late at work, and you suspect he might be having an affair, you have a choice of how you'll react. And what you choose might decide between a fight and a resolution to what's troubling you. In this scenario, what often happens is for women to try and figure out little clues of a potential affair, and they do it for months. This usually drives the husband insane, and increasingly intense arguments are inevitable.
What you should really do is simply ask the question. But, here also you need to mind the way in which you express your fear. You can't use an accusatory tone. You shouldn't use "You" sentences. You should express your emotional reaction to your husband's late nights at work, and express your doubts. You should ask whether this is true and do so without losing it. And you will be amazed by how differently you will begin to talk to your spouse. The same scheme applies to any sort of a problematic conversation in marriage.
Accept differences
One thing that is probably entirely obvious to you by now is the fact that you and your husband are two different individuals. This maybe wasn't as clear when you were insanely in love, or in your best days of marriage. But, by now, you are probably painfully aware of how unlike you can be. But, please have in mind – it's similar in any marriage. The difference between a healthy one and a wreck of a relationship is in that how you handle the differences.
Couples who make it are those who accept, love (or at least respect) and learn to nourish the differences between them. How does that look in practice? For example, the husband loves spending time with friends, and is a real social addict, while the wife is more of a mousy housewife. They might allow this to become a source of never-ending arguments, or they can learn to organize their lives around these differences so that they're both happy. Parties on one weekend, a quiet mountain resort on other, etc.
Revisit your dreams, ambitions, and plans
When you were getting married, no matter how long ago or how recently, you were other people than who you are now. And this is normal. You would change if you weren't married, who said you were supposed to be the same for the rest of your life when you're married?
But, to avoid these changes ruin your lives and your marriage, be sure to revisit your life plans every once in a while. If you don't want to be a career woman anymore, that's fine, just add that to your shared plans. For example, your husband might be still counting on your income for the mortgage. And if you express the change in your wishes clearly, you can come to a new solution without letting that destroy your relationship.
Share this article on
Want to have a happier, healthier marriage?
If you feel disconnected or frustrated about the state of your marriage but want to avoid separation and/or divorce, the marriage.com course meant for married couples is an excellent resource to help you overcome the most challenging aspects of being married.
You May Also Like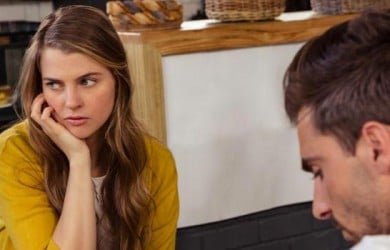 Popular Topics On Married Life