How to Avoid Being Ghosted on Tinder
The world of online dating is confusing, exciting, adventurous and even cruel.
One day you are merrily dating someone, texting away all day and planning cute outfits for outings. And suddenly, and without any warning at all, your partner seems to have disappeared.
There aren't any calls, texts or even DMs.
While that might happen because of an emergency but chances are, you have been ghosted. It's time for ghosting to be the one to vanish; here's a field guide on how to avoid being ghosted on Tinder.
1. Knowledge is a powerful weapon
The ones who hesitate to form or completely avoid attachments to others, often a result of parental rejection, are reluctant to get very close to anyone else due to trust and dependency issues.
They often use indirect methods of ending relationships. Ghosting is an easy way to get away than to face a confrontation.
2. The how, when and why of it all
Why would a person choose to simply disappear from another person's life, rather than communicate to end a relationship?
The truth is, you may never know for certain why you were ghosted. How prevalent is ghosting, how do people perceive it, and who is more inclined to do it?
3. Research has your back
One study suggests that people who have often been ghosted themselves tend to end relationships by ghosting.
Other research found that people who are believers in destiny, who think that relationships are either meant to be or not, are more likely to find ghosting acceptable than people who believe relationships take patience and work.
4. Revenge and avenge
The ghoster is well aware of the abruptness and absurdity of ghosting.
They understand how it is to leave no room for discussion or airing the views. Nonetheless, they do not empathize with the person they are ghosting. The ghosting behavior entails no sense of guilt for them.
The conclusion; a background search and social media snooping will help you avoid being ghosted.
5. Do not normalize it
Some people are desensitized to the concept of ghosting and have no reservations about ghosting a person they have dated.
The fact that we have provided leeway to ghosting, condoned it and normalized it is not okay and you should just shut that behavior down.
6. Keep it short
Life moves swiftly on dating apps, and you have to cut to the chase.
To circumvent being ghosted on Tinder, avoid too much pre-talk. Instead, go straight for coffee, dinner or drinks in person.
When you chat IRL (in real life), you can tell if you have chemistry or a connection or if you feel attraction, something that isn't significantly decipherable on your mobile.
7. Fire away those questions
Let's be totally honest, online dating can be super awkward. It can be challenging to determine compatibility with a potential date.
Asking the right questions that will establish will be helpful.
If you've ever queried what kind of things to say on Bumble or Tinder to keep the conversation flowing, here is a guide.
8. Keep the flow going
When messaging on apps, reply with questions to keep it going. People inherently don't like to leave things unanswered, so your safest bet at an engaging conversation that won't go downhill is to be inquisitive.
Asking questions to your Tinder match is an enabler. You will either click enough to meet the person or will arrive at the decision to not meet the person at all.
9. Know what to ask
Should you strongly cross-examine a total stranger? No, it certainly is not the best etiquette to follow.
It would be a better idea to ask your Tinder match about what shows they watch on Netflix, their favorite genre of movies, and if they message you about something fascinating, ask a few follow-up questions about it.
10. Mystery is power
Don't be all revealing in your conversations.
Divulge details with a sense of discretion, so that the person you're messaging feels a sense of mystery around you, and would want to ask you out and know you better.
Bombarding someone with messages shows that you have ample time on your hands and that you're willing to give it to a complete or a relative stranger. This translates into them believing that you have no life!
And it also leaves no space for growth or finding out more about you when you meet up in person. Keep it brief to prevent being ghosted.
11. Brief and crisp
Keeping things short and sweet is the key to avoid being ghosted on Tinder.
Don't be too available. Even if you're a former theatre actor who is a dental surgeon, being too available sends an unattractive message.
Hold off a few hours before you answer online, and avoid a lot of back and forth in a single day.
12. Don't avoid the red flags
Also, if he hasn't set up a date after four days of messaging, stop wasting your time. You don't need to write a guy an essay on a dating app to retain his attention.
This advice is crucial if he seems like he is withdrawn or elusive.
13. Fact check is a must
People with an avoidant type personality are more likely to use ghosting to initiate a break-up.
It would be a good idea to have a mutual social network tying you to a partner, as it may be a lot easier to just disappear and not be held accountable, in the absence of one.
Being ghosted by a date/partner, and ghosting someone has become commonplace.
For some, it is acceptable to ghost just after a date, while others find it absolutely fine to ghost their long-term romantic partner, to end the relationship, minus the baggage of a confrontation.
In a world where the generation has lost empathy, ghosting can be avoided with these simple tips.
Share this article on
Want to have a happier, healthier marriage?
If you feel disconnected or frustrated about the state of your marriage but want to avoid separation and/or divorce, the marriage.com course meant for married couples is an excellent resource to help you overcome the most challenging aspects of being married.
More On This Topic
You May Also Like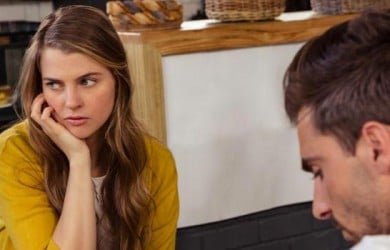 Popular Topics On Married Life