Here's How Snoring Won't Affect Your Marriage
As your life partner was shaping in their mom's belly… they didn't deliberately choose to be a noisy snorer with the goal that they could noxiously keep you up throughout the night. They simply didn't. Indeed, they had no power over that specific character trait.
When you resent your husband thinking "my husband snores and won't do anything about it", remember snoring is something they have… not something they are.
So, when you're lying awake around at night, developing all the harsher feeling continuously for your life partner who is profoundly sleeping, and you aren't, remember that they adore you and more significantly, that you should cherish them.
Is snoring harming your marriage?
Here are some magical steps you can take to overcome and handle a snoring partner:
1. Earplugs
If your partner snores, earplugs can improve the siuation. So, do window shopping to find a pair that will fit in your ears superbly. Yes, ear plugs aren't the most pleasant things to stuff in your ears when your are try to sleep, but the substantially reduce the sleep disrupting effects of snoring on spouse. You may feel some distress when you begin utilizing them, however consistent use will assist you with adjusting. This gadget will assist you with blocking out snoring noise, so you can make the most of your sleep after a tiring day's work.
2. Special pillows
When snoring is hurting your marriage you need to discipline your partner regarding their sleeping habits.
Individuals snore intensely when they sleep on their backs. The main answer for fighting your partner's snoring issue is keeping them from dozing on their backs. If they sleep on their sides they are probably not going to snore or if nothing else, they won't snore as noisy as they typically do. A special pillow can be utilized to keep your partner from sleeping on their back.
They are comfortable, very effective and compelling. A neck pillow can likewise be viable for chronic snorers. It adjusts the head such that the air flow passage stays wide open when an individual sleep.
3. Ensure you are sleeping on a high-quality mattress
How snoring can wreak havoc on a marriage is something you probably know if you are reading this article. But what you might not know is how simple the solution of the problem can be.
You might be astounded to know that sleeping on a low-quality mattress can really be the reason for your partner's snoring!
If your sleeping mattress is old and sags in the center, this will influence the position of your partner's neck when they are sleeping, obstructing their airway in the throat.
Once you have a decent, top-notch sleeping mattress, make sure to raise your bed up by about four inches. Doing this will help keep throat tissues and the tongue from stopping up your partner's airway; extraordinarily decreasing the chances of them snoring throughout the night. This is one of the approaches to adapt to a snoring partner.
4. Maintain some distance from alcohol
Drinking alcohol and taking different drugs relaxingly affects the muscles of the body. The throat muscles likewise will, in general, get loose and don't stay as firm as they typically do. This to some degree chokes the nasal passage and subsequently, sleeping after consuming these things frequently brings about snoring.
5. Smoking worsens the condition
If you want to know how to stop snoring, stop smoking.
Smoking can cause or worsen a terrible case of snoring. Cigarette smoke can swell the mucous membranes of the throat. Also, it confines your oxygen intake to the lungs. If that isn't sufficiently terrible, smoking can likewise make blockages in the nose and throat.
These are factors that can lead straightforwardly to snoring. If your partner is a smoker, urge them to quit the habit, or buy them nicotine patches as an option in contrast to smoking cigarettes.
6. Motivate your partner to exercise
When you put on weight around your neck, it can make your throat narrow while you sleep which thus makes one snore more intensely. In any case, shedding pounds can improve the circumstance. If your life partner is overweight, urge them to get thinner.
Make it simple for them so they wish to begin the exercise by offering to do the activities together with them. This will assist you with killing two birds with one stone as you can bond better as a couple while you help your companion to lose some fat. Few of the activities you can assist your mate with doing to get thinner are:
Brisk walking- To make it even more energizing, pick a distance in your neighborhood that you will walk briskly on each morning. Challenge each other to brisk walking challenge. For instance, if your partner chooses to walk 100 meters, reveal to him you will walk 150 meters and make the most of your effort to do it. Make it a kind of game with the goal that the times of exercising becomes fun.
Some other different activities you can do to shed pounds are: swimming, running, bicycling, working out on the stationary bicycle, aerobic dancing, running, rope jumping, and sports, for example, soccer.
7. Remain well hydrated
Many individuals are unconscious to the way that being dried out can really make one snore around at night.
Secretions in your nose and soft palate become stickier when you're dried out, which can legitimately make an individual snore more.
Healthy ladies ought to drink about 2.5 liters of water in a day; while men require around 4 liters of water in a day.
In a nutshell
Tolerance is the ability to bear something that is aggravating without losing your cool. It is the assurance to control your anger when you are being provoked. You should be an understanding person if you need to manage a snoring partner. Decide that you will endure through the circumstance, regardless of whether it hurts you. When you hear those bothering sounds, say to yourself, "I will be tolerant. I should be understanding since I also do things that irritate my life partner."
Share this article on
Want to have a happier, healthier marriage?
If you feel disconnected or frustrated about the state of your marriage but want to avoid separation and/or divorce, the marriage.com course meant for married couples is an excellent resource to help you overcome the most challenging aspects of being married.
Learn More On This Topic
You May Also Like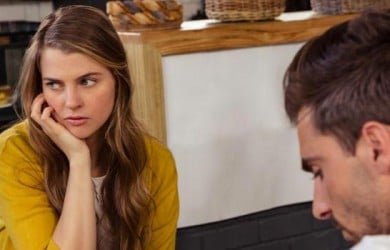 Popular Topics On Married Life