Guilt After an Unsuccessful Marriage
Some things in life are within our control, but life is unpredictable, and things don't always work out the way we planned.
When people tie the knot and get married to the person they love most, they don't ever think that they will get divorced or suffer an unsuccessful marriage. But for so many different reasons, it happens. And when it does, it can have pretty devastating consequences for everyone involved, especially if there are young children in the family.
So let's take a look at why divorce or an unsuccessful marriage causes depression, what are the things you can do to cope in a healthy way and most importantly: how to move on in a way healthy for everyone, and how to end a long marriage without feeling guilty?
When a marriage ends, it entails a lot of pain and anxiety – dealing with guilt, shame, and social stigma of unsuccessful marriage. You look for ways to keep guilt from ruining your relationships and want to stop feeling guilty about ending your marriage.
Why do you feel guilty about an unsuccessful marriage?
Guilt is a very complicated feeling, both to deal with and to explain, so let's try to break it down.
Odds are, if you parted with your spouse on good terms and you're both happy with how your lives are post-divorce, you won't be feeling much guilt.
Where it comes in is when you feel that someone else is hurt by this, whether it's your spouse, your children or someone else entirely. When you start doubting whether you've made the right choice, and whether by doing it you're hurting someone.
You start to ask yourself whether you should have just stuck with it for the good of everyone else. And this can start to eat away at you, leading to some very unhealthy coping mechanisms.
Substance abuse
Going through a divorce post an unsuccessful marriage is stressful, and going through a messy divorce is even worse.
To take the edge off the stress, many people turn to different substances, from alcohol to drugs. These are obviously unhealthy ways of coping, but not just because they are directly unhealthy for you. As long as you're relying on substances, you are not taking steps towards dealing with your emotions and you are only making things worse by burying your feelings.
So, once you actually find the strength to deal with your feelings, you will find that the process is much harder than if you dealt with them in a healthy way from the start. And on top of that, you would be going through drug withdrawal, which will further complicate things.
It's not impossible to deal with this and if you find the right support system and get the help you need, you will get through it and on the right track, but you will really have the best results if you simply never let it get to that in the first place.
Eating disorders
Post an unsuccessful marriage, eating disorders and substance abuse go hand in hand, with half of people with eating disorders also abusing drugs or alcohol.
And a divorce can often trigger these behaviors, spanning all across the ED spectrum. On one hand, divorcees who have low self-esteem and a perception that their partner left them (partly or entirely) because of their appearance, might develop bulimia, anorexia or one of the connected disorders which results in rapid and unhealthy weight loss.
On the other side, there are those who will see divorce as a breaking point after which nothing matters and when they can just let go and stop paying attention to what they eat entirely, which, combined with unhealthy coping mechanisms can lead to binge eating disorder and compulsive overeating
Once again, this will only make it harder to deal with the emotions in a healthy way and will set you back on your road to a healthy life.
Moving on after the divorce
There are two mistakes people make after their divorce.
They go straight into a new relationship or they simply decide that finding love again is not for them. Both of these are not the right way to go immediately after an unsuccessful marriage, and as you probably guessed, the way to go is somewhere in the middle.
You need to give yourself some time to grieve your marriage and deal with all of the emotions coming your way. The best possible way is to find a licensed therapist and talk through all of the feelings that you're having to make sure you are completely at peace with the divorce and that you can move forward in a healthy way towards a new relationship.
Take this time to do all the things you couldn't allot time for while you were married. Pick up dancing and painting and see your friends on the weekends. Fill up your time with quality things that make you a better you, not because you need to be better so that "something like this" won't happen again, but because you love yourself.
Divorce is never easy, but having the strength to face your emotions and deal with them in a healthy way will benefit you and everyone else involved much more than any other coping mechanism would. After an unsuccessful marriage, you need to remind yourself that you got divorced for a reason, and that it doesn't mean in any way that your life won't be amazing from that point on.
Share this article on
Want to have a happier, healthier marriage?
If you feel disconnected or frustrated about the state of your marriage but want to avoid separation and/or divorce, the marriage.com course meant for married couples is an excellent resource to help you overcome the most challenging aspects of being married.
Learn More On This Topic
You May Also Like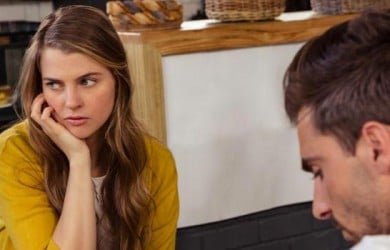 Popular Topics On Married Life