What Is a Convalidation Ceremony: How to Plan It & What's Needed
If you are a member of the Catholic faith, you may be interested to know more about a convalidation ceremony.
This is something that is necessary to take part in when you want to have your marriage recognized by your church. Keep reading for more details and to find out how to get started.
What is a convalidation ceremony?
Many people choose to get married within a church, and others do not. This could happen for a number of reasons.
For example, a couple may not have had a church or found their faith after they were already married. This is when a convalidation ceremony may be necessary.
With this type of ceremony, it is a way to make sure that your marriage aligns with the Catholic Church.
There are specific rules that must be followed to have yours recognized by your church, and if they weren't followed, to begin with, this can be rectified at any time if this is something that you and your partner want.
The rules to get married within the Catholic Church generally include falling in line with the "Canonical Law." This includes both parties showing consent to be married, their marriage must be witnessed by a priest that has been authorized to do so, and there must be two other witnesses present as well.
Some Catholics do not know that these rules are present, while others may have their priorities change throughout the course of their relationship, where they decide they would like to have a ceremony after they have been married a while.
Now you may be wondering, what is convalidation meaning? This simply means to realign your marriage within the church, and it will align your marriage with the canon of the Church.
There is a process that you and your partner can go through at any time, which will make your union holy within your church. This could be very important to you, even if you weren't able to get married in your church originally.
Again, this is something you may be interested in if you and your spouse have recently become Catholic, you didn't have a church home in the past, or you simply didn't know what the rules were at the time you got married.
You can talk to your priest at any time to find out more about the specifics. Research shows that sometimes religious affiliations within a marriage can increase happiness within the entire family.
How to plan a convalidation ceremony
When you wish to plan a convalidation ceremony, the first thing you need to do is talk to the leaders of your church. They will likely be able to discuss what steps need to be taken in order for you to receive a Catholic convalidation of marriage.
Like with all marriages with the Church, it will likely require you to go through certain classes or lessons, in order to understand the importance of marriage, as well as what is expected of you within a Catholic marriage.
Once you finish the requirements regarding preparing for marriage, the next step is having your convalidation ceremony. This is a private ceremony where you can invite loved ones to celebrate with you and be a part of your happy day.
Remember that this is different from a wedding, so there may be different convalidation ceremony etiquette rules that must be followed.
To know for sure what the decorum should be for your ceremony, you should talk to your pastor or priest, as well as any senior members of the church, if you are able to.
They might be able to help you decipher what is appropriate and help you plan the specifics for your big day. In general terms, it is okay to have a few guests or to opt for a small ceremony with your closest family.
For some, it seems appropriate to have a light dinner or a small reception after the ceremony as well. This could take place wherever you like and can be respectful and casual at the same time.
If you have ever been to a friend or family member's convalidation, you may have a better understanding of how it should look and what the vibe is like.
Do what feels right to you and make sure you are being respectful of the Church and others in attendance. After all, you are becoming one under the laws of the Church, which is a big deal.
Related Reading: 

Tips on How You Can Plan a Modern Wedding Ceremony
What is needed for a convalidation ceremony?
When you want to have this type of ceremony for the blessing of your marriage, you will need to work with your local parish in order to find out the requirements. These could be different, depending on the rules in your location.
However, in many cases, you may need to show your records from attending the Catholic Church, such as your record of baptism and other records that you have. If you weren't baptized or haven't completed other necessary sacraments, there are processes that will help you finish these things as well.
Since you will likely have to go through a similar program as other couples that get married within the church, you must provide additional paperwork as you go through the courses.
You can rest assured that you won't have to figure out the process by yourself. The leaders at your church will be able to talk to you about what is expected of you and help you meet your goal.
You can talk to them about the convalidation cost and what is expected of you, and you can also learn more about the marriage principles you will be expected to live by.
Make sure to ask as many questions as you need since this process is something that is intended to be for the betterment of your marriage. It is giving your consent to be married to each other again, which, when you think about it, is something special.
Related Reading: 

How to Plan Your Own Wedding Ceremony
More questions on convalidation ceremony
A convalidation ceremony is something that any Catholic couple can take advantage of, if they were unable to have a Catholic wedding when they first got married, no matter the reason. Know more about it here:
Does marriage convalidation help marriage?
Convalidation may be able to help a marriage for a few reasons. One is that it ensures that the Catholic Church will recognize your marriage. This may be important to you and help you feel more secure in your relationship.
A 2019 study shows that people with religion within their marriage may have a higher satisfaction level than people that are non-believers.
Another reason why this may help your marriage is that it allows you to get marital counseling when you need it, directly from the resources at your Church.
When your marriage is seen as valid, this allows you to reap all the benefits when it comes to supporting that you may need through the course of your marriage.
In essence, this means that any time you need guidance or are having an issue within your marriage, help should be available to you as a married couple in your local church.
This could help you feel more secure about your marriage since you can be sure that your marriage and your faith are aligned with one another.
Keep in mind that you can always ask questions pertaining to this whenever you are going through the convalidation of the marriage process, so you will have all the answers that you seek.
How long is a convalidation ceremony?
In many cases, a couple has already been married, and this ceremony will act as something similar to a vow renewal, although it is important to note that it represents more than that.
You can expect it to be shorter than a wedding. Many prayers must be said, and there will also be readings from the Bible. Besides that, it is up to you and your spouse what else is included in this ceremony.
For more information on Catholic wedding ceremonies, check out this video:
Takeaway
When you are interested in a convalidation ceremony, you should talk to your priest or pastor to learn more about the process you must follow.
If you had an ordained Catholic wedding, to begin with, your marriage is probably recognized by the Church already, so you don't need to worry about having a separate ceremony.
If you do intend to have a ceremony of this type, you should know that you will need to work with your local leaders, take classes, and learn more about what important aspects of marriage are.
Consider this if you really want your marriage to be recognized in your church if it currently is not. The process is straightforward, and many couples have been through it.
Moreover, once you are a couple that has been recognized by the Church, it can add additional benefits and support for you as well. You should be able to count on your church for counseling and much more.
Think about what you want and talk to your priest for the best advice.
Share this article on
Want to have a happier, healthier marriage?
If you feel disconnected or frustrated about the state of your marriage but want to avoid separation and/or divorce, the marriage.com course meant for married couples is an excellent resource to help you overcome the most challenging aspects of being married.
More On This Topic
You May Also Like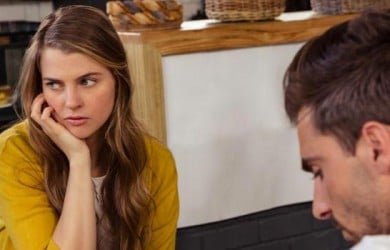 Popular Topics On Married Life