How to Break up With Your Boyfriend
When you're thinking about how to break up with your boyfriend, the burning question is –
what were your relationship dynamics?
In other words, how did you get along? Did you love each other? Do you still love each other? What went wrong?
All of these factors will influence the way in which you will break up with your boyfriend, as we'll show you in this article.
Should I break up with him?
Many women out there go about their days as normal, while a nagging question lingers in their mind – should I just break up with him? But, breaking up with a long term boyfriend is not as easy as it sounds.
One would expect that it's clear as day when to break up with your boyfriend. But it's usually not. There are countless different situations when you just aren't sure whether or not to break up with your boyfriend.
If you're in a long-term relationship that goes reasonably well, although the emotions have dried out, you might feel that breaking up with your boyfriend would be an act of reckless impulse.
There are also relationships soaked in love and passion, but outside factors make them impossible. Or, you might be in an abusive relationship and you just don't know how to leave your boyfriend safely.
When it's truly necessary to break up with your boyfriend
Regardless of what your specific situation may be, there are a few certain signals that you should definitely break up with your boyfriend.
As Randi Gunther of Psychology today puts it, many relationships should really end.
Following is the succinct list of indicators –
Both partners have tried everything,

They don't know why it went wrong, and

They are tired of trying.
In that case, even when you still love your boyfriend, you should break up with him. Although you might be reluctant to cause pain to both him and yourself, breaking up is the right thing to do, as it will set both of you free to pursue love and happiness elsewhere.
So, at this point, it's time to think of ways to break up with your boyfriend in a respectful and kind way.
How to break up with your boyfriend – 4 difficult situations
1. How to break up with a guy who loves you
This is the situation that might cause you to feel the most profound guilt of all.
But, if you've done your thinking and decided that you want yourself out of the relationship, the right thing to do is to let your boyfriend know your decision as soon as possible.
The main thing is to use "I" statements. This is done to make him understand that you still respect and cherish him, but it is you who wants to move on.
Be prepared to answer all of his (often uncomfortable) questions and do it honestly but not harshly.
2. How to break up with a man you love
Breaking up when you're still in love with a guy might be the most difficult thing to do. But we understand that there are many reasons for such a decision.
If you've made up your mind, then it's time to cut to the chase.
How to leave a man you love? The same way you remove a band-aid. Do it with determination, aware that it's the best thing to do, and never look back. The crucial thing is to not reach out to him again once you break it up.
3. Breaking up when you still love each other
Breaking up when you're still in love with each other is the combination of the previous two difficult situations.
It's usually the case in long-distance relationships, or in cases when one of you is married, or you're about to go in entirely different life directions. In any case, abide by everything said before, and be prepared for a period of hardship for both.
Have an understanding of his feelings, different reactions, but take it up to yourself to be the rock that will guide the process towards the healing.
4. How to break up with a long-term boyfriend
Breaking up with long term boyfriend is usually a consequence of emotional deadness and boredom in the relationship.
It's nothing to feel guilty about.
Many long-term partners simply outgrow each other in different ways. So, it's time to move on.
The go-to strategy is to make a plan on how to ditch all the habits associated with the relationship and build a new, separate life for yourselves.
I broke up with my boyfriend – now what?
Regardless of your story and the quality of your relationship (or lack thereof), you should always break up with your boyfriend respectfully. Why? Because it represents you, not your relationship.
If you've exited the relationship with style, you can venture on into your new life with pride and graciousness. So, give yourself time to heal, and then open your door to whatever comes next in your life!
Share this article on
Want to have a happier, healthier marriage?
If you feel disconnected or frustrated about the state of your marriage but want to avoid separation and/or divorce, the marriage.com course meant for married couples is an excellent resource to help you overcome the most challenging aspects of being married.
More On This Topic
You May Also Like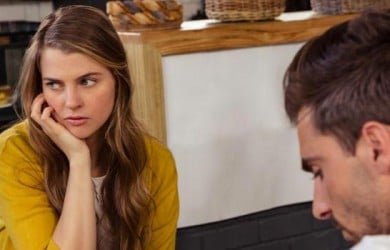 Popular Topics On Married Life