10 Ways To Deal With Being Deceived By Someone You Love
Discovering that you're being deceived by someone you love can be the most hurting experience you can go through, causing feelings of betrayal, loneliness, and confusion. When you're being deceived in a relationship, the pain can be particularly intense as it can shatter your trust in your partner and others.
Nonetheless, it's important to remember that you're not alone and there are effective strategies to deal with the hurt and move on. In this article, we'll look into the concept of being deceived by someone you love and explore ten strategies for coping with this crucial situation and the aftermath.
What causes people to be deceived?
People deceive their partners because they don't feel safe when they are around them. Hence, they deceive someone to protect themselves from getting hurt or avoid conflict. At times, it's because they're afraid of losing you or they want to maintain control over the relationship.
In some cases, being deceived in a relationship is a result of weariness and they're ready to go to any length to get out of it or they're simply not loyal to it. Among the factors that aid deception is accepting information at face value without questioning its accuracy or validity.
Additionally, people may be deceived due to their emotional state. Strong emotions such as fear, anger, or excitement can cloud a person's judgment and make them more susceptible to manipulation. Individuals who seek to deceive someone may manipulate the emotions of their targets to achieve their desired outcome.
Ultimately, people can be deceived for a variety of reasons and the reasons are not limited to those discussed here. Note that being deceived can affect your mental and emotional health greatly. When you're feeling deceived in your relationship, notice the signs of deception and work towards dealing with them.
How do you deal with someone who deceived you?
Dealing with someone who has deceived you can be challenging and it largely depends on the situation and the extent of the deception. Here are some steps you can take to on how to deal with deception in a relationship:
1. Confront the person
Once you have processed your emotions, it is important to confront the person who has deceived you. Be clear and direct about your feelings and the impact of their actions on you.
Related Reading: 

20 Things Cheaters Say When Confronted
2. Listen to their perspective
Listen to the other person's perspective and try to understand why they deceived you. This doesn't excuse their behavior, but it can help you understand the situation better.
3. Forgive
Forgiveness is not easy, but it can help you move on from the situation. Forgiveness does not mean that you forget what happened or that you condone the other person's behavior, but it means that you are willing to let go of the anger and resentment towards the person.
Related Reading: 

10 Tips to Practice Forgiveness in a Relationship
4. Consider the impact of the deception
In her study, Gillen (2011) notes that deception has a huge impact on its victims. So, think about the impact of the deception on your life and decide whether you want to continue the relationship or not.
5. Set boundaries
If you decide to continue the relationship, it is important to set clear boundaries and expectations to prevent future deception.
6. Take time to process your emotions
It is normal to feel hurt, angry, and betrayed when someone deceives you. Take some time to process your emotions before confronting the person.
By integrating all these strategies to deal with people who deceived you, whether it is a family member, partner, or friend, you can prioritize not only your own well-being but all the well-being of deceivers.
Related Reading: 

14 Tips on How to Control Your Emotions in a Relationship
10 ways to deal with being deceived by someone you love
Finding out that you're being deceived by someone you love can be an extremely agonizing experience. Yet, it's crucial to keep in mind that you can overcome this challenging phase. To assist you, we've compiled ten ways you can consider when dealing with being deceived by someone you love.
1. Allow yourself to feel your emotions
It is essential to acknowledge and process your feelings instead of bottling them up or trying to push them aside. Allow yourself to feel the sadness, anger, and betrayal that come with being deceived. Cry, yell, or journal your feelings to help process them.
Related Reading:

 26 Signs He Has Strong Feelings For You
2. Take time for self-care
Taking care of yourself is crucial during a time of emotional distress. Make sure to prioritize self-care activities like exercising, eating well, getting enough sleep, and engaging in hobbies or activities you enjoy.
3. Practice forgiveness, but don't forget
Forgiveness can be a powerful tool for healing, but it is not always easy. However, holding onto anger and resentment can harm your mental and emotional health in the long run. Consider forgiveness as a process, not an event, and work towards letting go of the hurt and moving forward.
Marie Forleo, an American entrepreneur, guides us on how to overcome pain and emotional wounds by sharing two heart-centered steps to forgive someone who hurt you without denying or forgetting about what they did. Watch the video:
4. Set boundaries
It is essential to set boundaries with the person who deceived you. Decide what you are comfortable with and what you are not, and communicate those boundaries clearly. Don't be afraid to take a step back from the relationship if necessary.
5. Seek closure
The closure is not always possible or necessary, but it can be helpful in some cases. If you feel that you need closure, consider talking to the person who deceived you or seeking closure in other ways, like writing a letter that you don't necessarily send.
6. Take responsibility for your part
While you may not be responsible for the other person's actions, it's essential to take responsibility for your role in the relationship. Reflect on your actions and how they may have contributed to the deception. This can help you learn from the experience and avoid similar situations in the future.
7. Practice self-reflection
Self-reflection is a critical aspect of dealing with being deceived by someone you love. Reflect on the experience and what you have learned from it. Consider what you want and need in future relationships, and use the experience to inform how you approach them.
8. Be patient
Healing from such an experience is not an overnight process and it takes time. Hence, it's essential to be patient with yourself during the process. You may experience a wide range of emotions, don't rush yourself to "get over" the experience, and allow yourself to heal at your own pace.
Related Reading: 

15 Ways to Have More Patience in a Relationship
9. Focus on the positive
While being deceived is undoubtedly a negative experience, it is essential to focus on the positive things in your life. Seek out activities and people that bring you joy, and try to find moments of gratitude in your day-to-day life.
10. Seek support
Do not isolate yourself during this difficult time. Reach out to trusted friends, family members, or a relationship therapist who can provide support and guidance. Talking to someone who understands can help you feel less alone and provide a fresh perspective on the situation.
Dealing with being deceived by someone you love is undoubtedly a challenging experience, but it is important to remember that you can and will get through it. With time, self-care, and support, you can heal and move forward from the experience.
Related Reading: 

20 Steps to Becoming a Supportive Partner
Frequently asked questions
In this section, we've compiled a list of frequently raised questions about being deceived by someone you love. We hope that these answers will answer your questions and help you understand what is uncleared.
How does a deceitful person act
Deceptive individuals exhibit a range of behaviors such as lying, manipulating, and deceiving others to further their own interests. They frequently employ flattery and other tactics to establish trust with their targets before taking advantage of them. Taking responsibility for their actions, accepting blame, or offering excuses is typically avoided.
In his article, Miquel-Ribé (2022) notes that Deceitful people may use gaslighting to deny or manipulate facts to cause their victims to question their own reality. They may also demonstrate a lack of empathy, act selfishly, and disregard the emotions and necessities of others.
What do you call someone who deceives you?
A person who deceives you by intentionally misleading or misrepresenting information for personal gain is commonly known as a deceiver, liar, fraudster, or cheat. Deception can manifest in various forms such as lying, stealing, or withholding information.
Repeatedly deceiving others can be seen as manipulative and untrustworthy behavior. It is crucial to exercise caution when dealing with individuals who have a history of deception and take appropriate measures to safeguard yourself from their actions.
The road ahead
Feeling deceived by someone you love can be an emotionally overwhelming experience as we all know what it feels like when you are being deceived by someone you love. However, you can overcome the challenging situation by following the strategies discussed on how to deal with deception in a relationship.
It's essential to acknowledge and process your feelings. You may seek support from a relationship therapist or confide in a trusted friend. Having an honest conversation with your partner is critical to address the deception. Even though it can be a challenging discussion, it's essential to rebuild trust and move forward.
Ultimately, dealing with deception in a relationship requires resilience, strength, and courage. When being deceived by someone you love, it may feel like an insurmountable task to overcome. However, working through these challenges can lead to a stronger and more fulfilling relationship.
Share this article on
Want to have a happier, healthier marriage?
If you feel disconnected or frustrated about the state of your marriage but want to avoid separation and/or divorce, the marriage.com course meant for married couples is an excellent resource to help you overcome the most challenging aspects of being married.
You May Also Like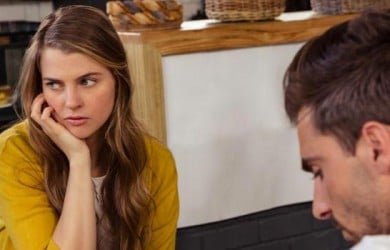 Popular Topics On Married Life