How to Manage the Stressful Time of Child Birth as a Couple
Giving birth to a child can perhaps be one of the most amazing things to happen to a married couple. A child is a gift of life, and it's something a lot of couples want to experience when they finally settle down. Of course, everything is not always sunshine and rainbows when it comes to childbirth. Given the delicacy of the situation, a lot of things have to come into play when conceiving a child is being considered. These factors, including birth injuries, food, shelter, and clothing, can contribute to a lot of stress before, during, or after childbirth.
Unfortunately, the process of giving birth itself is not a walk in the park. If you're a married couple, it might be hard for both of you to find ways to get closer together when you have a baby to take care of. However, the process is not impossible. In fact, a child can help make your marriage much stronger than ever, given the right kind of motivation.
Giving birth is a stressful situation, but it won't always be stressful forever. After all, seeing a child's smile can warm any parent's heart, and a child can very well help make your relationship be more developed and nurtured.
Here are a few ways on how to make your marriage stronger after the stress of giving birth.
The child is a new journey
When you have a child, think of it as the start of a new journey to help your marriage grow and develop. You have now become parents, and you have brought the greatest gift to the world: life. This means you are now on the cusp of a new journey, and it will only be more wonderful from here.
Try to constantly remind each other why you love each other, and why you've decided to stick with one another for the longest time. Compliments help, even after childbirth, as this can give your partner the drive they need in order to show the same love to your child.

Try to be prepared to take one for the team, especially if you're the husband. Your wife has just gone through an extremely tough ordeal, and she will need to recover in order to regain her strength. As the father of a newborn, it's now your responsibility to make sure your wife gets the rest she needs and your baby gets the care they deserve.

As the child grows, constantly remind your partner how much your child has helped make your relationship stronger. Helping a child grow is no easy feat, and it's thanks to both your efforts that your child will grow into such a wonderful toddler, or a wonderful teenager, or a wonderful adult. Try not to forget these efforts, and thank each other for always having each other's backs.
It's better with a plan
This advice comes for last, as this takes a bit of preparation. Should you and your partner decide to have a child, it's always better to be prepared for what's going to happen next in order to cope with the situation better. It's not supposed to be the perfect plan, but a plan that could at least help you steer yourselves in the right direction with the stress of giving birth in mind.
When you plan on conceiving a child, try to check if you have the means to prepare for the child's arrival. Do you have a room at home prepared for the child? Have you decided on sleeping arrangements, and do you have enough materials to support at least a few months' or a year's worth of finances for food, diapers, and other essentials?

Try to check if you can make arrangements at work to get a proper maternity or paternity leave. That way, you'll be able to focus more on taking care of your child instead of worrying about how this can affect work when the child is already underway. Preparing this early can greatly help your situation.

If you have the spare finances at hand, try to check with insurance providers for your child as early as now and take note of the possible rates. If you can support the premium even with your other expenses in mind, you may want to consult a financial professional and seek advice if it's a good move to go for that.

It's not bad to consult a therapist first before or during the pregnancy so you could have more specific advice tailored to your situation. That way, you can have more strategic methods of coping with the stress of childbirth when the baby finally arrives.
Conclusion
The miracle of childbirth is just one step during your journey of married life. It will not be easy, and it will not always come with rainbows and sunshine, but it will be perhaps one of the most joyous parts of your married life.
However, it's not always bad to know when to seek help and to actually get help when needed. If you and your partner feel as though there's a need to get professional help, you are encouraged to see a psychologist or a therapist to find out ways on how you could cope and help your marriage grow after the stress of giving birth. It's always better to be equipped with methods and strategies you could use to help nurture our relationship so as to find solace in the comfort of each other's company.
Share this article on
Want to have a happier, healthier marriage?
If you feel disconnected or frustrated about the state of your marriage but want to avoid separation and/or divorce, the marriage.com course meant for married couples is an excellent resource to help you overcome the most challenging aspects of being married.
More On This Topic
You May Also Like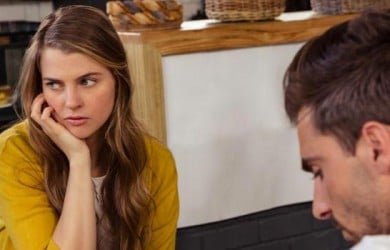 Popular Topics On Married Life