First-Time Pregnancy Tips: 21 Things You Should Know
Becoming pregnant for the first time is an exciting and sometimes overwhelming experience. There are many things to consider and prepare for during this special time. It's like starting a new chapter in your life, and being informed is key to a healthy and positive pregnancy journey.
You might be wondering where to turn for reliable information during your first-time pregnancy.
At times, it can feel like there is information overload, with countless sources available at our fingertips. However, it is important to prioritize reliable and trustworthy sources when seeking information about your pregnancy. If you are seeking first-time pregnancy tips, we are here to provide you with some guidance.
21 things to know when you are pregnant for the first time
The journey of pregnancy is unique for every individual. So, how do you know when you get pregnant? Here are 21 first-time pregnancy tips to deal with the transformative journey:
1. Prenatal care
Regular prenatal care is the foundation of a healthy pregnancy and one of the first things to do when pregnant. It involves scheduled visits to your healthcare provider, usually an obstetrician or midwife, to monitor your health and the well-being of your developing baby.
These visits include check-ups, blood tests, ultrasounds, and discussions about your overall well-being. Prenatal care helps identify and address any potential issues early on, ensuring the best possible outcome for both you and your baby.
2. Healthy diet
Eating a nutritious and well-balanced diet is one of the essential first-time pregnancy tips during pregnancy. Your body requires additional nutrients to support the growth and development of your baby. Focus on a variety of foods, including lean proteins, whole grains, fruits, vegetables, and dairy products.
Adequate intake of essential nutrients like folic acid, iron, calcium, and protein is vital. Consult your healthcare provider or a registered dietitian for personalized dietary recommendations.
3. Hydration
Staying hydrated is essential for maintaining your body's functions and supporting the amniotic fluid that surrounds your baby. Drink plenty of water throughout the day to prevent dehydration, which can lead to complications.
4. Weight gain
Gradual and healthy weight gain is a natural part of pregnancy. The amount of weight you should gain depends on your pre-pregnancy weight and body mass index (BMI). Gaining too much or too little weight can impact both you and your baby's health.
Your healthcare provider will provide guidelines for appropriate weight gain based on your individual circumstances.
5. Exercise
Engaging in regular, moderate exercise can contribute to a smoother pregnancy and healthier birth outcomes. Exercises like walking, swimming, and prenatal yoga can help improve circulation, reduce discomfort, and strengthen muscles.
Always consult your healthcare provider before starting or continuing any exercise routine, as they can recommend activities that are safe for your pregnancy.
6. Rest
Pregnancy can be physically demanding, and your body needs extra rest to cope with these demands. Adequate sleep supports your immune system, energy levels, and overall well-being.
Finding comfortable sleep positions, such as sleeping on your side, can help alleviate discomfort as your pregnancy progresses.
7. Avoid harmful substances
It's crucial to avoid substances that could harm your developing baby. This includes abstaining from alcohol, tobacco, and recreational drugs. These substances can lead to serious health problems for both you and your baby, including birth defects and developmental issues.
8. Medications
Before taking any medications, even over-the-counter ones, consult your healthcare provider. Some medications can have adverse effects on your pregnancy. Your provider can recommend safe alternatives if needed.
9. Prenatal vitamins
Prenatal vitamins are specially formulated to provide essential nutrients that support your baby's development.
They typically contain folic acid, iron, calcium, and other vitamins and minerals important for pregnancy. Even if you have a healthy diet, these supplements can help ensure you're getting all the necessary nutrients.
10. Morning sickness
Many pregnant women experience morning sickness, characterized by nausea and vomiting, especially during the first trimester.
Eating small, frequent meals, avoiding strong odors, and staying hydrated can help manage these symptoms. If morning sickness becomes severe and interferes with your ability to eat and drink, consult your healthcare provider for guidance and potential treatment options.
11. Emotional changes
Pregnancy hormones can lead to significant emotional changes. Mood swings, increased sensitivity, and even episodes of anxiety or depression can occur. Recognize that these emotional fluctuations are normal, and seek support from your partner, friends, and family.
If your emotional well-being becomes a concern, don't hesitate to discuss it with your healthcare provider.
12. Body changes
Pregnancy triggers a range of physical changes. Your breasts may enlarge and become tender due to hormonal shifts. As your baby grows, you'll experience weight gain, changes in body shape, and possible skin changes such as stretch marks.
Embrace these changes as part of the remarkable journey of growing a new life.
13. Maternity clothes
As your body transforms, you'll need comfortable clothing that accommodates your changing shape. Maternity clothes, including pants with adjustable waistbands, supportive bras, and loose-fitting tops, can help you feel more comfortable and confident throughout your pregnancy.
14. Birth plan
A birth plan outlines your preferences for labor, delivery, and postpartum care. It can include your preferences for pain management, medical interventions, and the atmosphere you want during labor.
While birth can be unpredictable, having a plan can help you communicate your desires with your healthcare team and feel more in control.
This detailed video explains how to create a birth plan. Have a look:
15. Childbirth classes
Childbirth education classes provide valuable information and techniques for labor and delivery. These classes cover topics such as pain management options, relaxation techniques, and what to expect during different stages of labor.
Attending these classes can help you feel more prepared and confident as you approach your due date.
16. Baby's movements
Pay attention to your baby's movements, also known as "kick counts."
Regular movements are a sign of your baby's well-being. If you notice a significant decrease in movement or any changes in your baby's pattern of movement, contact your healthcare provider, as this could indicate a potential issue.
17. Preterm labor signs
Understanding the signs of preterm labor is essential. These first time mom pregnancy symptoms may include regular contractions, pelvic pressure, lower back pain, and changes in vaginal discharge.
If you experience any of these symptoms before 37 weeks of pregnancy, contact your healthcare provider immediately.
18. Pelvic floor exercises
Pelvic floor exercises, also known as Kegel exercises, help strengthen the muscles that support your bladder, uterus, and bowels. Out of all the first-time pregnancy tips, this one offers all-round benefits during pregnancy.
These exercises can aid in preventing urinary incontinence and support your body during labor and postpartum recovery.
19. Preparing for baby
Everyone suggests this as part of their first-time pregnancy tips.
As your due date approaches, start preparing for the arrival of your baby. Set up the nursery, gather baby essentials like clothing, diapers, and feeding supplies, and learn about baby care basics.
Reading books and attending parenting classes can help you feel more confident as a new parent.
20. Breastfeeding
If you plan to breastfeed, educating yourself about breastfeeding techniques, positioning, and common challenges is essential. Attend breastfeeding classes, consult with lactation consultants, and create a supportive environment for successful breastfeeding.
21. Embrace support
Pregnancy can be both exciting and challenging. Embrace the support of your partner, family, and friends.
Open communication about your feelings, concerns, and needs can strengthen your support network. Don't hesitate to ask for help when needed, whether it's with household tasks or emotional support.
Commonly asked questions
In this section, know the other first-time pregnancy tips, what to do when pregnant for the first time, along with other guidance to make your experience smoother.
Why is it important to be active while pregnant?
Staying active during pregnancy offers numerous benefits for both you and your baby. Regular exercise can help improve your mood, energy levels, and sleep quality.
It can also help prevent excessive weight gain, reduce the risk of gestational diabetes and preeclampsia, and improve your overall cardiovascular health.
Engaging in moderate exercise, such as walking, swimming, or prenatal yoga, can also promote better circulation and muscle tone, which can aid in labor and postpartum recovery. However, it's crucial to consult your healthcare provider before starting or continuing any exercise routine to ensure it's safe for your pregnancy.
What should I expect during my first prenatal appointment?
Your first prenatal appointment is an essential step in establishing your pregnancy care. During this visit, the pregnancy facts for first time moms will likely be
Confirm your pregnancy through a urine or blood test.

Take a detailed medical history and discuss any pre-existing conditions or concerns.

Perform a physical examination and possibly a pelvic exam.

Calculate your due date based on the first day of your last menstrual period or ultrasound measurements.

Discuss your lifestyle, diet, and any necessary prenatal supplements.

Address any questions or concerns you have about pregnancy.
What changes should I expect in my body during the first trimester?
The first trimester is characterized by significant hormonal changes as your body adjusts to support the developing embryo. You may experience
Nausea and vomiting

Breast changes

Fatigue

Frequent urination

Food aversions and cravings

Mood swings
Are there foods to avoid during pregnancy?
Yes, as one of the first-time pregnancy tips, there are several foods and beverages that are best avoided during pregnancy to ensure the safety of both you and your baby. These include
Raw or undercooked seafood, eggs, and meat:

Unpasteurized dairy products and soft cheeses

Certain fish high in mercury

Caffeine

Alcohol
How do I know I'm pregnant for the first time?
The most common early signs of pregnancy include missed periods, nausea or morning sickness, breast tenderness, fatigue, frequent urination, and a heightened sense of smell.
If you suspect you might be pregnant, one of the pregnancy tips for first time moms is taking a home pregnancy test after your missed period is a reliable way to confirm. However, for accurate results, it's advisable to consult a healthcare professional for proper testing and guidance.
To make the first-time pregnancy a memorable experience,
In the exciting journey of experiencing pregnancy for the first time, there are several key aspects to consider and be aware of. In terms of nutrition, being mindful of what you eat and avoiding foods that could pose risks to you and your baby's health is crucial.
The journey of discovering that you're pregnant for the first time often begins with recognizing signs.
Remember, each pregnancy experience is unique. Seeking first-time pregnancy tips, guidance, and care throughout this transformative process will empower you to make informed decisions and foster a healthy beginning for both you and your growing baby.
The journey ahead is filled with anticipation, change, and the incredible joy of welcoming a new life into the world.
Share this article on
Want to have a happier, healthier marriage?
If you feel disconnected or frustrated about the state of your marriage but want to avoid separation and/or divorce, the marriage.com course meant for married couples is an excellent resource to help you overcome the most challenging aspects of being married.
Learn More On This Topic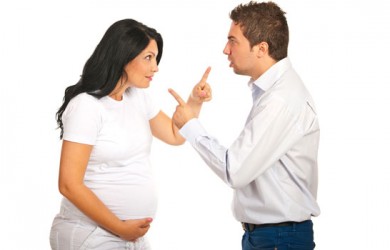 You May Also Like