20 Best Soulmate Love Poems for Your Husband
Nothing beats poetry if you want to show your partner how much you cherish and adore them. It can express your love and gratitude in a unique and powerful way. Soulmate love poems for husband are a wonderful way to celebrate your special bond and how much he means to you.
In his article, Zhang (2022) notes that soulmate poems have the ability to capture the magic and beauty of the connection and understanding that you share with your partner. Amazingly, whether it is your anniversary or just a regular, soulmate love poems for husband can be a great choice.
In this article, we've collected 20 of the best soulmate love poems for husband that will touch their heart and reflect your fantastic love. So, relax, enjoy, and let these soulmate love poems for husband inspire you to honor the extraordinary relationship that you have with your partner.
What is a soulmate poem?
When trying to express the love you have for your husband, it's not uncommon to feel at a loss for words. This is where soulmate love poems for husbands can step in and convey what you struggle to articulate. They encapsulate the very essence of a meaningful bond shared between two individuals.
Soulmate poems express a heartfelt connection between two people who possess a profound understanding of one another's souls. They evoke romance and inspiration, aiming to touch your husband's heart and serve as a reminder of the beauty and love that you share.
How do you write a love poem for your husband?
Are you bothered by the question, "how can I write a love poem to my soulmate?" Worry not, we got you covered. Writing love poems for your soulmate can be a beautiful expression of your affection and admiration.
When writing a love poem for your husband, it's important to tap into your emotions and express your feelings in a sincere and heartfelt manner. Also, Bryson and Movsesian (2017) note that you could draw inspiration from shared moments with your soulmate.
Don't be afraid to experiment with different styles and techniques to capture the essence of your relationship. Ultimately, the best soulmate love poems for husband are those that come from the heart and convey the depth of your love and devotion.
20 best soulmate love poems for your husband
Fortunately, poets throughout history have attempted to capture the essence of true love through their soulmate love poems. Below are 20 of the best soulmate love poems for husband that are sure to touch his heart.
1. My blessing In life by Jessica L. Newsome
Every morning I wake up and see
The most handsome man lying next to me.
He's the one I cherish and love,
A blessing sent from Heaven above.
I will love him as a faithful wife should
And do everything for him I could.
I would let him know every day
That I love him more than words can say.
For the two children we have together
And the love for God in each other,
It will keep our love for each other strong,
And the Lord will guide us away from all wrong.
Related Reading: 

The Miserable Blessing of Hopelessness in Relationships

2. Satisfied by Dina Johnson
When you make love to me everything seems right,
You seem to take my hand and guide me through the night.
You reach to take my fears and throw them to the past,
You penetrate my soul in hopes to make it last.
And you standing with me, never shall I be afraid.
My inner core you've touched, my sanity you've saved.
But if you feel you can't be strong in all my times of need,
You've given me a strength, somehow I'll take the lead.
Never understanding, accepting what time may give
We'll learn and grow together,
Cherishing each moment that we live.
3. My one and only love by Antoinette McDonald
The sound of YOUR voice is like…
A whisper to my ears,
Pure and pleasant to hear!
The sparkle of YOUR eyes…
Are as glitter
Enlightening me – showing me
TRUE LOVE!
The smell of YOUR body…
Excites and makes me hunger and
Thirst for thee!
YOUR lips…
Taste as sweet as honey,
Touching my very soul!
YOUR touch…
Hot as a burning flame,
Seeking to devour me!
LOVING ME and ONLY ME!!
Related Reading: 

100 Best Love Memes for Her
4. My love by Joydip Dutt
My heart doesn't belong to me.
You have its only access key.
Life is meaningful because of you.
Our bonding is priceless, always new;
Valuable you are, indeed precious.
Eternity is what I wish for us.
5. Love so amazing by Elaine Chetty
My love for you is like the raging sea,
So powerful and deep it will forever be.
Through storm, wind, and heavy rain,
It will withstand every pain.
Our hearts are so pure and love so sweet.
I love you more with every heartbeat!
Sara Algoe, a social psychology associate professor at the University of North Carolina, explains how saying "thank you" shows appreciation and communicates value and recognition to someone who has done something nice for us. Watch her insights on how expressing gratitude can benefit your relationship.
6. I promise by Ian E. Rabbitt
I'll love you
like you've never been
loved before
With all my core
As time goes on
I'll love you more and more
No matter what life has in store
I'll be patient, I'll be kind,
I'll be here to ease your mind
I'll be honest, I'll be loyal
I'll do everything to ensure
this love doesn't spoil
Related Reading: 

Breaking Promises in a Relationship – How to Deal With It
7. Close your eyes by Elizabeth Smith
Close your eyes and think of me
Close your eyes and try to see
Our hearts together and what could be
Our love forever as destiny
8. Defeated by love by Rumi
The sky was lit
by the splendor of the moon
So powerful
I fell to the ground
Your love
has made me sure
I am ready to forsake
this worldly life
and surrender
to the magnificence
of your Being
9. A short soulmate poem by Emily Eclogue
A soulmate is a lover first
and then perhaps a friend
and then at times maybe a stranger
and or at other times an enemy,
but then again a friend,
and always there, family,
if not in blood, then in soul,
always by your side.
10. A soulmate poem for him by Claire Clerihew
I am a lock.
I am bound up hard,
a Gordian knot,
a tangled ball of thread,
a stomach so tense,
it is ready
to tear me apart
from the inside out.
You are the key,
slipping into me,
cutting the knot,
untangling the thread,
releasing the butterflies
so that I melt
into the arms of you,
my soulmate,
forever true.
Related Reading: 

151 Cute Love Poems for Her From the Heart
11. I will wait forever by Diana J. Briones
Days have gone and nights have past,
since the day I seen you last.
The days are cold the nights are long,
but my love for you stays strong.
I hold you in my heart,
and have you on my mind.
I'll wait for you however long,
my love for you is blind.
You are my lover and my friend,
you are my everything.
I shall remain here waiting,
even if for eternity.
12. Someday my love by Kimberly
Remember the walks
Remember the talks
The promises we made
The choices we came to make
To have you in my life was no mistake
For every tear that falls
Be it as it may
I know I love you and we will be together forever someday
13. "How do I love thee?" by Elizabeth Barrett Browning
How do I love thee? Let me count the ways.
I love thee to the depth and breadth and height
My soul can reach, when feeling out of sight
For the ends of being and ideal grace.
I love thee to the level of every day's
Most quiet need, by sun and candle-light.
I love thee freely, as men strive for right.
14. The definition of love by Andrew Marvell
As lines, so loves oblique may well
Themselves in every angle greet;
But ours so truly parallel,
Though infinite, can never meet.
Therefore the love which us doth bind,
But Fate so enviously debars,
Is the conjunction of the mind,
And opposition of the stars.
Related Reading: 

How to Determine Your Definition of Love

15. The new beginning by Olufunke Kolapo
Like the warmth of the morning sun,
So do thoughts of you embrace me,
Revealing how alive I am
A glorious light of the new day,
so is your presence in my life,
relieving it of its shadows,
and marking the start of a new beginning.
16. Yours by Daniel Hoffman
I am yours as the summer air at evening is
Possessed by the scent of linden blossoms,
As the snowcap gleams with light
Lent it by the brimming moon.
Without you I'd be an unleafed tree
Blasted in a bleakness with no Spring.
Your love is the weather of my being.
What is an island without the sea?
17. For him by Rupi Kaur
No,
it won't
be love at
first sight when
we meet it'll be love
at first remembrance
'cause i've recognized you
in my mother's eyes when she tells me,
marry the type of man you'd want to raise your son to be like.
18. From my heart by Mrs Creeves
A million stars up in the sky.
One shines brighter – I can't deny.
A love so precious, a love so true,
a love that comes from me to you.
The angels sing when you are near.
Within your arms, I have nothing to fear.
You always know just what to say.
Just talking to you makes my day.
I love you, honey, with all of my heart.
Together forever and never to part.
Related Reading: 

151 Cute Love Poems for Her From the Heart
19. To lose thee, sweeter than to gain" by Emily Dickinson
To lose thee, sweeter than to gain
All other hearts I knew.
'Tis true the drought is destitute,
But then I had the dew!
The Caspian has its realms of sand,
Its other realm of sea;
Without the sterile perquisite
No Caspian could be.
20. A red, red rose by Robert Burns
Till a' the seas gang dry, my dear,
And the rocks melt wi' the sun;
I will love thee still, my dear,
While the sands o' life shall run.
And fare thee weel, my only luve!
And fare thee weel awhile!
And I will come again, my luve,
Though it were ten thousand mile.
These soulmate love poems for husband are just a few examples of the endless ways in which you can express your love for your husband. With poetry for soulmates, you can capture the depth and beauty of the love you share with your husband and keep the flame of your passion burning bright.
More questions on soulmate love poems for husband
In this section, we've compiled a list of frequently asked questions related to soulmate love poems. We hope this will help to answer the questions you might have.
What truly is a soulmate?
Soulmate love is a rare and beautiful thing that brings a deep sense of connection and understanding between two individuals. As Bradley Onishi says in his article, it is a bond that transcends time and space and is characterized by a sense of completeness and comfort in each other's presence.
A soulmate is someone who feels like a true match for your soul. They are someone with whom you share an unbreakable bond that goes beyond physical attraction or superficial interests. A soulmate understands you in ways that no one else can, and they accept you for who you are.
What are some short soulmate sayings?
Short soulmate sayings are a beautiful way to express your deep and profound connection with your partner. These sayings can be used in a variety of ways, from love notes and cards to wedding vows and social media captions.
Some examples of short soulmate sayings include "You are my forever and always," "We were written in the stars," "You complete me," "My heart beats for you," "You are my forever," "My heart beats for you" and "Together is our favorite place to be."
These sayings capture the essence of soulmate love in just a few words and can serve as a constant reminder of the deep bond that you share with your partner.
Wrapping up
These 20 soulmate love poems are perfect to express your love and appreciation to your husband. They are a wonderful way to remind him of the love you share and the bond you have built together.
If you're facing any relationship issues or challenges, it's important to seek counseling or couples therapy to work through them together. Remember that a strong and healthy relationship takes effort, communication, and a lot of love. Keep the flame burning and cherish your soulmate forever.
Share this article on
Want to have a happier, healthier marriage?
If you feel disconnected or frustrated about the state of your marriage but want to avoid separation and/or divorce, the marriage.com course meant for married couples is an excellent resource to help you overcome the most challenging aspects of being married.
You May Also Like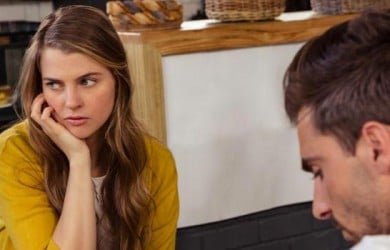 Popular Topics On Married Life