Is Vacation Sex Too Hot for You to Handle?
You don't need us to remind you how hedonistic summer can make most of us feel, so it's hardly surprising that most people will identify vacation sex with being hot, free and intense.

And while we recommend that every couple tries it to bring some more spice into their relationship, the intensity of the experience can cause confusion and disappointment when you return home if you are not careful.

Even if your experience is with a new partner there are some things that you might want to consider before you decide to have it with that beautiful stranger you've just clapped eyes on across the dunes!

So in this article, we highlight why it might be too hot to handle, so that you can enjoy it for what it is, and use to enhance your confidence and relationship rather than creating the opposite if you return home and wonder what happened.
Potential mates can seem much more impressive
If you are in a long-term and committed relationship vacation sex can add some oomph to your relationship. But is it as free and relaxed with a stranger as it seems it might be?
It's important to remember that if you have connected with a stranger for some sizzling action with the intention of hooking up with them post-vacation.
Even perhaps with hopes of turning your connection into a long-term relationship. You might be disappointed.
Now we are not saying that it couldn't turn into a long-term relationship, not at all, one of my close friends is still happily married, with children to her partner from twenty years ago, so we know it's possible.
However, your partner might be one thousand times cooler, free-spirited and attractive to you while on vacation than they are in real life when they are dealing with the mundane, everyday challenges of life.
So if you are thinking of having this sexual escapade because you want something more, it's probably time to stop and check in with yourself to see whether this moment of heated passion, is enough for you and won't damage your esteem if it never progresses past pure the action.
Here are some more reasons why vacation sex can sometimes be fun but illusionary
The intensity of vacation sex is high
Let's get real here. Erotic adventure is hot. Hotter than 'normal sex' and is pretty much likely to make you want more, and more.
Which makes it great for spicing up your sex life if you are married or in a long-term relationship – the different environment and enhanced risk-taking that you might participate in will undoubtedly get your juices flowing and will create fantastic memories and even bring you closer when you return home.
However, if you are having hot sex with a new lover, it will be way more intense than usual which means that you'll need to remind yourself to keep your feet on the ground so as not to lose yourself in a fantasy that might not be real.
If your experience of vacation sex is with a stranger, it 's best to enjoy the moment for what it is – a memorable, passionate encounter.
It is usually more adventurous
Because vacations are relaxing, and full of new adventurous experiences, you might surprise yourself with how unusually bold you find you are sexual. You might find yourself less inhibited, kinkier and more prepared to take risks.
Just make sure that the risks you take are legal and safe in the country you are vacationing in. And that you remember our first point – that such adventurous and free sexual encounters may be more intense than they will be in reality.
So if you plan on seeing your 'vacation sex partner' in the future then don't be disappointed if the intensity of the sex turns down a notch or two.
Your confidence is usually higher on vacation
When you're on vacation, you usually leave all of your troubles and limitations behind. You generally feel more attractive and sexy, and your confidence is high.
So when it comes to such erotic adventure, it's hardly surprising that you find it to be more adventurous, and intense. It is undoubtedly hotter than 'normal' sex.
Which means that when you return home from vacation with your partner or spouse, don't give yourself or them a hard time because your sex life is not as hot as it was when you were on vacation.
Similarly, if you plan on meeting the stranger you met on vacation, don't be full of expectations that things are going to be the same in real life – because it won't be.
We don't say all of this to put a downer on things, but the last thing we want to see is that you go on vacation and instead of the hot action, bringing a bit more spice to your life and confidence into your relationships, it fills you up with fantasy only for you to be disappointed when you return home.
The risk for disappointment if you don't pay attention to the exotic vibes that this sexual escapade brings to your romantic life is as high as the intensity you are going to feel while enjoying vacation sex when you are away.
Share this article on
Want to have a happier, healthier marriage?
If you feel disconnected or frustrated about the state of your marriage but want to avoid separation and/or divorce, the marriage.com course meant for married couples is an excellent resource to help you overcome the most challenging aspects of being married.
More On This Topic
You May Also Like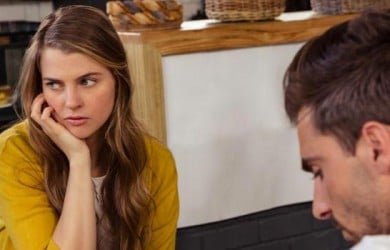 Popular Topics On Married Life