14 Signs You Are in a Healthy and Thriving Relationship
Happiness, love, and success are few of the many things that we all want in our relationship. Although
A healthy relationship can help us transform into better versions of ourselves and look past all flaws to find joy in small gestures of love from our partner.
Listed down below are the 12 signs that you are in a healthy relationship that makes you feel affirmed, supported and confident.
1. Both of you are happy
Being happy is the foremost characteristic of a healthy, successful relationship. Both the partners enjoy each other and want no aspect of their relationship to change.
2. You are honest and truthful with each other
Being honest to your partner develops trust in between the couples that are said to be the foundation of any relationship that will last for a long time.
Both of you find the day incomplete without sharing your feelings with each other.
3. Both of you communicate well
Couples in a happy relationship are able to have deep, meaningful conversations. When you talk to each other, you ensure they have your entire attention and feel heard.
4. Each of you takes out time to care for yourself
Both of you realize and understand that self-care is important and that it is important you take out time for yourself to keep yourself from being stressed out and exhausted.
5. You understand and respect each other's opinion
Being a couple doesn't mean you have to have everything in common, it is okay for couples to disagree on certain topics. However, no matter how different the views, both of you respect the other's perspective and beliefs.
6. Both of you are aware of what bothers your partner
You know everything about your partner and are also aware of what bothers them.
Therefore, you avoid doing things or are trying to change habits of yours that you know your partner does not like.
7. You get along with their friends and family
Knowing and being friendly with the people who are dear to your partner is a sign of a strong relationship.
Learning to like and be friends with the people your partner's friends and family just for their sake is an amazing way to show that you care for you them.
8. You enjoy your own personal space
No matter how close the two of you are, both of you still enjoy your own personal space where you are able to move freely and do whatever you like without the involvement of your significant other.
9. You reach decisions together
All important decisions such as finances, changing homes, adopting pets, etc. are made with mutual agreement.
Neither of you takes important steps in their life without consulting your partner.
10. Both of you are physically and emotionally intimate
Being intimate is important for couples to connect and strengthen their relationship.
You and your partner enjoy times of physical intimacy as well as emotional intimacy such as deep, late night talks or long drives, anything that allows you to be in each other's company.
11. Both of you are willing to forgive and forget
Happy couples realize that it is important for them to apologize and forgive when needed to keep their relationship intact.
Both of you accept that there is no shame in asking for forgiveness and that everyone makes mistakes and deserves a second chance
12. Each of you is responsible for their actions and words
Both of you are responsible for what you say or do and do not blame it on each other. Instead of taking anger out on each other, you owe up to your mistakes and try to make changes that will positively affect your relationship.
13. You fight
It is completely normal, actually healthy, for couples to fight.
But instead of the blame game, keeping score and putting each other down, you argue productively and fairly. It is also important that you drop the subject then and there instead of dragging it and fighting over the same issue over and over again.
14. You love each other
No matter the condition, both of you love each other. You know you can count on each other to help and support them when needed and provide them with unconditional love throughout your life.
Being in a happy, satisfying relationship is no less than a blessing.
However, this blessing can only be achieved with patience and if lots of hard work is put into building the relationship. One should continue to try and improve their relationship to the point until they can relate to the signs of a healthy relationship mentioned above.
Share this article on
Want to have a happier, healthier marriage?
If you feel disconnected or frustrated about the state of your marriage but want to avoid separation and/or divorce, the marriage.com course meant for married couples is an excellent resource to help you overcome the most challenging aspects of being married.
More On This Topic
You May Also Like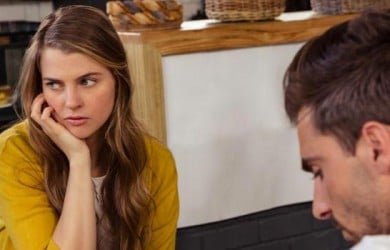 Popular Topics On Married Life