11 Signs a Man Is Lying About What He Really Wants
Regarding a relationship, knowing if someone is being honest with you about their intentions is essential. Unfortunately, some men may lie about what they want in a relationship in order to hide their true intentions.
In this article, we'll explore 11 signs a man is lying about his true intentions along with ways to deal with a lying partner.
11 signs a man is lying about what he wants with you
Navigating the dating world can be challenging, especially when deciphering someone's true intentions. If you're unsure whether a man is honest with you about his desires, paying attention to the signs is essential.
1. Inconsistent words and actions
One of the giant red flags or signs a man is lying about his intentions is if his words and actions don't match up. keeps you separate from them, it could be a sign that he's not taking the relationship seriously and this may even be lying at the beginning of a relationship.
3. Contacting you only at certain times
If a man only reaches out to you late at night or when bored, it could be a sign that he's not interested in a real relationship.
A man who is genuinely invested in you will want to communicate with you regularly, not just when it's convenient for him. This is also how to tell if a guy is lying about cheating.
4. Vague about plans
It's possible that a man isn't as involved in the relationship as he professes to be if he can't offer you a straightforward response about where he sees the two of you headed together.
A man who is interested in you enough to be serious about the relationship would want to think ahead to the future and discuss these ideas with you.
5. Always busy
If a man is always making excuses for why he can't see you, it may be an indication that he isn't interested in making time for a relationship and thus doesn't want to commit to one.
If a man is interested in you on a deep and meaningful level, he will make time for you, even if it requires him to rearrange his schedule.
6. Not interested in your life
If a man isn't interested in getting to know you better on a deeper level by inquiring about your interests, objectives, and hobbies, it's a clue that he could not be involved in a meaningful relationship with you at this time.
7. Avoiding important conversations
Dismissal is one of the most common signs a man is lying about or trying to hide something.
It is possible that a man is not committed to making a relationship work if he is hesitant to have unpleasant talks regarding the relationship. Any problems that may arise in the relationship will be something that a man who is serious about you wants to work through.
8. Secretive about the phone or social media
It is possible that a man is trying to conceal anything from you if he is always guarding his phone or if he doesn't want you to access his social media accounts.
A man who is interested in you and wants a genuine relationship with you will be honest and forthright with you about his internet presence.
9. Always looking for an out
Is he lying to me? If a man is continuously talking about how he is not ready for a relationship or is unclear if he is prepared to commit, it is possible that he is interested in the relationship more than he lets on.
A man who is interested in you on a deep and meaningful level will not be someone who is always seeking for an escape route from the relationship. So look out carefully for these signs a man is lying.
10. Inconsistent behavior
These are crucial signs a man is lying. It's possible that a man needs to figure out what he wants in life if he's sending you conflicting messages or if his emotions are all over the place.
A man who is interested in you and is serious about the relationship will behave and communicate in a consistent manner.
11. Not willing to compromise
A few more signs a man is lying is, if a man is hesitant to make any adjustments to the relationship in order to fulfill your requirements or fulfill your desires, this may be an indication that he is not interested in attempting to make it work.
If he is truly interested in you, he will be prepared to make sacrifices and put in the effort to develop a solid foundation for your relationship.
5 tips to deal with a lying partner
Dealing with the signs a man is lying can be emotionally challenging, but it's essential to prioritize your well-being and take steps to address the issue. Here are five tips to help you deal or what to do when you know he's lying.
1. Communicate openly and honestly about your feelings and concerns
Are you perplexed by the question, is my partner lying to me; the first thing you need to do in order to cope with a spouse who lies to you is to talk in an open and honest manner about your thoughts and worries.
It is imperative that you communicate how their actions influence you and the reasons why they need to be honest or even why he is lying to you.
Make sure that you listen to their point of view as well, since there may be underlying issues that are prompting them to lie to you. The talk should be approached with sensitivity and compassion, and language that is accusatory or blaming should be avoided.
2. Pay attention to your gut instincts, and don't ignore red flags
If you have the suspicion that there are signs he's lying, paying heed to your intuition is really necessary. Don't discount your intuition just because it's trying to tell you something, because it may be trying to tell you something really significant.
Keep an eye out for anomalies in their behavior and conversation, and have faith in your gut whenever anything doesn't feel quite right.
3. Set boundaries and stick to them
When coping with a spouse who lies, one of the most important steps is to establish clear limits. Make it clear to them what kind of behavior is unacceptable, as well as the repercussions that will follow if they continue to lie.
If it comes to it, ensuring that these consequences are carried out will demonstrate to your spouse that you take the maintenance of your boundaries seriously.
4. Don't make excuses for your partner's behavior
Concerned about how to tell if a man is lying? When you feel strongly about your partner, it might be simple to rationalize their dishonest behavior and create excuses for them.
Making excuses for their actions, on the other hand, will just encourage them to continue lying and may result in a marital dynamic that is unhealthy. Instead, you should hold people responsible for their conduct and clearly convey what you want from them.
5. Seek support from friends, family, or a therapist.
Having to deal with a spouse who lies on a regular basis may be emotionally draining, which is why it is necessary to get help from friends, family, or a therapist.
Discuss your emotions and worries with someone you can rely on, and if the lying continues, you might want to think about receiving assistance from a trained expert.
In case you're still not sure, try watching this video on some more common signs your partner may be lying to you:
Some more questions
Navigating relationships can be challenging, and it's common to have questions about the signs of a lying partner or how to interpret a partner's behavior. This next section addresses some common questions and concerns about dealing with a lying partner.
How do you know if a guy loves you but is hiding it?
It is possible for the signals that a guy is lying about his genuine sentiments or intentions to be comparable to those that are covered in this article. Keep an eye out for anomalies in his behavior and speech, and have faith in your gut whenever something doesn't quite sit right.
Do men lie when they love you?
Even if they really care for you deeply, there is still a possibility that some guys would lie to you about their actual intentions or sentiments.
If you want to know whether or not someone is being truthful with you, pay more attention to the actions and behavior that they exhibit than you do to the words that they say.
Uncovering his truth in a productive way
In conclusion, it's essential to be aware of the signs that a man may be lying about what he wants in a relationship. Trust your instincts and don't ignore any red flags that may arise.
If you find that your partner is lying to you, communication and setting clear boundaries can be helpful in resolving the issue. However, if the lying persists, seeking professional help such as relationship counseling may be necessary.
Share this article on
Want to have a happier, healthier marriage?
If you feel disconnected or frustrated about the state of your marriage but want to avoid separation and/or divorce, the marriage.com course meant for married couples is an excellent resource to help you overcome the most challenging aspects of being married.
Learn More On This Topic
You May Also Like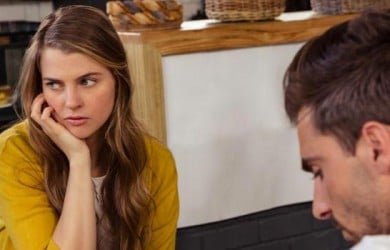 Popular Topics On Married Life