Second Thoughts: Should I Marry Him?
"Will you Marry Me?" Every girl dream about hearing those words from the man they love.
More often than not, the response is a resounding Yes!
After all, it's an important life goal for any woman to marry the man they love.
But you're hesitating. So there's something wrong. Let's try to break it down and see why you're answering the most important question of your life with another question.
"Should I marry him?" If you ask this question to anyone. That is a big red flag and as such, should not be ignored.
You are not ready
Nobody is. Marriage is a big commitment. Even if you have your finances in order, getting married is a huge commitment. Marriage is not just about money. It is about raising children, and monogamy. There is also the physical, emotional, and spiritual connection between couples that must forever, or at least until death, be upheld.
Ok, maybe it's not spiritual for most atheists, but for most people, they marry in a church because it is a sacred promise.
A commitment of giving your mind, body, and soul to another person is sometimes a little bit overwhelming for a person. Especially, one who is too busy pursuing their own goals.
Loving each other is a very important part of marriage, some overly idealistic people would even say it's the only important thing. Most cultures advocate monogamy because humans do not have the time and the energy to dedicate our lives to more than two entities at once. If you try, you will only end up being an unsatisfactory lover to one or more than one of them.
Do you have something like that? An unfulfilled goal that takes up your entire being. One that would prevent you from marrying a man you already love?
Depending on your answer, that will show if you should marry him or not.
You don't love him enough
There are many reasons why a couple goes into a relationship. Sometimes it's just for fun, for money, or social status. It may be hard to believe, but there are still arranged marriages in this day and age.
Regardless of your reasons for being with him, it is still possible that you just don't love him enough to marry him.
If this is the case, don't marry him. We will not pry why the guy is clueless about how you truly feel. Maybe he is hoping that marriage will deepen your relationship to the level he wishes it to be, but if you don't love him, then don't go through with it. Be respectful and decline his offer, make sure you tell him why. He deserves to know. Otherwise, both of you are making a big mistake.
He is rough around the edges
Nobody is perfect. But some people have too many flaws. You love him more than the world itself, but he annoys you too much.
This is tricky, living with someone that doesn't make you happy will burn up the love you have for them over time. Even perfect couples lose their passion for each other after a few years.
A lot of women marry thinking they can change their man once he is inside their household. Some succeed, but most do not. Especially, if the problem is infidelity.
But some women want to give it a try. They believe they are the savior that misunderstood man is looking for and are willing to play the martyr.
If you are this type of woman, you would have said yes, right away, but you didn't. So it means you are not willing to play the wife, mother, nanny, and sex slave and bail bond agent all rolled into one.
So say your piece, give him a chance to change. If he gets angry or doesn't change, then you know where you stand.
Your friends and family disapproves of him
This happens a lot, if this is why you hesitated, then you care about what they think and place a lot of weight on their opinions. So why do they disapprove of him? Is it religion, his career, his demeanor, he doesn't own a single pair of decent shoes?
People you trust will be pretty honest and straightforward when dissing your boyfriend, so you don't really have to guess why they hate him.
So talk to your boyfriend about the issue, if you have been transparent about your relationship as you should have been, then he should already be aware of it. If not, then go ahead and open up the topic, if he truly wishes to marry you then he would be willing to change.
If the situation is the other way around, then you should also be willing to change. If you or your boyfriend is not willing to give up your lifestyle then you are not meant for each other.
You can't afford it
This is the most common reason why people do not marry nowadays. Raising a family in the current economic environment is a daunting task even for people who have stable jobs.
But if this is the only reason, then go for it. Do not have children right away, that is where the real financial burden comes in.
Grow and build your wealth together. Then when you are ready, you can then have children.
If neither of you has stable jobs, then involve your family on both sides and see what they think of the matter. Most of the time, parents are supportive if they approve of your boyfriend. Unless you are way too young to get married, then you can wait just a little bit longer.
If your afraid of having children, or the responsibilities of a parent, then don't have sex. You don't need to get married, to get pregnant.
You don't believe in marriage
Why not? What have you got to lose? Other than one big party, there's really no difference between cohabiting and marrying someone. It only matters when there's a lot of money involved. There are contracts that lawyers can write up to fix the issue.
If you are already living together, then there shouldn't be an issue. You are just holding on to your pride and imagined freedom.
If you are not living together, then you are thinking of losing something important to you by moving in with your future husband. If that's the case, read this article "Should I Marry Him" again.
Share this article on
Want to have a happier, healthier marriage?
If you feel disconnected or frustrated about the state of your marriage but want to avoid separation and/or divorce, the marriage.com course meant for married couples is an excellent resource to help you overcome the most challenging aspects of being married.
More On This Topic
You May Also Like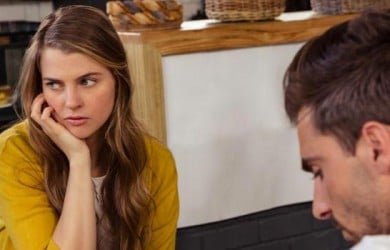 Popular Topics On Married Life