Sexual Harassment of Men: Its Types and Consequences
Do you know that sexual harassment of men happens as frequently as that of women? Read this article to the end to learn more about men's sexual harassment, sexual assault meaning and its types.
Sexual harassment is a common occurrence in many societies in the world. Many people detest it and speak against it anywhere it happens. These reactions to sexual harassment only happen when it comes to females.
Does this mean sexual harassment of men doesn't happen? Of course, it does – it only means the general countenance to men being sexually harassed is different and often taken with a grain of salt.
There are many reasons that sexual harassment vs sexual assault on men doesn't get the publicity it deserves. First, when a man reports being harassed by a female, his friends may interpret it as being lucky to have female attention. Also, society may think he's lying. After all, men are naturally stronger than women. So, you must have wanted to allow it.
That clearly shows an imbalance in the treatment and attention to sexual harassment of men in our society. This article details many revelations about sexual harassment of men, its types, and its effects.
What is sexual harassment?
One common question is, what is sexual harassment? Or what does sexual harassment mean? To fully understand the effects of sexual harassment on men or the types, you should know sexual harassment meaning.
According to Rape Crisis Organisation in the UK, "sexual harassment is any unwanted sexual behavior that makes someone feel angry, offended, scared or humiliated…"
In addition, sexual harassment describes any sexual activity that occur without consent. It involves violent sexual conduct. Other types of sexual harassment may include sexual assault, rape, attempted rape, unwanted sexual or physical contact, or touch.
There is an alarming case of sexual harassment all over the world. Often, victims are told that they are too sensitive and should be able to overlook a "little" touch from someone or a stranger. Other times, survivors of sexual assault are described as "unreasonable" or "can't take a joke."
These statements are all shades of wrong and should never be told to victims of sexual harassment, regardless of their gender.
Due to such statements, sexual harassment continues to grow. As reported by a news agency, The UN Women reports that almost four in 10 women have experienced sexual or physical violence from someone in their lifetime. In a 2013 report by the UN Women, 99% of women have experienced sexual assault.
Similarly, 44% of women are married off before their 18th birthday in Nigeria, the giant of Africa. Finally, according to Stop Street Harassment (2014), 65% of the women surveyed had experienced sexual assault.
These revelations indeed put women at the center of sexual assault, but the truth is men also experience it. Based on the Centers for Disease Control and Prevention (CDC) research, 1 in 3 women and 1 in 4 men will experience sexual harassment in their lives.
Also, based on The National Intimate Partner and Sexual Violence Survey in 2015, the National Sexual Violence Resource Centre (NSVRC) reports that about 24.8% of men in the US experienced some form of sexual violence in their lifetime.
Nationwide, 43 percent of men reported some form of sexual harassment in their lifetime. Meanwhile, About one in four male victims of attempted or completed rape experienced it between the ages of 11 and 17 first.
The most painful part of these childhood sexual assaults is that the male survivors are more likely to be assaulted again in adulthood.
Watch this video to learn about signs that you are in an unhealthy or exploiting relationship:
Effects of sexual assaults on men
Men are often regarded as strong, brave, and emotionally stable, amongst other things. It's why men sexual assault isn't taken seriously when reported by some men. Some individuals make a jest at men who openly talk about sexual assaults.
However, sexual assault on men isn't funny. The lack of necessary help for male victims of sexual assault has some repercussions. There are effects of sexual assaults on men contrary to what you may believe.
Men's harassment or sexual harassment to men can take a toll on sexual, physical, and behavioral health for a while after the devastating event occurred. The following effects of sexual assault:
1. Physical effects
One of the effects of sexual assaults is on physical body. Sexual harassment can result in many disturbing physical conditions in men. For example, men who have been raped may suffer from chronic anal and pelvic pain, body pain, digestive problems, and arthritis.
Also, rape or uncompleted rape survivors may be at risk of contracting sexually transmitted diseases. That may also affect their psychological and emotional health.
2. Post-traumatic Stress Disorder (PTSD)
How to know if you've been sexually assaulted? You start showing some PTSD signs.
PTSD is a mental health condition after a traumatic event like sexual harassment. It causes several symptoms after a person experiences sexual assault. PTSD is common among men who are sexually harassed.
According to research, rape is a trauma likely to lead to PTSD in men or women, although men are less likely to report the assault.
Some of the symptoms of PTSD may include insomnia, flashbacks of the sexual assault, re-experiencing the traumatic event, avoiding reminders of the incident, having constant negative thoughts, and getting startled easily. Also, victims may experience constant headaches, body aches, nightmares, and fatigue.
3. Sexual health
Another significant effect of sexual harassment on men is their sexual health. After experiencing sexual assault in any form, the victims may find it challenging to enjoy sex with an individual. For instance, a man who has experienced sexual assault may have low libido, reduced sexual behavior, or hate sex entirely.
In addition, some victims of men sexual harassment may experience fear and anxiety during sexual contact with someone they like. One reason is that they still carry the guilt and shame from the traumatic incident. This, in turn, interferes with their desire for sex, even though they are interested in someone.
What are the different kinds of sexual assault on men?
Although sexual harassment to men connotes unwanted or forced sexual contact, it comes in different forms. The type that individual experiences will determine the effects and how treatments are administered. The following are the different kinds of sexual assault men experience:
1. By Women
Women often perpetuate the top male sexual harassment. At a very young age, many men were harassed by older women. Other men were either harassed by their girlfriends or wives.
However, they don't dare to report it. For example, at the workplace, some women pass offensive sexual statements to men in a "joking" manner. Also, some women make sexual advances to men, even when they know the men are uncomfortable.
Unfortunately, many of these behaviors don't pass as crimes. After all, no one will believe that a woman is capable of doing such an act due to the societal perception of the power of men. They often forget that sexual assault can happen to anyone, regardless of age, sexual orientation, and gender identity.
Consequently, they become a laughing stock or are called weak for not appreciating such behavior.
2. By men
Strangely enough, men can also be the ones sexually assaulting their fellow men. According to research, 80% of male child sexual abuse is perpetrated by males. Notably, men sexual assault by their fellow men is one of the worst feelings.
Although sexual preference is personal and everyone should have the right to theirs, obtaining sexual pleasure by force or intimidation is wrong. Many men have had forced gay encounters in their lives. Consequently, they feel humiliated afterward.
Men harassment by other men can be in the form of rape, attempted rape, gang rape, enforced nudity, sexual slavery, enforced nudity, and being coerced or intimidated to perform certain sexual acts with others.
3. Stalking
Like women, many men have also experienced stalking by either men or women who wish to have sexual conduct with them. According to the Centres for Disease Control and Prevention CDC, "stalking occurs when someone threatens or harasses another person repeatedly, causing fear and anxiety."
The act is usually done by someone the victim knows or used to be intimate with in the past.
According to the National Intimate Partner and Sexual Violence Survey (NISVS), 1 in 17 men have experienced stalking in their lifetimes. Also, many of these men are victims of male sexual harassment before age of 25.
Some of the signs of stalking include watching the victim, unwanted following and approach, showing up unannounced at the victim's house or their location, using technology to monitor their victim's location and activities, sneaking into victim's homes, workplaces, cars with the intent to cause harm or scare them.
Other signs of stalking include unwanted calls, texts, emails, voice messages, and presents. It is best to report any cases of stalking that you have noticed to keep yourself safe.

Related Reading: 

25 Tips to Stay Safe When an Ex Becomes a Stalker
3 symptoms associated with male sexual assaults
Like their female counterparts, men also show some signs of the aftermath of their sexual abuse. Sadly, when men report the trauma they experience after getting assaulted by women, their symptoms are often downplayed by professionals and people who ought to listen.
Nonetheless, men go through some signs associated with sexual assaults. These include:
1. Emotional disorder
Men who are sexually abused at any point in their lifetime experience anxiety, PTSD, and depression more than those who have never been abused sexually. This affects their behavior and other significant areas of their lives, like work and relationships.
Related Reading: 

What Is Intimacy Disorder and How to Overcome This Condition
2. Eating disorder
According to the American Psychiatric Association APA, eating disorders are characterized by severe, unusual, and persistent eating behaviors and associated distressing thoughts and emotions. It includes abnormal eating behaviors that affect a person's physical or mental health.
In addition, Eating disorders can include unhealthy eating habits, such as an obsession with food, body weight, or body shape. Some signs of an eating disorder include food binges, Eating slowly, lack of appetite, vomiting, overexercising, purging, and severe food restriction.
Although Eating disorders can affect any gender at any point in life, they're increasingly common in men. That's because these people may not seek treatment at lower rates or may not report their eating disorder symptoms.
3. Substance abuse
Another sign of men sexual assault or sexual harassment of men is constant substance abuse. Men being sexually assaulted have a high chance of alcohol and drug use. That's because these substances tend to provide temporary relief to their problems.
For example, the probability of alcohol and drug problems is higher in men who have been physically and sexually abused, according to research.
Related Reading: 

8 Different Types of Abuse in a Relationship
Commonly asked questions
Men can also experience unwanted sexual advances or behaviors in various settings. Here are some commonly thought-of questions about sexual harassment of men.
Can men be sexually harassed?
Yes, as we have explained above, men can be sexually harassed. A large proportion of victims of rape attempted rape or forced sexual conduct or violence comprise of males. Sexual harassment of men is not an alien concept for the society anymore.
How do you tell someone to stop sexually harassing you
Start by telling the person to stop saying you don't like the behavior. If they refuse to stop, you can involve the police or any security agency. Also, you may file a restraining order against the perpetrator to keep them away.
Reach out for help
Sexual harassment of men doesn't have the same attention and popularity when compared to women harassment. Nonetheless, it happens more often than you thought.
Many don't hear about it because society hardly believes that men can be harassed due to power, stereotype, and masculinity. Therefore, many men don't report sexual harassment when they experience it.
Unfortunately, the effects of sexual assault on men can be devastating and cause some damage. This article has explained sexual assault meaning the types and effects of sexual assaults. If you still experience the trauma of sexual assault as a married person, you should consider couples counseling.
Share this article on
Want to have a happier, healthier marriage?
If you feel disconnected or frustrated about the state of your marriage but want to avoid separation and/or divorce, the marriage.com course meant for married couples is an excellent resource to help you overcome the most challenging aspects of being married.
More On This Topic
Recent Articles
You May Also Like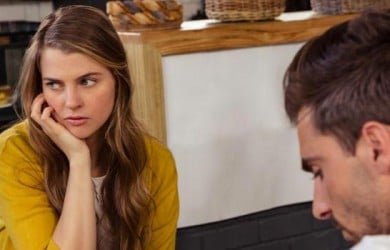 Popular Topics On Married Life