7 Ways to Save Your Marriage When You Feel Hopeless and Helpless
No two relationships are the same.
It's not a mandate that you will have a seemingly perfect relationship just like your friends or parents. You may face some difficulties and hardships that other couples you know may have not faced at all.
This doesn't mean that you should end your relationship. Instead, this calls out to fix your relationship.
How to save a failing marriage is what most couples from the present generation are eagerly looking for.
It's never an easy path when your marriage seems hopeless.
Hence, listed below are some of the points when you're willing to save your marriage when you feel hopeless.
1. Recollect what's good
It's a natural human tendency to look at the positive side or habits when in a good mood, and when in a bad mood, perspective changes.
However, you must always take control of things. No matter if the situation is good or bad, you must always rejoice on the good side and acknowledge the bad side.
That's what makes us human.
So, when you're feeling hopeless in a marriage, recollect things that were holding you together. This will help you save your marriage when you feel hopeless. Look inside first
Blaming your significant other isn't the right choice, at all.
When you're blaming your partner for not doing anything, it's always better that you peep inside yourself first. Sometimes, it's our fault that has created the hurdle in a beautiful marriage. So, when you're wondering what things to do to save a marriage, start from yourself first.
Look inside, change your habit or behavior if you really are willing to save your marriage.
2. Realise what's not working
Do you even know what's not working in your relationship?
Sometimes, we overreact to a situation and things slip from our hand.
Whilst you're trying to save your marriage, you must understand and pinpoint what's not working in your relationship.
If you're able to locate the exact reason or cause that's causing hurdles, you'll be able to tackle it in a much better way.
So, find the problem if you want to save your marriage when you feel hopeless.
3. Be open-minded and accept things the way they're
How to save a marriage that seems hopeless?
Well, accept things the way they're. Most of the time, we run away from reality and confuse our fantasy with the real world.
In the cinema, everything seems alright and perfect, but in real life, things are way different. So, the moment you mix these two worlds, you will invite trouble into your life. Draw a line, and start accepting the reality the way they're. You'll feel better and gradually will observe that things are not that bad after all.
4. Take time out for yourself
Too much or too little involvement can also lead to a troubled marriage.
If you are to save your marriage when you feel hopeless about it, try taking some time off from the routine.
Meet friends, go out in an activity that you love the most, even go for a solo trip.
These things will clear your mind and will give you a chance to see things from a distance. That's when you'd realize that there isn't any problem in your marriage, at all.
Also watch:

5. Relive the dating era
Once you're in matrimony, things seem a bit harsh.
Suddenly, you'll find yourself surrounded by a lot of responsibilities. Fulfilling each one of that, the charm from your relationship may have vanished.
So, why not bring back the romance by going on a date with your significant other.
It would be a great change wherein you're not only breaking the routine but would also enjoy the golden era.
6. Don't just hear things, listen to them
There is always hope for marriage restoration.
The best way out is to listen and not just hear things. There is a difference in both. When you listen, you actually pay attention to what your significant other is saying.
However, when you hear, you may not pay attention to the details.
So, make sure that you always listen to what your partner is saying.
When you do, you'll learn a lot of things about your partner's feelings. How do you know if your relationship is worth saving? Only when you listen to your partner.
7. Don't just give up
One of the most vital things, when you want to save your marriage when you feel hopeless, is to keep moving, no matter what.
Things might not seem right and you might find yourself stuck in between a lot of things, but you don't have to give up so soon.
Nothing seems easy and great.
You have to keep moving if you really want to save your marriage from the worst. After all, nothing in the world will be served to you right on your table, isn't it?
Share this article on
Want to have a happier, healthier marriage?
If you feel disconnected or frustrated about the state of your marriage but want to avoid separation and/or divorce, the marriage.com course meant for married couples is an excellent resource to help you overcome the most challenging aspects of being married.
More On This Topic
You May Also Like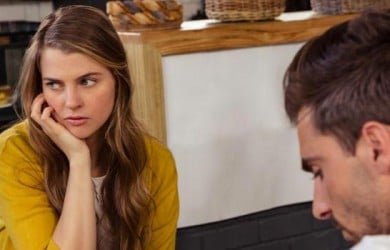 Popular Topics On Married Life