How to Deal with the Relationship Aches
Relationships often emulate roller-coasters of emotions – soaring sparks of exhilaration and trepidation, punctuated by bliss and heartache.
Commonly, we tend to shy away from conflict in our relationships. Somewhat impulsively, we secretly fear that even the slightest conflict in our relationship is somehow a warning siren of its looming demise – the cloudy sky just before the hurricane.
Sometimes relationships simply ache
The colorful narrative of two people becoming a unit often occurs with some growing pains. Growing together entails cultivating collective goals that will become driving forces of the relationship.
A very real yet uncomfortable facet of growing together is learning how to manage misunderstandings, pet peeves, boundaries, and unfulfilled expectations. Haphazardly attending to these things often feed the flame of relationship discord and lead to a painful relationship fraught with frustration.
How do we deal with conflicts?
How we choose to engage in our respective conflict often sets the tone for an outcome of either peaceful resolution or scorching intensification.
When someone you love hurts you deeply, choosing the stance of peace will essentially require us to slow down and respond from a place of patience with our mate.
It's imperative to learn how to build tolerance for the difference of both perspective and choice within our relationships.
Creating an open space for our mates to express their personal perspectives will require both parties to show validation and understanding, about the points of contention.
On how to get over hurt feelings in a relationship, it is advantageous to view our mates as allies instead of adversaries at times of strife. I know this sounds difficult however with practice and diligent intention the aforementioned approaches will become a natural pattern of how you navigate relationship bumps together.
Interpersonal conflicts can be good
Although conflict feels uncomfortable and mentally taxing, it is not uncommon for conflict to show up within our relationships. Feeling hurt in a relationship is inevitable.
Interpersonal conflict or relationship hurt is actually a universal aspect of any human relationship. Accepting this will empower us to move through relationship aches as a loving cohesive unit.
Solutions to lessen the relationship pain
When you are looking for an answer to "why does love hurt", refer to my go-to recipe to soothe the sore spirit of relationship aches.
Here's how to heal a painful relationship.
A heaping spoon of willing dedication

Grace

Enthusiastic determination

Patient consideration

A pinch of sweet humility
In closing, please consider the following questions as you engage with your spouse today.
How can you act in love although you are disappointed with your mate?

What is one thing you can do differently to support peace in your relationship
What to do after a painful relationship
Processing the end of a relationship, recovering from the aftermath of a painful relationship and letting go can be painstaking and challenging.
But, notwithstanding the relationship aches, there is a lot you can reflect on and gain insights from a hurtful experience, to build a strong foundation for future relationships and a happier you.
Recognize your unfounded fears of being left alone and never finding anyone better to spend your life with. There is no magic pill to overcome these fears, so just acknowledge these fears as irrational that hold no water.
Prioritize your own well being. Make self-care your number one priority. Go for a spa, sauna or a massage. Anything that uplifts you and contributes to a healthier you.
Make a mental blueprint of all those things you can do to make you happy, healthy and empowered.
Allocate 2 months to slowly and subsequently overcome the relationship aches that entail a breakup. Be patient and compassionate with yourself. Don't rush into healing overnight.
Follow a guided meditation, take up yoga or a spin class. Anything that will silence the noise in your head, relax and heal you, and will serve as a creative outlet to help you process your emotions, pain and helps you let go.
One of the most effective ways to process a break-up is to take an inventory of your relationship aches by writing all about it in a letter. It will also help you realize that you are better off without hurting each other in relationship.
On how to stop loving someone who hurt you, it will be helpful to delete the contact and sever all ties with them including de-friending them on social media.
Don't fall into the bottomless pit of the blame game. Villianizing the other person for not loving you back will only aggravate your pain.
Are you accidentally ruining your relationship?
Relationship aches due to a lack of compatibility or unforeseen circumstances are inevitable.
However, if you realize you are destroying relationships on purpose, you need to take corrective steps to stop unconsciously sabotaging your relationships. Refrain from judging, making insensitive remarks or criticizing your partner. Avoid giving opinions, and stick to facts. It would be easy to follow if you try to understand where your spouse is coming from and why.
Often couples ask, why do we hurt the ones we love the most? This happens because we are open and vulnerable with our partners, with our guards down.
To avoid relationship aches in a marriage, make a conscious effort to nurture mutual trust and intimacy. Learn to take responsibility for your hurt feelings and regulate your behavior, and you will be well on your way to sharing love and affection with your significant other.
Share this article on
Want to have a happier, healthier marriage?
If you feel disconnected or frustrated about the state of your marriage but want to avoid separation and/or divorce, the marriage.com course meant for married couples is an excellent resource to help you overcome the most challenging aspects of being married.
Learn More On This Topic
You May Also Like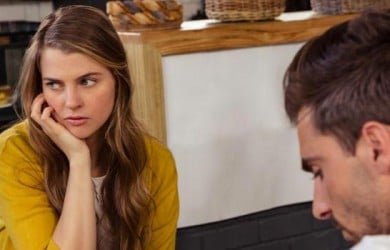 Popular Topics On Married Life