Identifying a Toxic and Narcissistic Relationship Pattern
The moment a person feels attracted to a member of the opposite sex (sometimes the same sex, but that's another issue), they dream about love, romance, and relationships.
Like fairy tails marketed to children, the Prince and Princess meet, fall in love, and live happily ever after. Unfortunately, life is far from it. Sometimes love is unrequited, and there are times the prince and princess, don't meet at all.
There are also times when one of them end up marrying the beast.
Relationships with narcissistic people
1% of the population suffer from Narcissistic Personality Disorder (NPD) according to some estimates. The figure may sound like a small number, but if you really think about it, that's 1 out of 100 people. In a country of 300 million, that's 3 million people.
Helpguide identifies the signs and symptoms of an NPD. To identify their presence in a relationship, it is an obvious first step to recognize an individual with NPD.
Grandiose sense of self-importance
Delusions of grandeur
Need constant validation and entitlement
Exploit and bullies others
Narcissists have an overinflated version of their self-worth.
Since a lot of truly successful people such as rockstars, billionaires, and star athletes act the same way, it creates a trope of what a successful person should act in public. The difference is those successful people have real and verifiable notable achievements while narcissists are only piggyback off others.
A lot of people are deceived by this act.
Narcissists are pathological liars and as such, continue to build circumstantial evidence to support their fantasy. As such, they attract partners who believe they are a good "catch."
Narcissistic relationship patterns
People with NPD go through relationships in the exact same way, they go from hot to scalding hot, to the deepest depths of hell hot.
1. Narcissists are overly romantic
Romantic they are or at least, at the start of the relationship. Narcissists go after what they want with a passion. Their sense of entitlement will not allow them to take what they consider their property (even if it's not).
If you are in the receiving end of this attention, it may appear super romantic.
It is everyone's dream to meet a partner who is larger than life (or behaves like it), and give them their full attention as if there's nothing else more important in the world. That is because there's a problem in the fantasy world in the narcissist's world.
The problem is they believe they own you, but they know deep down inside that they don't. They will then use all their tricks to get you as if you are a prize to be won.
2. Narcissists are controlling and manipulative
Once you give yourself to them, things change. At that point, they no longer see you as a mountain to be conquered, but a slave in their possession. They know that you are not perfect, and they will begin molding you into their perfect "slave."
All narcissistic love patterns follow this particular template as if they learned it from a textbook somewhere.
It will begin by subtle requests for their partners to follow like change in hairstyle, clothing, manner of speaking, etc. They have short patience, so normally this phase is also short if you don't follow them right away.
Most partners are willing to make small superficial changes to please them and prevent the relationship from falling apart.
After that phase, they will begin isolating you from your friends, family, and everything you care about, including your hobbies. They believe you are their possession and can use/mold you as they wish. They are also aware that outside influence will disrupt their "partner polishing project" and will preemptively discredit everyone else slowly, but aggressively.
As partners, this narcissistic relationship pattern begins to develop cracks in their union as reality contradicts their fantasy. Some partners with strong individuality also resist that kind of treatment. Fights would constantly break out as the narcissist attempt to wrestle control of back to them.
The more their partner resists, the more the narcissist, who are sore losers, fight back.
This narcissistic relationship pattern will enter a new and dangerous phase.
3. Narcissists are dangerous
They will begin to use underhanded means to regain control over the situation. It will start with threats, blackmail, and coercion. If the issue is not resolved then, the narcissist will go through with some of those threats and may get physical during arguments and other altercations.
It is a good idea to inform trusted friends and family the situation for your own safety.
It is regretful if you cut ties or antagonized your friends and family in the previous phase. However, a lot of them who truly care about you will take you back and protect you.
Don't forget to apologize.
The Narcissist knows that at this point, the relationship is over and will take steps to minimize the damage on their end and maximize it on their partner. Do not be surprised if they are cheating with another person, including people close to you at this point. If they are, wish them all the best.
They will experience the same narcissistic relationship pattern eventually.
4. Narcissists will devalue their Ex
The moment the relationship falls apart even if it's not officially over, the Narcissist will treat you as discarded trash.
Do not be surprised if your deepest darkest secrets are spread across the internet for everyone to see. They will attempt to destroy your entire being. They will attack your personal possessions, your career, your other relationships with friends and family.
Methods vary from person to person, but all of them will attempt to devalue you, so they can pin the blame on you once you break up. Do not commit infidelity without officially breakup up with your narcissistic partner.
They will leverage that with maximum effect.
In an ideal world, the relationship would end and the narcissist would have found a new target and the same toxic narcissistic relationship pattern will start all over again.
How narcissists treat their exes can be compared to how one would treat a used condom. They would consider it fun while it lasted, but now it's just a piece of trash.
There are some variations that narcissists do not devalue their ex, but instead, lift them up as an unreachable model for their current partner to emulate, regardless, of how it ends up for that partner.
It is fortunate that it is finally over. Good riddance.
Share this article on
Want to have a happier, healthier marriage?
If you feel disconnected or frustrated about the state of your marriage but want to avoid separation and/or divorce, the marriage.com course meant for married couples is an excellent resource to help you overcome the most challenging aspects of being married.
More On This Topic
You May Also Like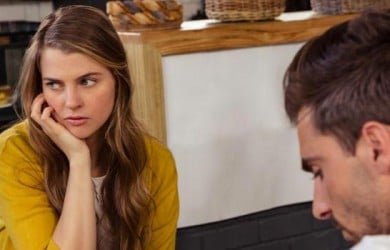 Popular Topics On Married Life