Few Interesting Insights About the Love Lives of Mature Women
Some say women are more mature than men, regardless of their age. With the exception of a huge gap when the man is decades older than the woman, this might very well be true. Starting from the earliest age, girls mature sooner than boys, and in many ways, this difference tends to stick.
One such area where women remain more mature are love relationships. Have you dated mature women?
What we mean when we say "Mature women"
Nowadays, these words signify one of the two possibilities.
The first is the one we discussed in the introduction of this article. It's the fact that women tend to be more emotionally and socially mature than men. And this is apparent in romantic relationships.
Of course, there are exceptions, but take it as a general rule. The second meaning regards a woman's age. To classify as a mature woman, one has to go towards her forties or over.
Within this category of women, there are two subcategories, one in which the woman's partner is also in his mature age, and the other, a bit more tantalizing, when the partner is much younger. There's also the popular name for it, a cougar.
We'll look into both categories of mature women and their love lives.
The way things were, the way things are
Having a mature girlfriend (that is, one that's significantly older than her partner) used to be a huge taboo.
It went against the natural order of things, where the woman was to be in her bearing years when she got married, while the man was to be mature enough emotionally, physically, and economically, to be able to maintain the marriage and provide for his family.
In the modern age, however, society no longer works that way. Women are liberated from the rigidity of their gender role (having children, caring for the household). Men are no longer under pressure to be sole providers for their families.
Love is set free from these pragmatic circumstances.

Why men want to date mature women
More and more young men declare that they love mature women, like to have them as their girlfriends and wives.
There are many upsides to this arrangement. Mature women are usually economically and emotionally independent. They're more confident, less jealous, less focused on getting married or having kids.
Some have children and want no more, some don't have them and don't want them. Young men are attracted to this fact as they are also freed to pursue their interests, careers, to travel, spend money on what they want, etc.
In short, dating a mature woman means more independent love for both partners, unconstrained by societal and biological pressures.
How to have a mature relationship
A woman's emotional maturity becomes most apparent in the kind of relationships we described under the previous category of "cougars". When you wonder how to be mature in a relationship, whether you're a man or a woman, you might want to look into the love between mature women and younger men.
In essence, there are two golden rules for a healthy and mature relationship.
First is – always be who you are. Mature women are no longer under so much pressure to promote themselves as something they're really not. They also know themselves very well. They're confident and happy with who they are, and this is what makes them so enticing to the opposite sex.
The second rule is – respect who the other person is. In other words, it's the other side of the first rule. Never try and make your partner be someone he's not. Respect his boundaries, support his interests, empower him to be the best man he can be.
You're both free people, so have courage to love him in that way.
A few extra tips for young gals out there
You might be reading this and thinking – do I have to wait until I'm 50 to gain all that wisdom and serenity? No! Learn how to be a mature woman in a relationship from the mature women but learn it right away.
No need for many heartbreaks, for many losses, for much pain, and for time spent thinking and learning about life.
As we said at the beginning of the article, you're the mature one from the get-go. So, use this advantage and become the wise soul you're bound to become at a later age. Look around you and look inside of you.
Explore the pressures you might feel, dig into your ugly and painful emotions (jealousy, possessiveness, hurt). Get to know yourself. And then learn from those mature women who already fought those demons and won the war.
Share this article on
Want to have a happier, healthier marriage?
If you feel disconnected or frustrated about the state of your marriage but want to avoid separation and/or divorce, the marriage.com course meant for married couples is an excellent resource to help you overcome the most challenging aspects of being married.
More On This Topic
You May Also Like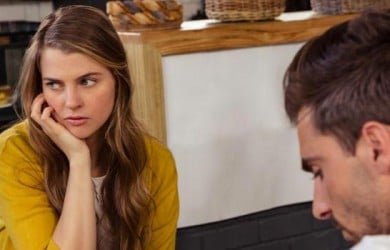 Popular Topics On Married Life