15 Ways on How to Reject Someone Nicely
Generally, there are no easy ways on how to reject someone nicely without hurting them.
Human behaviors are pretty complex to understand. Even when there is no assurance of a positive answer from the other person, you are still hopeful that they may agree to your proposal. However, it does not work this way.
In as much as a person's intention and feelings towards you are genuine, the chances are that you will reject some admirers due to one reason or the other.
First, it is unhealthy and unsafe to date many people at a time. Also, a particular person may not tick your list of suitable partners, and that's fine.
Nevertheless, sending rejection text messages can feel like you are committing a sacred sin when not carried out well.
Some people care less about how their words come out, but others like to present their rejection calmly to avoid making the other person feel bad. As a result, they look for different nice ways to say no to a date.
If you wish to know how to turn someone down or decline a date politely, keep reading this article.
Related Reading: 

How to Overcome Fear of Rejection in Any Aspect of Life
15 ways on how to reject someone nicely
1. Be direct and honest
To know how to reject someone nicely, you have to learn to be truthful with your words and emotions. Do not overthink your answer as it may complicate the matter.
After the first or second date, you should know if there is chemistry between you or not. Once you don't feel anything towards the person, politely reject their proposal by telling them how you feel.
Be brief and precise so that the person knows their stand. They will, in turn, appreciate you for your kindness, and you may even be friends after that. You can say: "Thanks for your proposal, but I am not interested in a sexual relationship (or any other type) now."
2. Do not wait for days
If you want to reject a girl nicely, the best is to give her a reply as quickly as possible. Nobody likes it when you delay them, even if they are patient.
Since you are sure your answer will be a no, you will help the other person by rejecting their proposal quickly. Waiting for days before you let them know your decision can pass different messages across.
First, the other person may think there is a chance for them after all. Also, they may think you are thinking about their proposal when you have already made up your mind.
Therefore, give your answer as quickly as you can to avoid sending the wrong message. You will help not only them but also yourself.
3. Don't mention their traits
No one appreciates someone pointing out the flaws concerning their physical traits and features.
One safe way on how to reject someone nicely is to avoid mentioning their unique physical characteristics. Of course, there will be some features you don't like in a person – we all have that.
It does not make you unkind; it is just the way things are. The problem, however, comes when you tell the person directly their physical attributes pushed you away.
Some of the features may include height, stature, facial expression, shape, mannerisms, etc.
Telling someone you don't want a relationship because they are short or chubby is considered a personal attack (even if you don't see it).
Instead, kindly tell someone you are not interested in suggesting that you are incompatible.
4. Do not sugarcoat your words
In their attempt to reject a guy or girl nicely over a text or in face-to-face communication, some people say more than necessary.
For example: "The stage I am in my life does not allow me to have a relationship." Statements like the above are an example of the wrong way to decline a date politely.
To you, they will understand the message and back off, but the other person sees a signal to push further.
Also, not being precise means there is still a chance for the person, only if they can stay around. Naturally, the person will want to know the situation and how they can help.
For instance, they can help you with a job, thinking that will make you yield to their requests. The best way to turn someone down is to express your feelings clearly and succinctly.
5. Reject them how you would want someone to reject you
Sometimes, you will run out of options to tell someone you don't want to date them nicely. When this situation happens, it is best to put yourself in their shoes.
If you make some advances towards the opposite sex, how would you want them to present your rejection? That way, you will stop overthinking the issue, feel less guilty, and reject the girl or guy nicely.
Also Try: 

Fear of Rejection Quiz
6. Offer some compliments
A trick to rejecting someone you like is to water down the rejection message with some friendly and genuine compliments. Remember the good things you want about them and put them forward before your rejection text messages. For example, you can say:
"I appreciate your proposal, but I am not interested in a relationship."
Understand that if they try to push further after this, it is not your fault, and they are disrespectful.
7. Don't apologize
If you want to master how to reject someone nicely, avoid apologizing in your rejection text messages. You might want to insert the word "sorry" because of the several dates you have gone or exchanges on phones, which does not warrant an apology. Instead, be direct and polite. You can say this:
"I appreciate your openness, but I don't want to move forward."
8. Be specific about your needs
Not knowing why a person rejects us can be more painful than the actual rejection. While you should not tell every Jack and Harry about your life goals and aspirations, your date deserves closure which will help them manage the rejection.
Also, it won't leave them in the dark or make them blame themselves for the failure. Kindly tell someone you are not interested with more empathy. For ex:
"I appreciate your honesty, but right now., I am looking for a serious relationship or casual relationship, or I am not interested in the relationship because I have some time-consuming engagement. I hope you find someone worthy."
9. Keep it casual
In some scenarios, you may have to reject someone you like or know. Rejecting such a person is one of the hardest things because the other person already thinks it should be easy. However, it does not have to get awkward after you say no.
Politely decline a date with them by letting them know it can't be possible.
If you don't know how to decline a date politely, tell the person you appreciate their gesture and vulnerability, but you are disinterested.
Continue acting the way you used to, even when they make it more awkward.
10. Value your relationship
Rejecting someone you like can never be a walk in the park, no matter how much you try.
However, you can reduce the impact it will have on the person by emphasizing how much you value your friendship. Let them know what you have is fantastic, and you don't want anything to affect it. Remember to appreciate their honesty and bravery.
Related Reading: 

Effective Ways of Dealing With Rejection
11. Be firm with your decision
Your decision can sometimes waver, especially with an ex. If you want to know how to reject someone nicely, keep your message short and direct.
Let the person know you have moved forward to something new and would like it to remain like that.
You don't need to refer to your old memories or their past mistakes while you were dating. Instead, kindly tell them you are not interested.
12. Meet face-to-face
Another method on how to reject someone nicely is to schedule an in-person meeting. The digital world we live in makes many people rely on rejection text messages, but in-person interaction has its advantages.
It would help if you understood that the other person would feel disappointed when you send your messages over a text.
Meeting them is a way to help them process the rejection. Besides, it means you respect them enough, and they can see your face to know how serious you are.
Meanwhile, if the person has shown some signs of aggression before, you should consider text over a meeting.
13. Prepare yourself
You can only try your best not to hurt the other person. However, rejection is never received well by most people.
Mentally prepare yourself that the person may react badly to your response by pestering you. If the person gets upset, don't reply by arguing or shouting at them.
Instead, restate your opinion and politely decline their date.
14. Be truthful about your current relationship
To save yourself from stress, tell someone you are not interested in them by letting the person know you have a partner.
Although that should put anyone off, some people may push further by showing you different ways they are better than your partner.
They may try to impress you by buying you gifts or showing off to get your attention. Stay assertive and on point.
15. Don't take back your rejection message
One way to master how to reject someone nicely is by sticking to your decision. Some individuals can be overly persistent about their intentions.
However, do not let them intimidate you, change your mind or make you feel guilty. Don't let them coerce you into agreeing to a friendship if you don't want to.
It may give them a false hope that you will agree in the future. If it helps, block them on social media or other means of communication. You may also get a restraining order in some severe circumstances.
Related Reading: 

Why Do Men Hate Rejection so Much?
Conclusion
No one likes to be at the receiving end, and rejection can put you in that position. However, it is vital if you learn how to reject someone nicely.
Rejecting someone politely helps them process the message calmly and accept things as they are. Aside from this, it is a sign of respect, enabling you both to move on quickly.
Some people just don't know how to take no for an answer. To know more, watch this video:

Share this article on
Want to have a happier, healthier marriage?
If you feel disconnected or frustrated about the state of your marriage but want to avoid separation and/or divorce, the marriage.com course meant for married couples is an excellent resource to help you overcome the most challenging aspects of being married.
More On This Topic
You May Also Like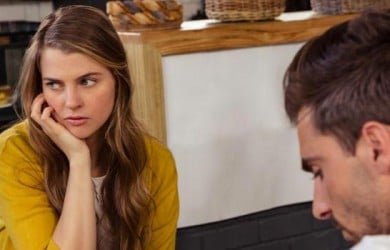 Popular Topics On Married Life