10 Essential Tips on How to Date a Widower
If you're thinking about whether to date a widower, you should pay special attention to how to do it right.
A widowed man inevitably goes through a sort of a personal crisis not many people experience in their dating years of life.
This is why you should always bear in mind that things cannot be the same as if you were dating a single or even a divorced man.
There are things you can do to make it all go smoothly, and then there are things you should never allow yourself to do.
Let's go over both.
How do you know if a widower is ready for a relationship?
But first, we need to understand what being a widower really means.
At any stage of life, going through the loss of one's spouse is the number one stressor, one that brings the most profound life-changing experience.
It comes with a maximum of points on the famous Holmes and Rahe stress scale.
This means that losing a wife bears the immense danger of becoming ill and having psychological and physical disturbances.
Furthermore, a widower, especially when there are children involved, has to take care of a never-ending list of everyday (and, hopefully, once in a lifetime) errands.
Whatever his level of involvement in these matters might have been prior to his wife's death, he now has to take care of it all by himself.
You know he is ready for the relationship when he displays the following signs:
He will not pressurize you for

physical intimacy

. When it comes to intimacy with a widower, he is ready to wait and is more concentrated on building the relationship stronger with you.

Although he is sad after the death of his wife, he'll take special care to not let his grief come in the way of the relationship. You'll see it in his efforts.

He is a man of words and you will see him taking action that he treats you well. When you are not a rebound for him, the "I Love Yous' are not merely phrases. His behavior will reflect it too.

He is okay to introduce you to his friends and family. He is happy to let the world know about the relationship without any inhibitions.
A deeper psychological side of being a widower
What we described above are just the issues a widowed man has to deal with upon losing his wife.
What is even more important to understand is what he goes through psychologically and emotionally.
Whenever we lose someone close to us, we need to go through the grieving process. Depending on a number of factors, it lasts from anywhere between months to decades.
This is why you should be mindful of everything we're talking about regardless of the fact that your new fling's wife might have passed twelve years ago.
You're still dating a widower, and the same set of rules applies.
After the initial shock and a denial of the reality of his wife's death, he will go into a phase of experiencing profound pain, and even guilt.
After these stages, the widower will feel angry that this has happened to his wife and try to bargain. This is a phase filled with many "If only"s. When nothing works, he will fall into depression.
However, especially with adequate help, depression is followed by the acceptance stage. This is when most grieving men start dating again.
10 essential tips on how to date a widower
One thing that you probably realize by now is this – his deceased wife will inevitably become a saint.
Regardless of how they got along during their marriage, and how she really was with time, the dead wife becomes an angel. And this is understandable.
It is also something you should learn to accept. In practice, remember that there isn't a competition.
Whatever you do, respect your new partner's idealization of his late wife.
Never try to be better than that image. Even if you see that things obviously weren't the way he describes them.
What you should do is talk openly but with sensitivity about how issues that arise make you feel.
Here are a couple more things to keep in mind for how to date a widower:
1. Take things slow
An essential thing to keep in mind for how to date a widower is to not try and rush the relationship. Everyone has their way of dealing with loss and grief. Allow them the time to be ready for a new relationship.
2. Communicate
Communication is vital for any relationship to prosper, especially when it comes to how to date a widower. Your ability to communicate with a widower openly and honestly will play a huge role in building a strong relationship.
Ensure that apart from being a good listener, you must also be able to express your feelings and wishes as well.
Related Reading: 

10 Reasons Why Communication in Marriage Is Important
3. Limit your expectations
Expectations in many relationships are unspoken agreements that become a pivotal aspect of our satisfaction. If your partner constantly fails to meet your expectations, you might find yourself full of disappointment, anger, and eventually resentment.
When dating a widower, you need to manage your expectation by either minimizing them or speaking openly about them. A widower might have been out of the dating game for years; you must take that into consideration.
4. Look for warning signs
If you are dating a widowed man and you often find him drawing comparisons between you and his deceased spouse, that is definitely one of the difficulties of a relationship with a widower. The guy you are dating is still stuck in grief, and it could get pathological, especially if this is the first relationship after being widowed.
5. Respect their memory
If you are thinking about how to date a widower with such a deep history, know that it's not really possible to erase all the past memories of the marriage, especially when the past is so painful that he had to deal with the death of his ex-wife.
So, don't expect him to change suddenly. Also, accept his past and the memories of it.
6. Don't allow it to be a rebound relationship
It could be possible that the widower is unknowingly getting into the relationship to mask the grief of his past marriage. If you are wishing for a serious relationship, make sure the feelings are the same from his side, too, and it's not just a rebound relationship.
Related Reading: 

6 Rebound Relationship Stages to Be Aware of
7. Be extra cautious if children are in the scene
It becomes a lot more serious when children are involved. So, tread lightly when you are discussing children. Know that the parent will be selflessly sensitive about the children, and it won't be right to meddle with that feeling.
8. Don't delve a lot into past information
Don't try to dig up their past a lot, even if you are doing it with the right intentions. Be mindful that it wasn't a breakup or divorce, but someone passed away. So, if they are not willing to discuss after a limit, just pause.
9. Be gentle
Be gentle in your behavior with them as they have suffered ineffable pains and could be still suffering. So, the more understanding and empathetic you are to their pains, the better it is going to be for you both and the relationship.
10. Be supportive
When dating a widower, support them in their journey. It's a deep loss and the wounds of it will always be there. So, stick by them instead of turning a blind eye to their troubles.
Also watch: 3 things to expect when dating a widower:
Pros and cons of dating a widower
Dating a widower can be a different experience with many pros and cons. Check them out:
Know the pros of dating a widower:
They would value your presence in their life

They will handle the relationship maturely

They will prefer to spend quality time with you

They will never fail to show gratitude
There could be a few relationship problems with a widower. Know the cons of dating a widower:
They might be gravely suffering from the past trauma

They will refuse to acknowledge the relationship

This could be a rebound relationship for them

They could be bad communicators
The Big no-nos of dating a widower
Could there be any warning signs dating a widower? Here are a few dating a widower problems:
The biggest downside of dating a widower is talking badly about his late wife.
As we said earlier, things might not have been as idyllic as he now remembers them, but you really shouldn't be the one to burst that bubble.
Never try to secure your position in his life by trying to push her out. Absolutely no need for such a move.

Also, never try to be like her. Yes, you will surely feel the need to try and rise up for the challenge but do it in your own way. Don't change, and don't try to resemble her or mimic their relationship.

One dating a widow red flag is this is a slippery psychological slope for both. Remember, he came to like and love you after an enormous loss and pain. So, don't change what he liked so much.
Takeaway
While dating a widowed man or woman, expect them to feel blues from time to time. Especially on holidays, birthdays, anniversaries, and the way to handle it with success are – to allow him to grieve.
Ask how you can make things easier for him. If he needs some alone time, make sure he gets it. That doesn't mean he doesn't love you. He's grieving the loss of a huge chunk of his own life. Just be with him by his side.
Share this article on
Want to have a happier, healthier marriage?
If you feel disconnected or frustrated about the state of your marriage but want to avoid separation and/or divorce, the marriage.com course meant for married couples is an excellent resource to help you overcome the most challenging aspects of being married.
Learn More On This Topic
You May Also Like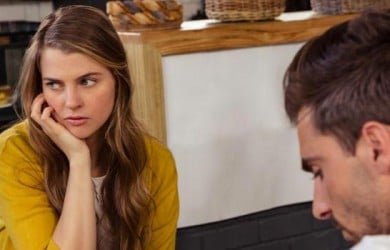 Popular Topics On Married Life