How to Be in a Relationship
Whether you are a veteran dater or just starting in the dating world, you are probably asking yourself how to be in a relationship and what you are looking for in a relationship partner.
This is an important question!
It is helpful to puzzle out the qualities you are looking for in a potential partner so that you can better identify them when you are meeting new people.
That said, it's always good to leave a little room for the unexpected! Let's explore some tips on how to be in a relationship.
How to figure out what you want in a relationship
To begin with, take a moment to self-reflect. Identify what your core values are. These are non-negotiable things. It may be helpful to grab a pen and paper and list them.
How do you feel about money—are you a saver or a spender? What about religion—is your faith important to you?
Would you consider dating someone of a different faith, or someone who was an atheist? What are your political leanings, and is it important for you to have a partner who supports the same political party as you? How about education? Would you be at ease dating someone less educated as you, or more educated?
Defining all these important points can help you get what you know will make you happy as you figure out what you are.
Should I be in a relationship?
This question is just as important as deciding how to be in a relationship.
Ask yourself if you are truly ready to be in a relationship. Are you someone who "just needs" to be part of a couple? Maybe you could benefit from being on your own for a bit, just to prove that you are capable of being happy solo.
Are you looking for a partner to fill a void? Again, taking time to work on yourself, perhaps with a qualified therapist, can be productive.
So take a hard look at your answers to the question "should I be in a relationship" and make sure your answers are coming from a place that is healthy, and not needy. For example:
"I am ready to be in a relationship because, while my life is filled with good friends and interesting things, I want to give love to another person." Now that's a good base from which to operate!
How to find a relationship
The great thing about being on the dating market now is that pool of potential partners has never been bigger, thanks to the internet.
But before you get to online dating, do not neglect the tried-and-true, more traditional ways of finding the love of your life.
Let your community know that you are ready to date and ask them to introduce you to any available people they might think would make a good match.
Your community could include your friends, your workplace, your religious community, people you know from your gym or sports classes…the list is endless!
And don't think that asking them to introduce you to people seems like a desperate move. If you approach this with self-confidence and an open, sunny personality, the match-makers in your circle will be happy to facilitate introductions.
Another way to find the love of your life is through online dating sites.
There are loads out there now; the market is quite segmented. Do your research and take your time to look at the various target markets that the different sites serve.
Make sure the dating site that you use reflects what you are looking for in a relationship. If you aren't into one night stands, for example, don't put your profile up on a site known for hookups only.
If you wish to match with someone of your religion, seek a site that corresponds to that desire. In general, paying sites attract more quality users than free ones.
How to start a relationship
Once you've dated a bit and found compatibility with a person, you feel like you'd like to start a relationship.
It will be important to know if the other person is on the same page, so communication will be crucial, not only on this point but moving forward. The best tip couples share when asked how to start a relationship is this: make sure you and your new person communicate well.
Good communication is the basis for all healthy relationships, so you want to key into this from the start when considering how to be in a relationship.
Start slow, take your time, don't invest too much at the beginning, and let the relationship grow organically. It is hard to be patient when in the early stage, but trust us: slow it down, so this spark doesn't burn itself out too quickly.
Also watch: How to improve communication in a relationship.

Relationship building skills
Now that you have a new romantic interest, you want to ensure that you learn good relationship building skills.
What skills are important as you build your relationship?
As you share your personal stories, make sure you lean into what your new partner is saying. This time of discovery is such a precious one, so allow your partner to talk and let them know you are present and hearing them.
Put away your phone. Maintain eye contact and nod your head or just interject a "Yes, I understand what you've just shared with me."
Time together, time alone.
Although you might wish to be together as much as possible in these heady days of love, remember the flames of passion need oxygen to keep going.
So dose out your time together with some quality time apart. It will make each of you all the more interesting and give you something to talk about when you are together.
Do not lose your interests and hobbies at the expense of being in a relationship. They are part of who you are and what attracts your partner to you in the first place.
A key part of being in a relationship is learning to compromise. If your partner is a "my way or the highway" type of personality, that is a big red flag telling you not to stick around.
Mature people know that compromise is a loving act. If you and your partner are in conflict about something, each of you should communicate your feelings about the point of conflict.
With that discussion, you can figure out a compromise that should make each of you feel like you have been heard and valued.
Things to do in a relationship.
To keep the relationship vibrant, seek new ways to spend time together. How about taking up a new sport that energizes you and promotes endorphins?
Or take a language class together, to use that new language during a trip to a foreign country.
Volunteering together for community service is a rewarding way to enrich your relationship, and it helps out those less fortunate than you.
Conclusion
Once you break down who you are and what you want in a partner, your path to finding one would present itself. Remember not to rush to find love, take your time to understand your needs, and find someone who compliments you as well as makes you a better person.
Share this article on
Want to have a happier, healthier marriage?
If you feel disconnected or frustrated about the state of your marriage but want to avoid separation and/or divorce, the marriage.com course meant for married couples is an excellent resource to help you overcome the most challenging aspects of being married.
More On This Topic
You May Also Like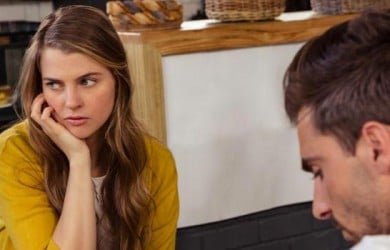 Popular Topics On Married Life