5 Practical Tips on How to Be in a Relationship
I often work with clients seeking partnership and love who ultimately want to know how to be in a relationship.
Relationships take work, time, and commitment, but we're often seeking a quick solution.
We have so many questions around relationships. "What to do in a relationship?" "What not to do in a relationship." "What kind of relationship do I want?" "What do I want in a relationship?"
The answers to our relationship questions aren't as simple as the questions make them sound!
The idea of finding the love of your life is so romanticized and commercialized, most of us don't have a realistic understanding of how getting into a relationship works.
The good news is, if you're curious how to start a relationship, how to figure out what you want in a relationship, or how to find a partner, there are some things you can do to set yourself up for a meaningful and healthy experience.
1. Decide what is and isn't important to you
If you watch enough movies or consume enough social media, you may believe that certain things have to be present in a partner or relationship.
A study examining the effects of social media on relationship perception suggested that the consumption of romantic comedies increases a person's tendency to have dreamy ideas about relationships.
Another study revealed that social comparison, frustration, and depression are the negative effects of social media on romantic relationships.
Perfectly bodies, lavish vacations and expensive cars litter our screens and lead us to believe that those ingredients are required for a relationship.
The truth is, they can be but also don't have to be.
You get to decide what is and isn't important to you in a relationship, despite what the media or other people might tell you. You also get to change your mind as time goes by!
Try thinking about what you're looking for in a relationship and partner right now, and then ask yourself why you're looking for it.
Sometimes we think something is important, but when we ask ourselves why… we can't come up with anything! This exercise can help you get to the root of what you want, don't want, and why it matters to you.
2. Get out of your comfort zone
"I don't know how to be in a relationship!" Have you thought about this recently? If so, the fear of the unknown might be getting in your way of finding or starting a relationship.
But, there is no right way to be in a relationship.
Each relationship is different, because the people that are in it are unique, too. Instead of worrying about how to find a relationship or how relationships start, get out there and try!
Getting out of your comfort zone and meeting people, asking for what you want, and making a move are the way to find the answers to your questions.
If you're concerned that you might get rejected, read on for tips on managing that potential (and likely) outcome.
3. Practice rejection
Rejection is terrifying. We tell ourselves all kinds of stories about why someone rejects us, and then we feel truly awful.
The truth is, a lot of the stories we are telling ourselves are untrue and aren't based on real evidence.
We don't generally ask someone why they tell us no, or are rejecting us. So, we don't get the real answer.
Instead, we go into emotional distress, decide we're not pretty/thin/smart/successful enough, and hide from love.
What if someone is saying they're not interested because they just got out of a relationship or had a traumatic event happen in their life? What if they also think they aren't good enough and are avoiding getting hurt themselves?
We don't often consider that the other person has valid reasons that very likely have nothing to do with us.
To get better at handling rejection, you might try setting yourself up for rejection on purpose. This might sound crazy, but the only way to get comfortable with something is to do it often.
Watch this video on 100 Days of Rejection for some creative ways to practice this important life skill!
4. Drop your expectations
Society, and our own beliefs, have set us up with an intricate web of expectations regarding relationships and partners. We believe so many things "should" or "have to" happen to find love.
Part of learning how to be in a relationship is recognizing those expectations and letting them go.
If you notice you entertain questions and thoughts that suggest a relationship should go a certain way, notice them and ask yourself why that has to be true?
Questions like "how long does it take to love someone" for example, don't have real answers and create expectations and standards that often lead to disappointment.
I've worked with clients who fell in love in days, while others took years. Neither relationship is better or worse than the other. They are completely different but completely healthy.
Instead of focusing on what should happen, try bringing yourself to the present of what is happening and notice how that feels instead. If you're happy with where you are, let that guide you to where you want to be!
5. Practice relationship skills
Whether you're in a relationship or not, having some core relationship skills under your belt can enhance your experience and success.
Knowing how to interact with a partner, listening, and arguing compassionately are integral ingredients for a healthy relationship.
Here are a few of the most important relationship-building skills to consider adding to your "how to be in a relationship" toolkit:
Communication (You talk about things when they come up, including feelings, fears, and thoughts.)

Active listening

(You can listen to what your partner is saying, notice their body language and tone, and aren't listening only to respond with your thoughts.)

Perspective-taking and Empathy (You take a step back and try to understand how the other person feels even if you don't agree with why they're feeling that way)

Curiosity (You ask questions to deepen your understanding instead of trying to get your message heard. You try not to argue, but to better see why your partner feels the way they are.)

Vulnerability (You are authentic, honest and share things even when it feels scary. This helps build trust)

Self-soothing (You can handle your own emotions, and try not to put your emotional burdens on your partner. You handle your stress and anxiety and don't ask your partner to do it for you.)
Share this article on
Want to have a happier, healthier marriage?
If you feel disconnected or frustrated about the state of your marriage but want to avoid separation and/or divorce, the marriage.com course meant for married couples is an excellent resource to help you overcome the most challenging aspects of being married.
Learn More On This Topic
You May Also Like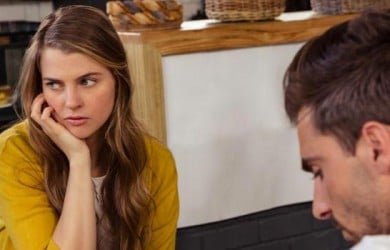 Popular Topics On Married Life