How Do You Get over a Bad Marriage?
It is ironic that in this day and age of tolerance, understanding, and gender equality, most marriages end in divorce. It's also funny that when you ask elderly people who were married for over 50 years their secret, one of them would respond do everything their partner says.
There is a subservient constituent in marriages. It is a commitment that people with YOLO mentality find difficult to grasp. It's archaic degree of bondage conflicts against contemporary individualistic psyche.
But for everyone else who couldn't find the secret sauce to a lifelong marriage. It ends a divorce. Some divorces are very messy complete with lawyers, custody battles, and restraining orders.
So, how do you get over a bad marriage? People who experienced one, lose their faith in commitment and trust.
Pick up where you left off
Unless you come from a really traditional family where daughters are groomed for marriage at an early age, all of us have had goals before we met our soulmate.
Marrying someone and starting a family either delayed that goal, and some even had to give it up completely. It's time to get back to it.
There's a song in the late '80s called "All this time" by Tiffany that goes something like "Oh what do I do now… with all this time."
Do something you love, an activity, hobby, goal that gave up because you got married.
Make sure it's a constructive activity that would add value to you as a person. Now that you are free and have the time again to do what you want then work on achieving those dreams with your older, more mature, self.
Spend time with your children
Unless you are in the losing end of a custody battle, you now have more time to spend on your kids. A divorce is a very confusing time for them, especially for prepubescent children.
Unless something really bad happened, do not demonize your ex in front of the kids. It may seem like sweet revenge for you, but your petty vindictiveness will make your child grow up into a distrustful hater. You may think you are only protecting them from other monsters they would meet in the future, but in reality, you're turning your child into one.
If something really bad did happen, teach them the individualistic nature of evil. Our civilization has progressed enough to believe that just because one person is bad, that doesn't mean that everyone related to them is the same. Help them regain their faith in humanity. We no longer punish entire families/countries because one of them is a jackass. The more you can convince your child, the more you convince yourself. It helps everyone, including you, move on.
We should be discussing only bad marriages. But there's a distinction between bad and really bad. Bad could mean your wife spent all her time working and ignored her family completely. Really bad could mean your husband verbally and sexually abused the kids. There are different levels of bad.
Work on the regret bucket list
In the first part, we talked about unfinished business. Here we talk about all the new things you wish you could do, but didn't, because you were too busy with domestic life.
Every married person at some point thought of traveling, bungee jumping, or binge watching a Netflix series, but decided not to do it because of marital priorities.
It would be a good time to try it out.
Reinvent yourself
After being married and having children after a couple of years, you are no longer the same person as you were before you met your ex-spouse. Hopefully, your more mature, more responsible, and better in bed. You should have a higher Emotional Quotient (EQ) and a practical problem solver.
On the flip side, you're older, probably gained a few pounds, and a bit more wrinkles after all those sleepless nights juggling your career, chores, kids, and your ex's personal porn star.
You now have time to pamper yourself and get back to your beloved Stairmaster. You can't be that dreamy fresh young chick that you once were, but you can be that hot woman with brains. The same can be said with guys, you'd be surprised how many young women are attracted to dashing responsible single fathers.
It doesn't matter how bad your marriage was, but if you start caring about your physique again, then at the very least there's one person in the world in the world who will make you feel good. Yourself. It will open up new doors for you and improve your overall health and self-esteem.
Keep yourself busy
The pain of a bad marriage will hit you real hardest when you spend time reminiscing about the past. It doesn't matter if it's a good or bad memory, all of it will be depressing.
But our brains are not designed for parallel thought. It takes a lot of conscious effort to think about two things at a time (Try singing two different songs in your head).
So, if your brain is filled with something else, like doing some suggestions mentioned above, then it will be too preoccupied to bring up painful memories. If you keep on doing it until you're too exhausted to think, you can move forward with the least amount of pain, one day at a time.
How do you get over a bad marriage? It's simple, don't wallow over the past, it's over. Think about your future and work in the present. The pain and regret that you will carry for the rest of your life will never go away, but you can suppress it deep in the background by creating a whole new positive lifestyle.
It won't be easy, but it's much more fun and rewarding than locking yourself up and feeling sorry for yourself.
Share this article on
Want to have a happier, healthier marriage?
If you feel disconnected or frustrated about the state of your marriage but want to avoid separation and/or divorce, the marriage.com course meant for married couples is an excellent resource to help you overcome the most challenging aspects of being married.
Learn More On This Topic
You May Also Like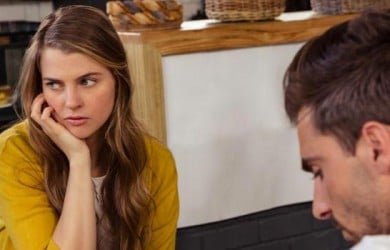 Popular Topics On Married Life