How and Why to Detach with Love
Love is one of the most beautiful feelings in the world. It makes your life filled with colors and an everlasting feeling. But, sometimes, this wonderful thing can become toxic and destructive.
Research shows that both men and women suffer from a toxic and demanding relationship. Inner turmoil, bad health, interpersonal effect, and anxiety, even depression can happen in such cases.
However it pains you, you may need to detach with love in such cases. Letting go of the toxic relationship can offer you some positive outcomes. With detaching, you gain back the personal space and personal peace again to start anew.
But, leaving the loving detachment in a relationship is complicated. You need to ensure the other person also understands your feelings. After the process, you also need to stop depending on the other person.
Many people get confused over how to detach from love. But it is possible. Do you need a little help in learning the detachment? Here is a tell-all guide for you. So, read on to know.
What is detaching with love?
Before you understand the procedure of detachment with love, you need to understand codependency.
Codependency is a mental, physical, and emotional attachment to another person, a partner, or a family member. Sometimes, codependency also happens on a spiritual level. This whole thing creates a bond between two people.
With codependency, two people forge a bond that keeps them closer. But, often, these bonds become challenging to handle. That time, you need to break the bond and detach with love.
But, as a responsible adult, you need to break this bond and the abuse later. That is to detach with love.
Detaching with love refers to deleting the unhealthy bonds from any unhealthy codependency.
In this procedure, you separate yourself from emotional, physical, mental, and spiritual troubles. You do not consider what others feel and what they are doing. It helps you to get loving detachment from your expectations also.
You are no longer trying to control the outcome of the relationship or mending the gaps. With detachment, you can keep your life back on track without turmoil or negativity.
But, detaching with love in a relationship does not mean you are not caring. It means you do care for the other person.
And hence, you offer them emotional space so that they can grow and heal. You continue to care from a distance to ensure you are happy. After all, a little self-help is also good.
Related Reading: 

Why & How to Emotionally Detach Yourself From Someone You Love
Is detaching good for you?
Well, many people think detaching is not good. But that is not true. Healthy emotional detachment is positive for any person.
It is suitable for you.
Stressful relationships can give you anxiety and emotional turmoil. Detaching helps you to cut off all these disturbances from your life. You can allow some time to yourself and your emotional well-being for a better lifestyle.
It is beneficial for the other person too.
Properly detaching from a relationship is also suitable for the other person involved. While in a complicated relationship, you often pressure the other person. You may want to change their antics and mentality to save the relationship.
That, in turn, causes the other person to grow more vulnerable and abusive. Others can finally learn to become self-dependent minus the drama or emotional turbulence. They can reflect on their behavior and mentality.
Additionally, it also helps other people. They can understand what they need to improve to become a better person. In short, detachment is suitable for both you and the other persons involved in the relationship and codependency.
How to detach from love?
Detaching is a long procedure that you may feel exhausting. But, as you learn how to detach with love, you finally realize its importance.
You need to be a sting person to endure the pain and the turmoil while preparing yourself to detach with love.
If you find it difficult, you can follow the law of detachment in love-
You count yourself to detachment to free yourself and the other persons for a better future.

You accept uncertainty spontaneously in any relationship. You finally understand that you cannot control everything in a relationship to save it.

You will embrace all the possibilities through the procedure with open arms.
You can follow these methods and ideas on how to detach from someone you love-
You accept reality and do not deny it.

You analyze your expectations from the relationship. It helps you check if you need to detach and give the relationship another try.

Give examples of detaching with love to prepare yourself

You need to check out your feelings too. Are you motivated enough to detach with love?

You need to be compassionate and considerate even during the procedure.

Start the practice of detaching with love from another person emotionally and mentally.

Keep yourself distracted to ensure the demanding relationship cannot affect you anymore.
Why to detach with love?
You need to fall in love with detachment to understand why you need to do it. If you detach with love, you do not cause any issues during and after the procedure.
Detaching with love allows you to make the whole procedure holistic. It also allows you to help the other person understand that you are not willing to endure everything for the sake of just a relationship. You also protect their safety and emotional well-being.
It makes you a responsible adult who thinks of others and yourself. If you do not detach with love, it can cause many problems.
Detaching with love helps to keep the fights and misunderstandings away. It also offers a meaningful closure to both people.
5 reasons detachment can save your relationship
Here are five reasons to detach with love-
1. You will have fewer worries
Worries lead to anxiety, fear, and emotional turbulence for any person. This can also result in low self-esteem and depression in a person.
When you start detaching, you also detach yourself from anxiety, mental turbulence, etc. That means you worry less. The worries help you to live life in a better way.
You do not feel bound by fear and mental turmoil. Hence, you finally become free of all things that are putting you down.
2. You learn to accept each outcome
As you detach with love, you become more open-minded. You can learn to accept everything with a positive mind. You finally learn to understand that each outcome may not be favorable for you. Whatever the outcome is, you accept it and do not intend to change it.
This helps you to prepare yourself for more challenges in the future. It allows you to understand the challenges of life and its spontaneous nature.
3. You get a peaceful mind
Peace of mind is essential for any person. How much do you love the relationship? If there is no peace, you will not be happy. After letting go of all things, you understand how peaceful your life has become.
You finally become able to reflect on things properly. You are no longer frustrated or unhappy. This peace allows you to lead a better life.
Here's a quick video on finding inner peace through detachment:
4. You can love better
If you can detach from love, you get a new perspective on love. You can finally learn to love life and yourself.
As you close a toxic relationship, you understand what love is. You finally get more chances of experiencing love. It also allows you to realize how love can help you a lot. You can finally enjoy each form of love and appreciate each of the relationships present in your love.
Related Relationship: 

5 Steps to Help You With Learning to Love Yourself
5. You can improve your productivity rate
Toxic relationships often hinder your productivity rate. As you focus all of your energy on the relationship, you lose the ability to focus on other things.
As you cut off all the negativity from your life, you finally get everything back on track. This also allows you to direct your energy to other things.
You can finally focus your energy on positive things. You can concentrate on your career, personal well-being, and other things.
Conclusion
Detaching with love is the best way to bid farewell to a toxic relationship. It helps to break all the chains of negativity in your life. Additionally, it also does not cause any bitterness after the relationship ends.
If you plan to detach yourself from any relationship, plan appropriately. You can also consult a therapist if you feel confused or uneasy. Getting a few therapies can offer some confidence to you.
After you detach from love, you will find a peaceful life that helps you grow and focus on better things to improve your life.
Share this article on
Want to have a happier, healthier marriage?
If you feel disconnected or frustrated about the state of your marriage but want to avoid separation and/or divorce, the marriage.com course meant for married couples is an excellent resource to help you overcome the most challenging aspects of being married.
Learn More On This Topic
You May Also Like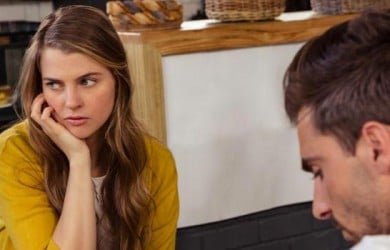 Popular Topics On Married Life