Dating Someone With Borderline Personality Disorder
Relationships can be tricky enough when both partners are neurotypical. But imagine the complexities that are part of the relationship when one of the people has Borderline Personality Disorder.
The mood swings, impulsive behavior, dis-inhibition, depression, anger, outbursts and the constantly-changing life goals…it can be exhausting.
Why would anyone want to fall in love with someone suffering from this mental disorder?
Well, as we all know, love is never that simple. Along with the characteristics mentioned above, people with Borderline Personality Disorder are also deeply caring, immensely loving, full of energy when they are "up", and can be quite empathetic.
The majority of people with this disorder are in relationships, so clearly they are capable of forming loving bonds with others. Let's delve into the world of dating someone with Borderline Personality Disorder and see what this universe looks like.
Borderline personality disorder relationships.
Research in this area does show that people with Borderline Personality Disorder have unstable relationships, or, at the very least, have relationships that are more difficult than those of neurotypical people.
One of the reasons behind this is that BPD people see things in black and white, with no gray areas. So the relationship is idealized, either all good or all bad.
They will typically begin relationships by seeing their new partner as fantastic, the best person they've ever dated, and invest fully in the relationship right from the start.
BPD people are not hard-wired with the skills to grow the emotional and physical bond that is necessary to establish in a "normal" relationship. Then when something occurs to pop a pin in the BPDers vision of paradise, such as a normal conflict or vaguely negative word from their partner.
Suddenly everything is terrible, this person isn't the saint they thought they were dating, and they turn off and shut down. This all or nothing type of thinking makes maintaining a love relationship quite challenging.
Are you dating someone with Borderline Personality Disorder?
Here's some advice on dating someone with BPD. If you are dating someone with BPD, it will be important for you to take the time to learn about this mental disorder.
Educate yourself on what the typical symptoms are, so that you can manage these when your love interest is acting out due to his or her BPD. It will help you understand them better, and also will help you be reassured that is it nothing you are doing to "make" them react in the way they are reacting. You can also find academic articles in relation to BPD.
For people who are dating someone with BPD, it truly is a case of "it's not you, it's them."
Can someone with BPD have a healthy relationship?
This is the million-dollar question. With therapy and understanding on the part of the neurotypical partner, the answer is yes. But you should be prepared for a wild ride.
Here are some of the things that you can expect to experience in your relationship with a person suffering from Borderline Personality Disorder:
Exaggerated fear of abandonment.
No matter how much you may reassure your partner that you love them, the BPDer harbors a constant fear that you will leave them. At the same time, their tendency towards mood swings will have them shifting from feeling totally in love with you, to feeling smothered and intimacy-avoidant.
They will often find a reason to withdraw, at least temporarily, from the dating relationship. Don't feel rejected, it's just the BPD talking.
Lying – People with BPD lie. They do not see it as lying, but as a different way of seeing things. They may see themselves as hugely talented in a certain field, while in reality they have difficulty holding down a job due to their instability. In their mind, their genius is just unrecognized.
Risky sexual behavior – Because people with BPD act impulsively, they often indulge in risky sexual behavior: multiple partners, unprotected sex, sex with sex workers or prostitutes. Many people with BPD have an ambiguous attitude towards sex, despite their promiscuity.
Impulsive behavior – BPDers may act impulsively, going on spending sprees, for example. This can impact their financial state, putting themselves in debt, drawing huge credit lines and maxing out their credit cards. This can be stressful for the partner that may feel responsible for helping them climb out of their financial hole.
Suicide ideation – People with this disorder are at risk for suicide and may threaten suicide if they think you are on the verge of leaving them.
Dating a man with Borderline Personality Disorder
With all these difficulties that come with loving someone with Borderline Personality Disorder, why would you want to date a man who has it?
First, it's important to remember that despite these intense and disruptive symptoms, people with BPD are frequently good, kind, and caring individuals. Often they have many positive qualities that can make them great romantic partners some of the time.
It is this "some of the time" that can make the other times bearable.
Can people with Borderline Personality Disorder really love?
Absolutely. Many women who have been in a romantic relationship with a man with BPD speak about how fun, exciting, and passionate a BPD partner can be. They are spontaneous, ready to try out new things, and don't just sit around the house watching sports all weekend.
You won't be ignored when dating a man with BPD! Women who date these men say that it is their capacity for intense emotion and desire for intimacy that makes them very attractive, especially if past partners have been incapable of emotional intimacy.
Share this article on
Want to have a happier, healthier marriage?
If you feel disconnected or frustrated about the state of your marriage but want to avoid separation and/or divorce, the marriage.com course meant for married couples is an excellent resource to help you overcome the most challenging aspects of being married.
More On This Topic
You May Also Like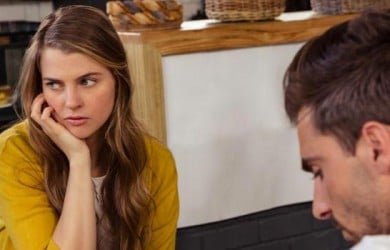 Popular Topics On Married Life