30 World's Best Couples Retreats You Can Visit
It doesn't matter how strong, intimate, or close you are as a couple. Sometimes, life's trials and tribulations can cause you to forget each other or allow you to become a little stale.
Date nights can even become uninspiring; sometimes, a date night won't cut it anymore. If date nights won't cut it, and you've yet to learn how to come back together as a couple, why not try a couples retreat?
If you are looking for places for couples to go, look no more. Check out our list, or you can search for couples retreat near me to find the best match for yourself.
What are couples retreats?
Couple retreats or couples getaways are unique vacation opportunities for couples that offer them a chance to reconnect with each other with help from relationship-building activities and experts.
The best couples retreats are designed to improve the relationship between two partners. Usually, some activities are conducted under the supervision of relationship experts so that they can improve communication and intimacy between couples.
What do couples do on couples retreats?
Couples in marriage retreats are provided with a schedule and possible activities to improve the relationship's health and some free time to relax.
Understanding what is a couples retreat is easier once we know what happens at such places.
Under the guidance of relationship experts, couples may have the chance to participate in trust and communication-building activities with each other. They may also offer various forms of couple's therapy to help address any issue they might face.
They specifically:
Brings the focus back on your relationship
Couples retreats, as the name implies, are a getaway that couples can go to focus more on their relationship.
These retreats can provide a relaxing space to get away from life and focus on each other, or you could try a structured couples retreat, similar to a therapy workshop.
Most of these types of retreats will always have a theme and focus so that you can decide if you can invest in the philosophy of the couples retreat without feeling too awkward or cringy!
Being alone with your partner on a beautiful island or beach house will allow both of you to have the communication you never knew you needed.
Retreats for couples allow you to be alone with your partner on a beautiful island or beach house. Best couples getaways help both of you to have the communication you never knew you needed.
Encourages you to put more effort
By saying yes to couples retreats, you are letting your partner know how important your relationship is to you. The best couples retreat encourages you to put more effort into making a relationship work.
With the help of couples retreats, you can dive into sensitive topics such as sex, money, intimacy problems, commitment problems, etc., which you may have difficulty discussing at home.
Even if your couples weekend retreat is as short as two days, that time alone with your partner in an uninterrupted environment will work miracles for your intimate relationship.
Couples weekend retreat allows you to cover some of the most important topics affecting your relationship.
When should you consider going to a couples retreat?
A pair can go for a marriage couples retreat whenever they wish to go for it because there is no real limitation to which couples can attend these places. However, certain couples may need these retreats more than others.
Couples healing retreats can be specifically important for couples facing problems. If a couple has too many fights, misunderstandings, or lack of communication, then a couples retreat can be highly beneficial for them.
30 fun couples retreat ideas
We have listed some of the best couples resorts along with their philosophy and couples retreat locations so that you can choose your favorite.
1. Gottman Couples Retreat
Drs. John and Julie Gottman are pioneers in marriage research therapy.
Dr. John Gottman has studied couples in great detail and infamously coined the Four Horsemen of the Apocalypse in relationships, four behaviors commonly found in challenging relationships.
These four behaviors were the biggest predictor of whether or not the relationship will last. And if you are wondering what the four horsemen are, they are listed right here:
Dr. John Gottman's four horsemen
Contempt

Criticism

Defensiveness

Stonewalling
This couple's retreat is a 2-day offering to repair the brokenness felt in a relationship.
Couples will learn how to deepen their friendship and manage their conflicts for two days. This is one of the best couples vacations that works as a workshop.
2. Couples Meditation Retreat, New York
For those of you living in New York, there's a nearby couple's retreat you can go to. Your home throughout this retreat will be the beautiful Barn on the Pond at Saugerties.
In this retreat, the quiet surroundings and elixirs will welcome you. The food they will serve will be vegetarian, vegan, and gluten-free.
You will be taught how to meditate, quiet down, and reconnect in a noisy world. Bliss!
3. Couples Yoga Retreat, Bali
Bali is known for its beaches and exotic food. But what most people need to learn is how perfect this destination is for a couples retreat.
This couples retreat is a good place to learn hatha yoga and Thai Massage, taught by professional practitioners of this craft.
Aside from learning how to give your spouse a Thai massage, you could also enjoy snorkeling at the beach and eating fresh fish at your request. This makes up for one of the best fun vacations for couples.
4. Yogic Living, Canada
Studies have found that higher levels of mindfulness are linked to higher levels of relationship satisfaction.
Looking for a retreat that will keep both of you off the grid? This couples retreat invites both of you to be immersed in the forests and one with nature.
If both of you have the luxury of time, you can head north to Canada and experience a 29-day yogic living in the beautiful province of British Columbia.
Surrounded by trees and cool weather, you and your partner will finally have the time to start focusing on your relationship.
5. Xinalani Resort in Puerto Vallarta, Mexico
One of the best couples resort destinations is Xinalani in Mexico. Xinalani is exclusively accessible by boat; for many, it is yogi heaven.
The resort is stationed between the ocean and jungle, around 12 miles south of Puerto Vallarta airport.
Since Xinalani is exclusively accessible by boat, the resort organizes private transportation from the airport to its 250-yard-wide private beach.
There are multiple places to choose from for your yoga practice. Jungle Studio is a temple with Mayan roofs, bamboo floors, and an amazing view from 215 feet up in the jungle.
There is also Meditation Cabin covered in palm leaves, the Sand Terrace for practicing yoga on the beach, and The Greenhouse, a closed hot spring with an astonishing ocean view.
6. Intimacy Moons, Crane Beach, Barbados
This tropical resort offers a specialized approach to couples and marriage counseling, all set in an equatorial paradise for body and soul. This makes it one of the best vacations for couples.
Every day, you can attend intimate group workshops for as long as you stay. An experienced licensed relationship and sex therapist facilitates group activities.
The activities are designed to enhance your communication and strengthen the bond between you and your partner.
7. Red Mountain Resort in St. George, Utah
This resort is close to Pine Valley Mountains and near the convergence of three geological areas with distinctive traits: Mojave Desert, Colorado Plateau, and Great Basin.
Red Mountain Resort offers a variety of activities designed to enhance physical, mental, and spiritual health. It is one of the most fun couples retreats and provides a variety of outdoor activities.
8. Luxe Couples Retreat in Cancun, Mexico
Luxe Couples Retreat is in the central hotel zone near popular shopping stores like Louis Vuitton, Yves Saint Laurent, Cartier, etc.
Golf courses, night clubs, waterparks, cave swimming, and important historical locations will surely offer a lot to partners looking for an active way to reconnect and revitalize their relationship.
9. Yogascapes Midnight Sun Retreat, Iceland
Yogascapes offers 8 days of hiking, bathing in hot springs, and strolling through the mystical nature of Iceland's mossy fields.
Every day will start with couples yoga to invoke your inner peace and serenity. Yogascapes prides itself on having some of the best yoga teachers in the world.
10. Turtle Bay Resort, Hawaii
Turtle Bay Resort is famous for cultivating the core values of "mālama" (to care for) by protecting and valuing the well-being of its guests, employees, and the community.
As such, they dedicate themselves to offering various activities for couples, like Ocean Vista Experience and Beach Cottage Experience.
11. Sanderling Resort, North Carolina
Sanderling Resort in Duck, NC, offers romantic vacations for couples with three days of planned activities. The resort has all you need for a perfect romantic getaway: long sandy beaches, fresh seafood, and amazing sunsets.
This getaway is perfect for couples looking to reconnect by feeling cozy and taking things slow.
12. Firelight Camps, New York
Firelight Camps offer a unique experience of camping.
If you have always wanted to go camping but are unprepared to sleep with bugs and miss the basic amenities, Firelight Camps offer a luxury option with king bed tents, a private tented porch, rocking chairs, and electricity.
Camps are near breathtaking Finger Lakes, wineries, culinary tasting tours, and more.
13. Heart Path Journeys, Maui, Hawaii
Hearth Path Journeys in Maui offers personalized options to meet each couple's specific needs, budget, and timeline. You may also arrange a vow renewal on Maui with native ceremonies in Sacred Garden.
You will love the accommodation, surrounded by tropical flowers, delicious fruits, and calming seasonal streams.
14. Colorado Marriage Retreats with Neil Rosenthal, Colorado
Neil Rosenthal is a licensed marriage and family therapist with over 40 years of experience in Colorado. He offers a five day retreat combined with the various activities which can be done in Colorado. Those include having brunch at Dushanbe Teahouse and climbing Mount Evans summit at 14,265 FT.
15. Silent Meditation Retreat & Sacred Valley Couples, Peru
All couples have tried talking, but only a few have tried being purposely silent together.
In Sacred Valley in Peru, you can try a couples retreat of 12 days, with three days spent at the island Amantani where you will learn the teachings of silent meditation from the local gurus.
Not the whole journey will be spent in silence. You will take tours through the Valley, Cusco, and Machu Picchu. Truly a magical place that can bring the magic back to the relationship.
16. Jungle Love Tantric Retreat for Couples, Colombia
Sometimes the best results might be going primal in connection with your inner self. This retreat is located in the coastal jungles of Columbia, secluded and close to nature.
In this retreat, you will be taught the secrets of tantric lovemaking techniques and realize the potential of your feminine and masculine energies.
17. The Willow Retreat, Ireland
Ireland is the land of Rugby, Guinness, Leprechauns, and amazing retreats. In the Willow Retreat, you will share a cozy and beautiful space while enjoying organic food, walking, and doing yoga together.
As a part of the retreat ritual, you will learn how to bake spelled bread and brew a delicious miso soup. You will also take a trip to a sacred Cave and explore the wilds of the beautiful Burren.
18. Marriage Retreats with John Grey
John's marriage retreat program offers a customized approach to your needs and expectations. John has built his approach to fit the unique circumstances of marriages and relationships for over 30 years.
He offers his retreat in a beautiful Sonoma County in California. After visiting John, you will return home equipped with tools to make your relationship flourish.
19. FamilyLife's Weekend To Remember, 93 locations
Sometimes you do not have the privilege of having a lot of free time, and all you can spare is a weekend. FamilyLife's Weekend To Remember offers 93 locations across the US for you to choose from.
You can choose the location closest to you or the one you have always wanted to visit.
20. Sandals Couples Retreats
Sandals Couples Retreats are in some of the most attractive destinations worldwide, like Jamaica, Bahamas, Antigua, and Barbados.
Sandals resorts focus on partnerships with world-renowned family and sex therapists, counselors, and experts in the field of relationships.
21. St Regis Couples Retreat, Bora Bora
St Regis is one of the most luxurious locations in Bora Bora. If you want to retreat to overwater accommodations with world-class gourmet dining and an amazing ocean view, this is the place to visit.
St Regis will prepare a bottle of champagne, a bed covered in roses, couples' massages, and personal butler service.
22. Sacred Union Retreat, Brazil
You will experience meditation, intimacy, nature, and adventure for nine days and eight nights in Bahia, Brazil. Brazil is known for its culture, which highly regards love and relationships.
While exploring the culture and history of Salvador, you will also explore your partnership and personality and work on unleashing the three L-s: Love, Lust, and Longevity.
23. Tantra, Philippines
During the three-day Tantra Workshop, you will awaken the body and start awakening the raw sexual energy. By engaging the sensations of touch and breath, you will be tuning into the power of sexual energy.
A study showed that sexual satisfaction predicted emotional intimacy in relationships. This couple retreat can set you on the right path to awakening your passions again.
24. Couples Tantric Love Making Retreat, Spain
During this retreat, you will be in the House of Light, a tranquil sanctuary in La Alpujarra in Southern Spain. This place was especially attractive to spiritual travelers, who say this place has a vibrant energy.
25. Energy Healing & Therapy Retreat for Couples, France
You can try the five days program in Dordogne Valley in southern France when in Europe. This program focuses on communication, sensuality, and meditation.
A beautiful 1.5-acre garden is perfect for practicing your energy healing and tantric connection with your partner.
26. Intimacy and the Shadow Tantra Intensive, Austria
The Alps are a great place to unwind and reconnect with yourself and your partner. At 1212m above sea level, you can find a 500-year-old retreat house surrounded by mountains and lakes.
Long hikes through the woods, yoga and delicious vegan and vegetarian meals are bound to reinvigorate you and yo
27. Daoist Tantra & Reiki Yoga for Lovers Retreat, Italy
This romantic couple retreat offers a life-changing experience. Their program includes workshops, yoga & tantra, sound healing, art, crystals, and so much more.
Another benefit is being located in the charming and historically significant ancient XII-century manor house of Lombard origin.
The beautiful mountain countryside scenery is bound to help you reconnect with nature, yourself, and your partner.
Watch this video to learn how to accept and love your partner truly:
28. Wild Tantra Path of Awakening, The Netherlands
This Tantra retreat is designed as a two-year-long practice, each building upon the previous one. It aims to elevate your levels of love and consciousness and awaken deeper love for one another.
It is equally open for singles and lovers.
29. Esalen Institute, Big Sur, California
Esalen couples retreat offers cliffside hot springs, and accommodations vary from budget-friendly rooms to private houses. Books, massages, and workshops are included in the price.
It offers more than 600 workshops a year, so you will have a wide variety to choose from.
30. Lake Austin Spa Resort, Texas
Lake Austin Spa Resort is an all-inclusive retreat where you can be as active or relaxed as you want. Pushing for 360-degree wellness, they provide a wide variety of activities.
A lake taxi also takes you into town to explore the city nearby.
Some commonly asked questions
Here are the answers to some questions that can help clear your doubts regarding relationship retreats for couples:
Are couples retreats worth it?
Couple retreats can be worth what goes into planning them, as they can give couples the chance to infuse new life into their relationship. They can help you get out of a complacent or volatile phase of your relationship while giving you healthier ways to reconnect with each other.
What is the average cost of a couples retreat?
The best marriage retreats can cost differently depending on the specific retreat that you have chosen. Usually, the more facilities a retreat offers, the higher the cost will be. If the retreat offers relationship counseling, each session could cost additional.
Final takeaway
Your partner should be your best friend, and among the best things you can do with your best friend is planning a getaway that involves just you two.
Like your girls' or boys' night out, planning a do-it-yourself couple's retreat is as easy as 1-2-3.
Think of yourselves as your travel planners. Your getaway can be just a simple vacation, or you can assimilate a more structured approach.
If you are still looking for any of the couples retreats we listed here work for you, there are resources available online, such as worksheets with guided questions further to increase the intimacy between you and your spouse.
Share this article on
Want to have a happier, healthier marriage?
If you feel disconnected or frustrated about the state of your marriage but want to avoid separation and/or divorce, the marriage.com course meant for married couples is an excellent resource to help you overcome the most challenging aspects of being married.
Learn More On This Topic
You May Also Like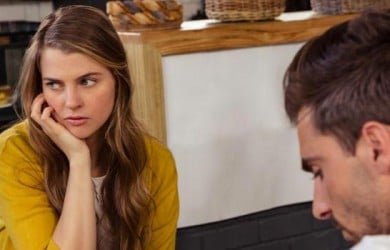 Popular Topics On Married Life