Going from Me to We – Balancing Individuality in a Marriage
The US is a country built on the ideals of independence and individualism.
Many Americans set off to gain autonomy and pursue individual careers before pursuing romantic relationships. The pursuit for individuality takes both time and patience.
Now more than ever people are waiting longer to "settle down."
According to the US Census Bureau, the average age of marriage in women in 2017 was 27.4, and for men, 29.5. The statistics imply that people are more likely spending time building careers or pursuing other personal interests instead of marriage.
Struggling to balance independence with being a part of a couple
Given the fact that people are waiting longer to get into a serious relationship, it is no surprise that many people seem to fall flat when learning how to balance their independence with being a part of a couple.
In many couples, changing the mindset from thinking about "me" to "we" can be enormously challenging.
I was recently working with an engaged couple, both in their early thirties where this challenge played out again and again in their relationship. One such incident consisted of his decision to go out drinking with his friends on the evening of their move into a new apartment and leave her to begin the laborious process of unpacking alone.
Later that evening she had to nurse him from his drunken stupor.
In our session, she referred to him as selfish and inconsiderate while he apologized for drinking too much, but failed to see why she was so upset about going out with his friends that evening.
From his perspective, he had spent the past 30 years doing exactly what he wanted to do however he wanted to do it. He had never before experienced the need to think about his partner and how she might feel as a result of the choices he made.
From her perspective, she felt unimportant and interpreted his behavior to mean that he did not value her or spending the time to build their life together. The question became how could they learn to manage their change from the "me" to "we" mindset but still retain a sense of individuality?
This is a common issue for many couples, and fortunately, there are a few skills that can be learned in order to combat this challenge.
Empathy
One of the most important skills to master in any relationship is the skill of empathy.
Empathy is the ability to understand and share the feelings of another person. This is something that I constantly work on with couples. Empathy sounds easy but can be quite challenging for many people.
When practicing it with your partner, take the time to actively listen and understand what they are saying before responding. Stop and imagine yourself in their shoes, and pay attention to the feelings that arise.
This will give you an idea of where your partner might be coming from. If you cannot understand, explain to your partner that you are having a hard time understanding how they feel, and ask for clarification.
The practice of empathy is ongoing and involves constantly thinking of your partner and attempting to be considerate of what their experience may be.
Communication of expectations
Another useful skill to master is communicating with your partner your expectations.
This simple act is also helpful in getting into the "we" mindset.
If the client above had merely let her fiancé know that she was hopeful that he would want to spend their first night in the new apartment together because she wanted to cherish the moment with him, it could have opened the door to get him to consider her wants and needs.
If we have an understanding of our partner's expectations, it steers us towards thinking of different ways that we can meet those needs and keeps them on the forefront of the brain.
Humans are not minded readers, and unless we tell our partners what we desire, we cannot expect them to somehow know that we want them to do something.
Teamwork
Another great way to start thinking in terms of "we" is by doing a project together that involves teamwork such as cooking a meal, building something, or solving a problem.
These types of activities not only build trust but challenge you to lean on your partner for support while navigating each other's different ways of approaching projects and creating your own way together.
As a couple, you are partners and should consider yourself to be a team.
In fact, being a partner and having a teammate that will stick with you no matter what is one of the main benefits of being a "we" instead of a "me."
So be sure to let your guard down, trust your partner to empathize with you, ask for what you need, practice teamwork often, and enjoy being a "we".
Share this article on
Want to have a happier, healthier marriage?
If you feel disconnected or frustrated about the state of your marriage but want to avoid separation and/or divorce, the marriage.com course meant for married couples is an excellent resource to help you overcome the most challenging aspects of being married.
Learn More On This Topic
You May Also Like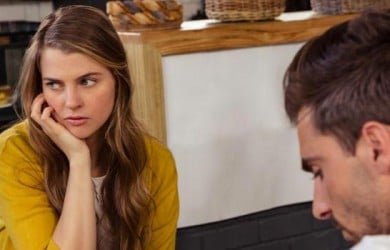 Popular Topics On Married Life