How to Deal With Someone in Denial: 10 Ways
Living in denial is a situation that often makes families and loved ones frustrated, overwhelmed, and confused. Therefore, it's not strange to see people seeking how to deal with someone in denial.
People in denial feign ignorance and look for excuses for their series of actions. For example, a person with an apparent constant headache doesn't believe it. In their mind, it may be fatigue or because they don't eat much.
Similarly, a person diagnosed with cancer may disregard it as ordinary pain. As such, it's normal for concerned loved ones to seek how to deal with someone living in denial.
Why do people live in denial? Is it intentional? Is denial a sign of addiction, or are people in denial just depressed and avoiding dealing with their sadness. How can you talk to someone in denial? How do you deal with someone living in denial?
Learn more in this article as it delves into the condition of living in denial, denial definition, signs of denial, and how to deal with someone living in denial.
What is denial?
Denial is simply the action of denying something. It is a coping or defense mechanism used by people in distress, trauma, and devastating events to protect themselves from accepting the truth of their reality or experience.
One might wonder why anyone will intentionally ignore a traumatic experience. The answer is simple: everyone isn't wired or built to express emotions and feelings appropriately, especially the painful ones. People in denial live like particular events never happened in their lives. They suppress their experiences to avoid stress, anxiety, or distress.
Living in denial may be uncomfortable for people around, so they want to know how to deal with someone living in denial. However, it is valuable for people in denial. It's their safe place until they are ready to accept what has happened to them. It buys them ample time to adjust to reality and acknowledge their experiences to move on.
Denial is a defense mechanism. To understand more about defense mechanisms, watch this video.
How to spot if a family member is in denial of their addiction?
When concerned family members seek how to deal with someone in denial, they also ask, "Is denial a sign of addiction?
Addiction and denial are two conditions that sometimes co-occur together. For addiction, living in denial is quite tricky. That's because addictive substances pose a form of enjoyment or comfort and an impending problem for the person concerned.
Someone addicted to alcohol or other substances will deny that they have a problem even when family members can see the effect of their addiction. Health issues and overdose are typical examples of how you can spot if a family member denies addiction.
Also, if the addiction leads to legal problems and the concerned person continues to ignore their situation, they live in denial. Loss of valuable items, important relationships, and accidents are other ways to spot if your family member is living in denial. Different ways to recognize if your family member is living in denial of their addiction are:
Avoiding topics related to their addiction rather than facing them

Making excuses and rationalizing their disturbing behavior

Promising to get help

Becoming aggressive when confronted with their addiction

Ignoring the concerns of family members

Telling family members to stop making a big deal out of their situation

Blaming others for one's problems.
How can denial cause problems?
Unarguably, many people view being in denial symptoms negatively when they want to know how to deal with someone in denial. But it doesn't always seem like that. First, it helps individuals who might have experienced shocking events to adjust to their reality until they are ready to face their problem. For instance, in the case of a health issue, living in denial of your condition might give you enough time to process and accept it before seeking solutions.
Nonetheless, when denial is left to go unattended, it poses a significant danger to people living in denial and their loved ones. If you don't accept your addiction on time, it can lead to health conditions that you or your family members can't ignore anymore.
Furthermore, being in denial may prevent you from seeking treatment or moving forward. It can also lead to severe consequences or fatal events.
Is being in denial a mental illness?
No. While it's convenient to diagnose living in denial as a mental illness, it is not always so. Again, being in denial symptoms can be positive as it buys people in denial time to adjust and accept the truth of their situation. However, it is called anosognosia when denial lingers, especially if it is not quickly met with appropriate treatment.
Anosognosia is a word that means "lack of awareness or understanding" or "lack of insight" in Greek. According to the National Awareness on Mental Illness, "anosognosia in mental illness means someone is unaware of their mental health condition or can't perceive their condition accurately."
Anosognosia is a common symptom in conditions like schizophrenia or bipolar disorder. Unlike denial, anosognosia isn't a defense mechanism to shield you from the effect of a diagnosis. It is a result of changes to the brain. It simply means your frontal lobe isn't working as expected to update the new changes in your life, making it similar to denial.
Also Try: 

Bipolar Disorder Test
5 signs of denial
Being in denial symptoms shows someone isn't ready to accept the truth. To know how to deal with someone in denial, you must be familiar with the following signs:
1. Refusing to talk about the problem
One of the leading signs of denial is the inability to acknowledge the problem. People in denial will do anything but sit with you to discuss the issue.
2. Downplaying the consequences of their action
Another sign of denial is a nonchalant attitude about the effect of their actions. For example, a concerned and worried family member will appear bugging or nagging to people in denial. To someone living in denial, their loved ones make a mole out of a mountain.
For example, someone showing signs of denial in love will tell you they are not in love even when the thought of their love interest makes them smile out of the blue.
3. Justifying their behavior
Regardless of how disturbing their behavior is, people in denial make excuses or give reasons for their actions. For instance, they blame outside forces or other people for causing a particular problem. Taking responsibility doesn't come easy to them.
4. They persist in their actions
Despite the negative effect of their actions, people in denial continue behaving as they want.
5. Promising to change
Another common sign of someone living in denial is a bogus promise to change for the better. People in denial do this repeatedly when family members appear to be on their necks.
10 ways to help a loved one in denial
If you are looking for ways to help a loved one in denial, here are ten ways you can try.
1. Learn about their condition
To know how to deal with someone in denial, you must know what you are up against. It's unfair to get angry at a depressed person in denial without understanding their situation. Start by knowing the nature of their denial. Are they going through trauma, grief, or fear?
If you can't find enough information from them, try other credible sources. By doing this, you know what they are dealing with and empathize with them. It will also help you see why they act in a particular way and assist them in overcoming denial.
2. See their condition from another perspective
It's sometimes convenient to get frustrated when dealing with a depressed person in denial. You should be asking, "Why do they feel comfortable shying away from their problems – disturbing ones?" The brain is naturally built to protect and shield us from shocking events.
Denial as a coping mechanism helps someone facing a traumatic event more than addressing the problems head-on. Understanding this makes you more compassionate. Also, when you know that people process emotions differently, you might get an insight into their condition and learn how to deal with denial.
3. Be compassionate
Knowing how to deal with someone in denial can't be easy with compassion and empathy. These two traits are central to someone living in denial. It is easy to disregard their feelings when they can't see through glaring their actions and negative consequences. However, your first response shouldn't involve flaring up.
Be gentle in your words and behavior to avoid aggravating their condition. To help people with denial overcome it, you must understand it won't be easy at first. Depressed denial involves not accepting the truth at the initial stage. Try to help them by sharing your feelings about the situation. Then, give them space to live in denial.
4. Be an active listener
People with denial may not want to hear someone forcing their opinion on them, but they certainly want to be heard. Therefore, it is essential to be an active listener to know how to deal with someone in denial. Depressed denial will make a person continue to rant, so when they talk, don't interrupt them and keep eye contact.
Someone living in denial will constantly give excuses for their behavior. Be calm and try not to be defensive. Help by rephrasing what they say in the form of a question to clarify it. It is also a tactic to give them enough details about why they act the way they do.
Related Reading: 

How to Use Active Listening and Validation to Improve Your Marriage
5. Let them know you are with them
There is a high chance that people living in denial feel lonely and alone in their problems. It is crucial to make them think they are not alone.
Let them know you are on their side. With your findings and observations on their condition, you should already have adequate knowledge of their condition. Use this to make them feel relatable.
6. Practice the use of "I" in your words
The constant mentioning of "You" may sound accusing to people in denial. Instead, start your words with "I" so they shift attention to you. For instance, if you want to call their attention to how they leave the door open after getting drunk, you can say, "I feel concerned when you leave the door open after drinking." Other "I" expressions you can use are:
I feel worried when you don't use your medications.

I feel upset whenever you lay the bed of our deceased son.

I am concerned that I don't support you enough when you lock yourself in your room.
7. Accept their reality
If you are serious about seeking how to deal with someone in denial, you must accept the reality of their condition. That means acknowledging you can only try your best to prevent you from getting frustrated when all your efforts seem to be abortive.
Besides, know that you may not be successful in telling them they are in denial. That is definitely something they will fight you for.
Regardless, giving up isn't an option. Remember, people in denial need help, and you are in the best position to help them. Instead, focus on what you can do at the moment rather than worrying about their indifference.
8. Become an accountability partner
After accepting that people with denial aren't ready to face the truth, focus on other things you can do. One thing you can do is to become an accountability partner. That helps you deal with someone living in denial without making it obvious.
Start by encouraging them to try out activities that can help them reduce their denial symptoms. Even though refusing medication is a common problem, you can try other activities.
For example, motivate them to exercise or try meditation. You can also invite someone in denial to events or other enjoyable activities, especially something related to their hobby or interest.
9. Recommend professional help
After trying your best to help people in denial manage their situation, and nothing proves fruitful, it's time to recommend professional help or help them seek mental health support. This step is crucial when someone living in denial appears to be a threat to themselves and others. It is also the best remedy when seeking how to deal with someone in denial.
Therapists help people living in denial see through their problems. Of course, this takes a long process, but once the professional builds trust with them, they can face their pain.
10. Decide on what to do if they refuse your help
Unfortunately, you may try all successful treatments of denial, and nothing will work on your family member or loved ones. After a long time, they may still find it challenging to accept the truth of their diagnosis. What do you do? That's one question you need to answer yourself.
Will you stay away from them or continue to keep in touch? Will you ask them to move out should they be your friend? Figure out the best way to deal with their action and follow through.
Things to avoid while helping a loved one in denial
Understanding when someone is in denial can help them overcome being in denial symptoms. You can try many proven strategies to help them come to terms with their condition things but not the following:
Forcing people in denial to talk

Forcing them to seek a solution

Using compelling or accusing words and statements like "should/shouldn't," "You," etc.

Asking why they act in a particular way. It may sound accusing to them.

Being judgmental about their condition. Instead, try to understand why they behave that way.
Conclusion
Dealing with addiction, grief, death, or other traumatic events isn't easy for some people. As a result, they live in denial. Understanding when someone is in denial can help you deal with them appropriately without worsening their condition.
Also, it is vital to be an active listener when they talk and put yourself in their shoes. Notably, being calm and gentle with them might make them open up to you. If they show no improvement, recommend professional help, but don't force it.
Share this article on
Want to have a happier, healthier marriage?
If you feel disconnected or frustrated about the state of your marriage but want to avoid separation and/or divorce, the marriage.com course meant for married couples is an excellent resource to help you overcome the most challenging aspects of being married.
More On This Topic
You May Also Like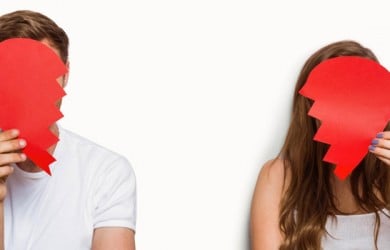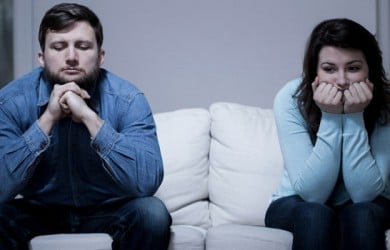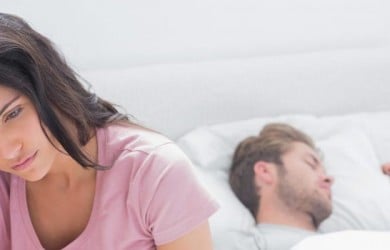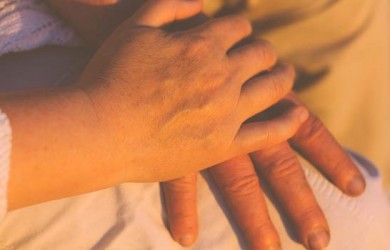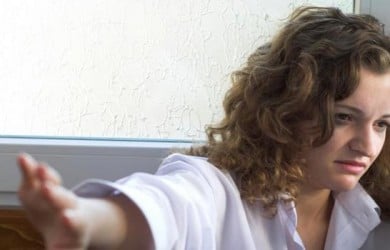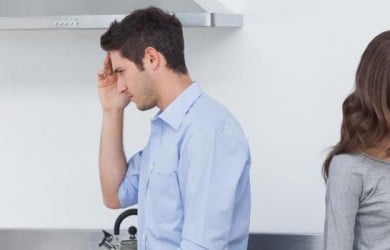 Popular Topics On Marriage Help