Top 8 Ideas for a Unique and Gorgeous Lesbian Wedding
Wedding bells are in the air. When it's a lesbian wedding, there are two brides about to be married. Two brides with two different backgrounds into the mix.
That means it's important to bring each bride's own unique flair and personality to the ceremony and reception. As the wedding is a union between these two women, it should show who they are through music, decoration, and overall feel.
Lesbian wedding planning involves a lot of communication to make sure each partner feels special on the best day of her life.
Here are the top 8 ideas for a unique and gorgeous lesbian wedding:
1. Consider the dress, or not a dress!
Each of the brides should feel beautiful and comfortable in whatever they choose to wear at their wedding. Some lesbian couples may choose for both ladies to wear a dress, but it's not a requirement by any stretch of the imagination. Perhaps one or both feel more at home in a suit of just about any color. Forget tradition and go with what makes you feel YOU.
2. Pick flowers that you both love
As a couple, it's up to you how to use them in the ceremony and reception. Perhaps you could make one or both your bouquets out of each of your favorite flowers, or you could do separate arrangements on tables with her favorites, and then other arrangements with her favorites.
When it comes to flowers, you really can't lose. They will look unique and gorgeous, no matter what.
3. Incorporate a rainbow or two
This is one of those lesbian wedding ideas that you can find all over to celebrate marriage equality.
You could incorporate a rainbow into the overall décor, in or on your wedding cake, table centerpieces, your shoes, the flower girl's dress, confetti, balloons, or just about any other place you can think of.
Whether it's a big or small statement, it shows that you appreciate the support others have given to make it all possible for you and other lesbian couples.
Recommended - Online Pre Marriage Course
4. Pick a venue that speaks to both of your hearts
If she's a little bit country, and she's a little bit punk, why not marry the two? Maybe you can find a country location that's a little bit edgy, perhaps at a winery. Think outside the box and come up with a place that has the atmosphere that says "love" to both of you.
5. Make the guest list your own
Many times, couples have to pick and choose who to invite, to make sure they fit the seats allotted at the ceremony, and also to make the day as happy and peaceful as possible.
So it's important to sit down together and talk about each person. Sometimes, if people aren't supportive and won't come anyway, they will still feel bad for not being invited.
It's up to both of you whether to include someone who may make things feel uncomfortable, or who may end up surprising you and showing support in the end. The best thing to do is talk it over, and if needed, talk to the person you are considering.
Ultimately, the day should be a happy occasion, and who you both invite will make a difference.
6. The cake!
As previously mentioned, you both could incorporate a rainbow inside or outside of your cake as a way to celebrate same-sex marriage. Or you could certainly just sit down with a cake decorator and talk about what you both are looking for.
If you can't decide on just one, who says you can't have two wedding cakes?
Another option is to have a selection of amazing cupcakes. It's really up to you and your personal tastes and preferences. While we're on the subject of cakes, there are more and more lesbian cake toppers available, so find one that fits your unique styles.
You could even go for something different, such as two artistic figures or even animal figures. If you still can't decide, there is no rule that says you have to have a topper at all; or just use your initials or flowers. Anything you choose will be beautiful and unique to your relationship.
7. Consider your jewelry
Both of you are ladies, so maybe you are both thinking about what jewelry you might wear to your wedding? If so, you could show your togetherness and choose pieces that match or compliment each other.
Or, you could celebrate your uniqueness and choose jewelry that you each choose on your own. Even something small and simple will be gorgeous.
8. Print a Mrs. & Mrs. somewhere
Be it on the invitations, napkins, a sign out front, or all of the above, make it official. You are both going to be Mrs., so let your guests know. Plus, it's just so darn cute. Might as well get used to using the titles, right?
The bottom line
Weddings are supposed to be fun. However, amidst all the planning and ensuring that everything is perfect, the two people who are supposedly the stars of the show are the last ones to enjoy it. Make sure you do not make that mistake on your wedding day.
It is one of the best days of your life, and the happiness you feel on marrying the love of your life will be enough to make the day perfect for you!
Share this article on
Want to have a happier, healthier marriage?
If you feel disconnected or frustrated about the state of your marriage but want to avoid separation and/or divorce, the marriage.com course meant for married couples is an excellent resource to help you overcome the most challenging aspects of being married.
You May Also Like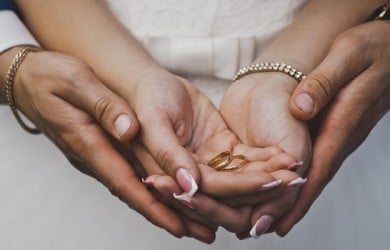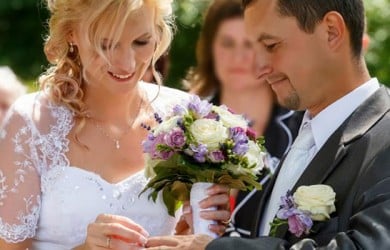 Popular Topics On Getting Married