Tips on How to Prepare for Summer and Winter Wedding
Do you want to tie the knot when the weather heats up or snow is falling, and are searching for wedding ideas for summer and winter to get you started?
Are you excited about having a wedding during this exciting time of year, either in your hometown or a remote location? If so, there are lots of great wedding plans on how to prepare for winter and a summer wedding.
In this article, you will not only pick up great tips for staying cool at a summer wedding but also the secrets to easy winter wedding planning.
The first thing you need to decide is whether you want to have a destination wedding or keep things close to home.
Summer wedding
Would you like to travel to the beach or is it more important that you are able to have a large affair close to friends and family in your local town?
If you decide on a destination wedding, there are some fantastic communities along the coastlines of the world that are able to provide the needed services.
Of course, many people have no interest in traveling abroad for their wedding. You might not even way to go to the coast in your own country. If so, you can still create a fun summer wedding where you reside.
So, how to prepare for a summer wedding? We start off with the color choice.
Color choice
When planning for a wedding, colors are incredibly important. Bold, vibrant colors are the mark of summer and should be present in the wedding choices.
If you have more than one bridesmaid, you might want to let them each select the color of their dresses from a predetermined selection of bold colors. For instance, you might find that a particular summer wildflower mix is a perfect color scheme for your wedding.
Let the ladies choose a dress that matches one and she will look and feel gorgeous that day. As a bonus, she will have a great summer outfit that she can wear again.
You will need to decide if you want a formal affair or if casual is more in order. The atmosphere of summer is often one of fun and frivolity. You can take advantage of that is your summer wedding theme.
Rather than letting the heat of the season bring guests down, treat them to an ice cream bar. When it comes to wedding ideas for summer, this is something that guests of all ages will agree is a good choice!
Recommended – Pre Marriage Course Online

Sweet solution
One of the most nifty summer wedding tips is to hire someone to serve the ice cream or you can get some friends to volunteer. If you go the route of asking for volunteers, put someone in charge of making sure that it is done and make the shifts small.
After all, you want everyone to enjoy the party. Stick to a few flavors and toppings so that guests don't go too overboard. Find out which caterers and food trucks in your city are capable of handling ice cream service.
Most are affordable and more dependable than trying to get your friends and family to do it.
Summer celebrations are a wonderful thing, especially when two people who are in love decide to tie the knot. Use these suggestions and find more that will make your summer dreams a reality!
If that sorts out your summer wedding let's have a gander at some simple tips for planning a winter wedding
Winter wedding
The weather during the winter can be quite lovely, though some areas are prone to treacherous conditions at least part of the time.
You will need to consider the climate in the planned city before diving too far into the setup. If you choose to host any or all of the event outdoors, you need to live in an area where severe winter storms are incredibly rare.
However, the proper tents and party accessories can make your outdoor wedding quite spectacular. Speak to a representative from your favorite party supply vendor to discuss the set-ups most appropriate for the venue and time of year.
Do the families have strong spiritual or religious convictions that are celebrated at the end of the year?
Could elements of faith and the seasonal celebration be incorporated into the wedding? Traditional holiday colors are an easy choice that can even be used by non-religious couples.
Unique decoration
In most places, snow and frigid temperatures are part of the winter experience. Another one of the neat tips and tricks for the perfect winter wedding is to utilize snowflakes, faux snow and related decorations to emphasize the seasonal theme.
Instead of floral centerpieces, find an ice sculpture artist who can provide you with a breathtaking alternative.
A white and blue wedding can be traditional, modern or in-between. If you love the colors but don't want to wear a white dress, find or have a royal blue gown made for the event. Silver makes for wonderful metallic accents.
If you do not already have a wedding set chosen, you could opt for white gold to match the theme. Alternatively, silver is quite lovely and more affordable for those on a budget.
Tungsten would also provide the right metallic glint as a long-lasting option with growing popularity.
Instead of the newlywed couple being whisked away in a stretch limo, why not rent a horse-drawn sleigh or carriage. This is a lovely, old-fashioned romantic touch that is sure to please any bride!
Bride & groom outfit
For the outdoors, the women and girls in the wedding party should have wraps or capes that coordinate with their dresses. The bride herself could warm up in a rented white fur coat, perfect to distinguish her as the lucky gal.
The men in the wedding party might also need rental coats for the event. If you will be outdoors much, these guys could get cold. You don't want them tossing their favorite hunting jacket over the tux to warm up!
You can plan a wonderful event, starting with these winter wedding ideas. Celebrate the colors and beliefs of the season and plan for the comfort of all. If you do, you will have a fantastic start to your event organization.
Share this article on
Want to have a happier, healthier marriage?
If you feel disconnected or frustrated about the state of your marriage but want to avoid separation and/or divorce, the marriage.com course meant for married couples is an excellent resource to help you overcome the most challenging aspects of being married.
More On This Topic
Recent Articles
You May Also Like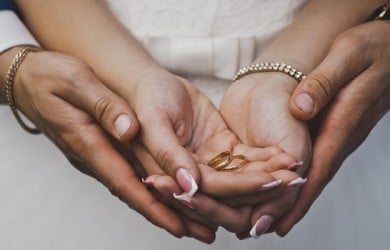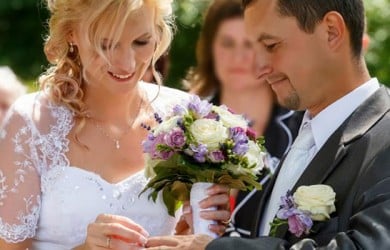 Popular Topics On Getting Married