8 Tips for Adding Glamor to Your Gothic Wedding
Are you a fan of all things dark and romantic? Are you obsessed with the bleak beauty of Wednesday Addams' brooding look or Nevermore Academy's foreboding structure? Are you ready to say "til death do us part" to your soul mate?
If so, a gothic-style wedding might be the perfect fit for you. With its focus on moody, atmospheric details and a nod to the mysterious and the macabre, a romantic gothic wedding can be a truly memorable and divine celebration of your love.
Gothic weddings are a dramatic way to honor your love and commitment. If you're planning a gothic celebration or want to add dark elements to your big day, here are some tips to help create a beautiful and memorable event.
What does it mean to have a gothic wedding?
The gothic subculture has been a beloved part of society for many years, with its mysterious and beautiful aesthetic drawing in people from all walks of life.
Many individuals who have embraced gothic style and culture have also chosen to incorporate gothic elements into important milestones such as their weddings.
Those drawn to a darker wedding style often have an artistic and creative streak, wanting to make their big day one that celebrates their uniqueness and individual expression. The goth subculture is often associated with questioning mainstream values and rejecting conformity while embracing individuality and a DIY ethic.
Contrary to some people's assumptions, goth culture is not all doom and gloom; it embraces a sense of romance that differs from the mainstream. The aesthetic and philosophy often feature romantic elements that explore deeper emotions, passion, love, tragedy, and beauty in unconventional places.
Far from evil, gothic couples often have strong and intense feelings of devotion, desire, and longing for each other.
The fascination with death, folklore, history, and literature lend themselves well to crafting truly unique wedding themes. Gothic literature and art, for example, often feature dark and atmospheric representations of eternal love and yearning, emphasizing the mysterious and supernatural.
8 tips for planning a gothic wedding
Gothic-style weddings are a dramatic way to honor your love and commitment. If you're planning a gothic celebration or want to add dark elements to your big day, here are some tips to help create a beautiful and memorable event.
1. Unleash dark glamor at a stunning gothic venue
A gothic-themed wedding is about setting the right atmosphere, and the venue plays a huge role. Look for a venue with gothic architecture, such as a castle, cathedral or historic mansion, or a more modern one with a sleek and industrial vibe.
If you can't find a gothic venue, you can always create a gothic atmosphere with décor and lighting. As Morticia Addams, the queen of all things dark and beautiful, once said, "it's dark, it's depressing, it's desolate. It's a dream."
2. Unveil the mysterious charm of gothic wedding stationery
Your wedding stationery is the first glimpse into the shadowy world of your gothic nuptials, a tantalizing taste of the macabre delights that await your guests.
From the intriguing invitation to the elegant menu, the place cards that bear the names of your chosen guests, and the order of the day that charts the course of your darkly romantic celebration, each piece of stationery should be a subtle yet powerful reflection of your gothic theme.
Let the save the date cards be a harbinger of the gothic glory, a mysterious invite into a world of shadows and secrets where love and darkness entwine in an eternal embrace.
Use dark, moody colors: Incorporate black, deep red, and purple hues into your wedding invitations and other stationery. These shades are often associated with the gothic aesthetic and will immediately set the tone for your elegant gothic wedding.

Use gothic typography: Choose font styles reminiscent of the gothic era, such as calligraphy or ornate scripts. Use silver or gold foil-pressed lettering to make your stationery look sophisticated and elegant.

Use gothic patterns: Incorporate patterns such as damask, paisley, or floral designs. These patterns can add a touch of elegance and sophistication to your invitations and other stationery.
3. Add drama with your décor
Think black candles, deep red roses, pearls and rosary beads. Or why not use antique or vintage décor, such as candelabras, apothecary bottles and old books, to add a touch of history to your gothic wedding?
Gothic isn't all about bats and spiders (unless you want it to be); it is romance at its most dramatic so you can display your endless love for each other in your wedding theme.
If there are any disagreements regarding this, you can seek answers in pre-marriage counseling.
Related Reading: 

Tips to Make Your Wedding Day Special
4. Vamp up your wedding attire
If you are the bride-to-be, you'll likely want your dress to be a real heart-stopper. You could go for a black, scarlet or plum-colored dress, but you don't have to do away with the traditional white or ivory just because you want a gothic theme.
To further the romantic gothic wedding theme, your wedding dress could be inspired by Victorian-era fashion, with elements such as high necklines, lace, and long sleeves.
Emphasizing fabric like velvet, satin, chiffon, and tulle can bring that gothic feel to the dress or include elements such as pearls, ribbons, and embroidery. You could always accessorize using a black veil or a breathtaking rose headpiece.
If you wear a dark dress, your bridesmaids could wear white.
For the groom, the options are endless, from a range of dark suits — with pinstripes if you want to unleash your inner goth — or a long tailcoat with a cane and top hat.
The groom's attire can be accessorized with other gothic-inspired items, such as a black tie or a black rose boutonnière.
Check out this video to learn more about the types of gothic attire:
Related Reading: 

12 Crucial Tips To Find The Wedding Dress Of Your Dreams
5. Pick some gloomy (but beautiful) blooms
Gothic weddings are a symphony of darkness and beauty, with natural elements starring. Flowers are essential, but other players on the stage of your gothic nuptials join them.
The use of dark-shaded flowers, such as deep red roses, thistles, and black dahlias, paired with icy green foliage, creates a striking, alluring, and eerie contrast.
Imagine a bouquet of deep red roses and white calla lilies, their petals velvety and thorns sharp, nestled among a bed of lush green ferns and ivy.
Or perhaps a centerpiece of twisted branches adorned with delicate gypsophila and dripping with a cascade of dark purple orchids. Moss, lush and verdant, adds a touch of life to the darkness.
Delicate and ethereal feathers flutter on the breeze like whispers from the afterlife. These elements weave a tapestry of natural beauty and drama that perfectly complements the gothic theme.
These gothic flower arrangements will leave a lasting impression on your guests and add a touch of eerie elegance to your gothic wedding decor.
6. Indulge in a dark and delicious wedding cake
Depending on your preferences, you could choose from various flavors for a gothic-themed wedding cake.
The gothic wedding cake could be a rich, dark chocolate cake with a velvety ganache filling, its inky depths calling to explore. Or a red velvet cake, with its deep scarlet hue hinting at the passion and intensity of your love, topped with a delicious buttercream frosting.
A black forest cake with a blackcurrant jam filling could be another option, the tartness of the berries cutting through the sweetness like a sharpened blade.
No matter the flavor, the cake is adorned with gothic elements, black lace, dark florals, or even a black fondant finish with a gothic script or a symbol of your love, making it a true masterpiece of confectionery art for your gothic romance wedding.
7. Get in the spirit with some haunting melodies
Many musical styles lend themselves to a gothic wedding, from classical to industrial. "Clair de Lune" by Claude Debussy is a piece known for its dreamy and ethereal quality, and its delicate piano notes could be a beautiful and romantic tune to walk down the aisle to.
These goth-tinged love songs would be hauntingly beautiful choices for your danse macabre:
This Mortal Coil — Song to the Siren

The Cure — Pictures of You

Julee Cruise — Rockin' Back Inside My Heart

Nick Cave and the Bad Seeds — Into my Arms

Nine Inch Nails — We're In This Together

Siouxsie and The Banshees — The Last Beat of my Heart

Depeche Mode — A Question of Lust

Kate Bush — Wuthering Heights

Joy Division — Love Will Tear Us Apart

Weyes Blood — God Turn Me Into a Flower.
Gothic wedding ideas also include hiring performers, such as fire dancers or stilt walkers, to add a touch of the unusual to your celebration.
8. Embrace the history of gothic romance
The gothic genre has a rich history of dark and romantic stories, so consider incorporating elements of these tales into your wedding. You could have readings from gothic novels during the ceremony or quotes from Edgar Allan Poe in your wedding stationery.
One of the earliest and most famous examples of gothic romance is the novel The Castle of Otranto by Horace Walpole, published in 1764. This novel established many conventions of the gothic genre, including forbidden love, supernatural events, and the cursed ancestral castle motif.
Gothic romance gained widespread popularity in the 19th century with the publication of novels such as Frankenstein by Mary Shelley and Dracula by Bram Stoker. These works and others in the gothic genre continue to influence modern interpretations of gothic style and themes in gothic marriages.
In a nutshell
Today, the gothic aesthetic can be seen in everything from fashion and art to music, TV and film. It is currently surging in popularity largely due to the success of Tim Burton's Wednesday on Netflix.
And, as we've seen, it has also made its way into the world of weddings, bringing a touch of the dark and the romantic to couples looking for something a little out of the ordinary.
So if you're a fan of gothic romance and are looking for a way to incorporate this unique style into your wedding, consider these tips and the genre's rich history as you plan a wedding to die for.
Share this article on
Want to have a happier, healthier marriage?
If you feel disconnected or frustrated about the state of your marriage but want to avoid separation and/or divorce, the marriage.com course meant for married couples is an excellent resource to help you overcome the most challenging aspects of being married.
More On This Topic
Recent Articles
You May Also Like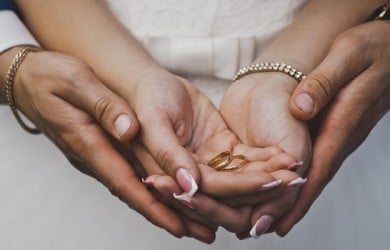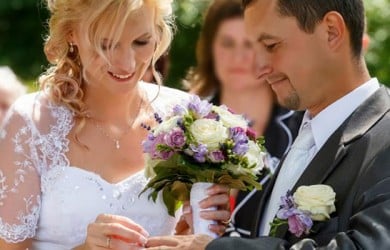 Popular Topics On Getting Married