Love Calendar Is the Best Tool Keep Marriage Alive
Yes, even in the happiest of marriages, there are lulls and disagreements.
Wise and loving spouses expect them and know how to manage them, they look for ways to keep marriage alive, and rekindle the marriage.
Here are twelve months of ways you can keep marriage exciting that my clients have love-tested over the years.
I hope these help you keep your love alive.
Revise and add to customize your tips to keep the spark alive in your marriage. Oh—and be sure to add to the corresponding months a celebration of.
Each of your birthdays
The month you met
The month you fell in love
The month you got engaged
Your anniversary
1. January
Do something special together to celebrate the New Year.
It doesn't have to be expensive or difficult. Choose whatever has meaning and special pleasure for you.
For example, you could get together with the family.
Or, do something fun that you have not done in a while. If you live in a snow-country, build a snowman, go sled-riding.
If you live in warmer areas, walk the beach, walk a hiking trail, go where you can see animals. It doesn't matter.
Be sure to write your New Year's love resolutions—which, of course, include things that you need to improve!
2. February
Yep—it's Valentine's Day month in the yearly love calendar.
Start thinking now about what you would like to say and do to strengthen your appreciation and love for your spouse.
Start by making a card and writing down all the things that you love and respect about your spouse.

Expressing your love

with expensive gifts is not necessary—and often not effective.

Do something that has personal meaning to you as a couple.
My clients' ideas include:
Writing a love letter of appreciation
Buying something that you know your spouse wants

Going to a place or event that your spouse mentioned

Surprising your spouse by arranging for your spouse's best friend or family member to visit

Giving your spouse a handmade coupon that says something personally meaningful.
Here are a few examples:
Free never-expire coupon
Redeemable for any one item
From the list:
New (fill in the blank)
Visit to see or to bring here (fill in the blank)
Vacation to (fill in the blank)
Redo (fill in the blank)
It is also a snow month in many countries. Have fun together—build a snowman, go for a sled ride.
3. March
It's Springtime in the love calendar !
Get out of the house, do something fun together. Be silly, do something you've talked and talked about doing—but never do!
Stop talking and make plans. And how about Spring Cleaning?
Don't dread it. Work together to go through closets and select things to give away. Try on that jacket or skirt in the back of the closet.
Do it with your spouse and children—and laugh at why you bought that in the first place. Just do it! Do it together and keep the spark alive.
And, then, yes, as always, thank your spouse and family for helping.
4. April
Usually, this time of year is a month of various religious holidays.
Of course, adjust the way you celebrate your holiday and your love of being with your spouse in whatever way is best for you.
Think about how you might celebrate in a way that incorporates an action that is important to your spouse.
For example, invite someone whom your spouse has not seen in a while. Or, decide to do something charitable to help a family or person in need.
Giving together as a couple and as a family brings you closer together and more appreciative of what you have.
5. May
Mother's Day! Memorial Day!
Sometimes Graduation Month! Whew!
No excuses—there are many opportunities where you can add your special way of expressing your love for your spouse during this time in your love calendar.
Remember that coupon you might have used for Valentine's Day? You can tweak it for any of the occasions.
A kind note of appreciation can make a family celebration more romantic and special. For example, you can write a letter to your spouse about what a wonderful parent and partner they are in your life.
Think about ways to include the family and/or children. Also, see the June suggestions for ideas that you can also use for this month.
6. June
Fathers Day! Sometimes College Graduation Day! Sometimes Anniversary Day! First Day of Summer! Whew again!
Do one of your unused ideas that you considered for May. Often, for example, doing one of those overlooked and forgotten household tasks goes a long way to express your love. Involve the family, for example, in cleaning out the garage or closets!
Aggravating tasks are usually more fun when you have a crew.
7. July
Fourth of July! Oh this month in the yearly love calendar for couples is easy: Celebrate you two!
If your anniversary is months away, have an "interim" anniversary celebration to let your spouse know your feelings of joy and gratitude.
There is no law that says that you can't create your own holiday! Have fun together and with the family.
8. August
Back to school time?
Time to return from vacation?
Oh, August too often is not a happy month: Bad weather somewhere, kids to get ready, and packing up time. Instead of getting stressed out, do dreaded tasks together.
Divide up the smaller tasks.
When couples work together even on unpleasant things they can feel closer.
Don't turn into a perfectionist or drill sergeant.
Just get things done—and then thank each other. You might even want to prepare a thank you card earlier. And always assign tasks to your children.
Afterward, find a way to celebrate being a couple and family. Order in, barbecue, watch a movie together, play a game, and just do something that refreshes your closeness.
9. September
Labor Day! First day of Autumn. Religious holidays for others.
Just celebrate life when September comes up in your love calendar!
Get outside.
Look at your community's calendar for fun things to do with family and with just your spouse. September is also often a month of new beginnings for school children.
Instead of your usual way of dividing up your childcare tasks, do at least one of them together.
Co-parenting can be frustrating, but it is less so when you are a team. And then write a thank you note to your spouse about how wonderful they are!
Also watch:

10. October
Halloween! Columbus Day! What?? How do you celebrate Columbus Day? Well, Columbus was an explorer.
Think about how your spouse helped you explore and discover yourself in ways that helped you grow.
And, yes, write that note of appreciation. Explain what you've discovered about you, life, and love. And Halloween?
Now is the time to be silly. Dress up—or at least wear a silly hat—when you answer the door or attend your child's school celebration. If available in your area, go on a hayride. Some communities offer pre-arranged ones or rentals. Just have fun! And be appreciative of autumn beauty. Go for drives to look at the leaves changing. Carve pumpkins together. Go apple-picking. Just thrive!
11. November
Veterans Day! Thanksgiving!
These are both holidays in your love calendar where you can give thanks.
Watch the Veterans Day parade in your town, if you have one.
Get humble and appreciative.
Express your thankfulness with your family and privately with your spouse. Donate food to the local food-bank.
Or, arrange ahead of time for your whole family to volunteer at your local food bank. Or, work in the food kitchen and help serve the food to the less fortunate.
Remember, doing charitable deeds together brings you all closer, and makes you more appreciative, kinder, and more humble and loving. You could create a Thanksgiving ritual of going through the pantry and giving or volunteering together.
12. December
Christmas! Other religious celebrations! New Year's Eve! First Day of Winter!
Read again the charitable tips I mentioned for November.
In your love calendar, repeat tasks for December. Be sure to sort through your and your children's closets again for things to donate to organizations such as Goodwill or Salvation Army. And have fun on the first day of good-fun snow!
Write New Year's Resolutions as a couple and then as a family. Make it fun. Ask the kids what they think Mom and Dad should write for their resolutions! Help each other. Celebrate each other.
Help others.
As you can see by now, there are similar loving suggestions threaded throughout each month. It seems that we busy humans need many reminders of the importance of expressing appreciation in different ways to our spouse, children, family, and community.
No act is too small. And all acts bring you closer and make you more loving.
Hope these suggestions help!
Happy Year,
LB Wish
Share this article on
Want to have a happier, healthier marriage?
If you feel disconnected or frustrated about the state of your marriage but want to avoid separation and/or divorce, the marriage.com course meant for married couples is an excellent resource to help you overcome the most challenging aspects of being married.
More On This Topic
You May Also Like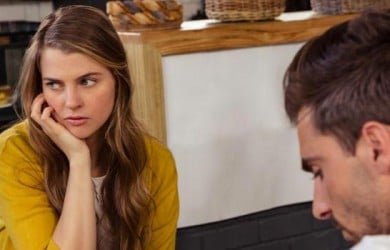 Popular Topics On Married Life