Saying 'I Do' Again? Wedding Vows Renewal After 25 Years of Marriage
The trend for wedding vows renewal is gaining prestige all across the globe, as we see couples repeat their vows after 20 to 25 years of their marriage. While the vows are initially made to last for a lifetime, the decision to renew them has become common stock for married couples today.
The growing culture of renewing wedding vows makes one think about the possible reasons behind it. What could possibly have got into the head of these married couples that they suddenly end up hiring an efficient planner, and caterer to surprise their families and friends with a renewal of their vows?
Renewing wedding vows has recently become popular with people due to the rising divorce rates in the United States. With divorce rates rising rather drastically, couples that have stuck together for a long period are now finding ways to possibly strengthen and celebrate their relationship in front of the public.
The splashy event, along with public affirmation, would mean that the relationship is still rock solid despite issues, even today.
However, there are certain excellent points about the renewal of vows that we will clear in this article. Go through it and see if you too need a vow renewal ceremony also!
Why renew marriage vows?
To simplify it, the vow renewal ceremony is a rather glorious way of celebrating the success of your marriage. The ceremony is also meant to signify that whatever period you've spent together, both of you are willing to double it further.
You might have completed 2, 5, 10, or 25 years of marriage, but through a vow renewal ceremony, you're telling the world that your love hasn't died and your dedication is the same as it was all those years ago.
Once you get to understand the concept of vow renewal, you'll get to comprehend that there isn't any wrong reason for renewal. It is all meant for the good of your relationship, and for leading the rest of your life in pure happiness and agreement.
When to renew your wedding vows again?
There is never a perfect or right time for the renewal of your wedding vows. Starting from the day right after your actual wedding to over 30 years of 50 years later, you can renew the vows whenever you want.
The time for renewal should be well-planned, based on the approval of both members, and both of you should feel comfortable going ahead with the plans.
Some couples renew after 25 years, while others renew their vows every year.
Who will be the host?
Most of the couples host their renewals themselves and hand over the honors to their children. While it is only reasonable for couples to host the ceremony for renewal of vows themselves, one recent and a reasonably popular trend is to have the original best man and the maid of honor from the wedding come and host the event.
This perfectly rekindles the old memories and helps transport everyone down memory lane.
The ceremony can be held at any hall of worship, without the need for you to step into an outdoorsy space or an event hall. The process would be fairly similar to your original vows.
Since the vows you're taking in your renewal ceremony, aren't legally binding, you can have literally anyone look over the ceremony and officiate the vows. Anyone, including a clergyman, your children, or a judge can read you the vows.
However, since the original aim is to replicate your official marriage ceremony, hiring a clergyperson would do you a lot of good.
Who to invite?
Most couples are often in synergy during all other matters, but come in conflict when it comes on who to invite to the event.
Since the ceremony for renewing vows isn't as pompous as your wedding, you can't invite all of the people that were present there. And, since you want to reaffirm your bond in front of everyone else, you would want to have a select few members from your family available in the ceremony.
Keeping this conundrum of sorts in mind, the best you can do is look over what both of you would like. You could either go for a private and intimate ceremony with only your loved ones or call in everyone from the wider family and friend cycle to rejoice over your consistency.
If both of you face conflict with these choices, it is best to hear each other out and see who has a better opinion and rationale up their sleeves.
What should you wear?
While most people are a bit skeptical about wearing their wedding dresses for the event, we would recommend them to feel free in wearing whatever they want to wear.
Being the bride, if you want to wear your original wedding dress, you can do that as well. If you have outgrown the wedding gown, or feel that it is a bit too much for the occasion, then go for a nice pretty cocktail gown or an evening dress. The dress you choose should depend on your taste and perception of the event.
You can perhaps skip the idea of wearing a veil, and replace it with flowers in your hair, or even a hat for that matter.
The groom can wear their original suit, with an update of a new vest or tie. A good watch, coupled with any other wearable gift that your wife has given you, would work well for the event.
What happens in the ceremony?
The ceremony is quite simple and doesn't involve anything extraordinary. For starters, you would have exchanged the same vows that you exchanged on the day of your marriage. The verbiage would be the same, without any major alterations.
You can also add to the vows a few funny one-liners as well. Whether you want the original vows or feel like adding to them, depends entirely on you. You can then exchange your diamond ring and kiss as you did on that heavenly evening back when you first married your significant other.
Share this article on
Want to have a happier, healthier marriage?
If you feel disconnected or frustrated about the state of your marriage but want to avoid separation and/or divorce, the marriage.com course meant for married couples is an excellent resource to help you overcome the most challenging aspects of being married.
More On This Topic
You May Also Like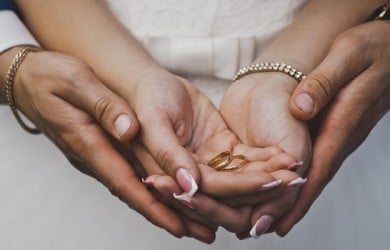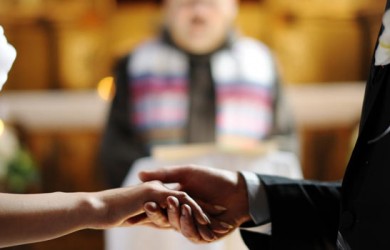 Popular Topics On Getting Married