7 Reasons Why Women Find Silent Men Sexy
Let's take James Bond for a moment, confident, mysterious and quiet; an introverted personality that made every girl go crazy. If Bond wanted to follow the strategy adopted by today's guys such as tossing out lame jokes, make a loud show and centring themselves as the life of the party, girls would never be attracted to him.
However, Bond remained mysterious, badass, confident, introverted and very confident making him irresistible to every woman. So what makes him attractive?
Silent men are sexy men and here are seven reasons why introverted men are naturally attractive.
1. They are mysterious
Silent men have a rich inner circle with intriguing feelings and thoughts, and this appears to act as a magnet between women.
Women want to know what they are thinking, and they are unable to figure it out. This creates an intense aura around men and women are not able to break it down.
At the beginning of the relationship, the mystery is what makes everything be exciting. Every moment spent with a mysterious man seems intriguing, and since they give away less, it can get very agonizing for women to try and understand them.
This particular personality makes the honeymoon phase of the relationship last longer than it usually does. A strong and mysterious man does not give away anything unless you really work for it.
2. You are easy to be around
By nature, silent men are relaxed and chill. They are not clamoring for attention nor do they care if they get attention or not. They are the perfect listeners making them incredibly appealing and very pleasant to all kinds of woman.
3. A fresh perspective on the world
Since silent men are not passing in the trend going around, they have a deeper sense of reality. The way they see the world is very surprising and incredibly wonderful.
Silent men have a fresh new sense of humor and quirky playfulness making them very attractive.
4. Introspection
Silent men are constantly searching for what is right and what is wrong in their life.
They hold themselves responsible and aim to become a better person. They keep on over analyzing themselves, and this helps in increasing their chance of having a long-lasting relationship.
With this quality, women tend to be more vulnerable and true to their partner. Silent men know themselves inside and out. They are well aware of their likes and dislikes and tend to focus on it. This also gives them time to figure out their partner and understand their preferences.
They are sophisticated, trustable and know their goals. They know what they want from the future and for women, a man who is well settled and knows what he wants is all she needs.
5. In tune with subtleness
This is one of the sexiest traits present in a silent man.
They are in flow with subtle chemistry nuances, and their quietness places them in close touch with their body as well as her body. Their slightest glance is enough to melt their women, and this makes them even more attractive than they already are.
6. They have an intuitive nature
They have an intuitive nature and are primed to do that. Women find this intuitiveness as a turn on, and this makes the man appear like a god to them. The intimacy that comes with this subtleness can be very intimate. Being with a guy who is emotionally unavailable can be very difficult, but a silent man keeps his defenses up until he can completely trust you.
This ticks women off and once they let you in you can see their vulnerable side and have an unbreakable bond. This bond is so strong that nothing will ever come in between them ever again.
7. Silent men are intellectually stimulating
Silent men are intellectually stimulating, and women without a doubt are energized by meaningful conversations.
Since silent men tend to have an exploratory and curious nature, they can easily find out about their significant other without letting go of their own self.
These men become all the more intriguing for women, and they are unable to resist them making these men sexier than ever before. To get this kind of man you need to be intelligent and interesting.
Red alert – Silent men despise loud girls
A girl who tends to shriek after every five seconds or tries to grab the attention of every man present in the room will not attract a silent man. A silent and sexy man will find himself attracted to a girl who is comfortable and confident in her skin.
However, this kind of man will never make the first move. So if a guy catches your eyes and you get a mysterious feeling from him, never be afraid to approach him.
So keep your cool, go up to him and get yourself a strong silent man to keep yourself happy.
Share this article on
Want to have a happier, healthier marriage?
If you feel disconnected or frustrated about the state of your marriage but want to avoid separation and/or divorce, the marriage.com course meant for married couples is an excellent resource to help you overcome the most challenging aspects of being married.
More On This Topic
You May Also Like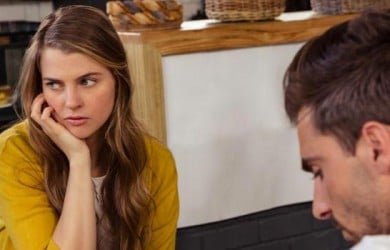 Popular Topics On Married Life