5 Useful Relationship-Building Strategies for 24×7 Togetherness
Sometimes, relationships tend to get complicated and overwhelming. But there are always ways to work through tough times. Many tips on relationships are underestimated but work wonders if both the parties are ready to work on the relationship.
As you begin to communicate and develop a serious relationship, you will realize the areas in your relationship that need work and need strategies to maintain healthy relationships.
Here are five relationship-building strategies for 24×7 togetherness.
1. Be in love
One of the relationship-building strategies is to not just love the one you are with but to be "in love." Oftentimes, the pressures and stress of this life can cause you to look at your relationship, see it as an additional problem and then actually ask yourself-
"Why do I love this person, and why am I with this person?"
This is when the fault-finding, finger-pointing, and blaming begins. The question you may really want to ask yourself is-
"Did I love my partner for the right reason? Am I in this relationship to improve my image, or to gain better, bigger, or more?
Also, you might ask yourself-
"Did I actually commit for the long term, better or for worse, to become one, and to strive and make one another a priority?"
There is a difference between being in love and loving someone. Usually, relationships start with a heavy dopamine flow but with time, as you have the reality check together, there are issues.
True love is all about liberation. It's about giving without expectations. A successful relationship is based on one of the important relationship strategies of accepting the person and being in love with them rather than simply taking love as a task that you do in the relationship.
2. Maintain a realistic approach
Next in the list of relationship-building strategies is to have a healthy and realistic approach in your personal view of your partner. This is one of the strong relationship tips that is often overlooked by couples.
So, to start with, learn to expect less.
Do I take care of myself in the same way that I am requesting of my partner? Am I maintaining my physical health and appearance to the best of my ability within reason?
Even if you are working from home, you can continue to dress appropriately to enhance my self-worth, maintain attractiveness, and a positive attitude within the home environment.
If you want to build a successful relationship, when it comes to having a realistic approach, have 'realistic' expectations from your partner too. You can always expect your partner to be kind, gentle, forgiving, and loving. But avoid scorekeeping in the relationship.
That's one of the most realistic relationship-building strategies for the bonding relationship.
3. Have financial compatibility
The third in the list of relationship-building strategies is while you are in the physical setting of 24×7 Togetherness you must stay abreast of your finances.
Do not allow yourself to be trapped by online shopping syndrome because you are in the home all day together on a daily basis.
This could cause confusion, strife, and develop negative online shopping and financial habits.
So, a piece of successful relationship advice is to set financial goals with each other. This is one of the successful relationship tips that increase financial compatibility and provides stability to the relationship.
4. Don't be selfish
How to have a healthy relationship?
One of the best relationship-building strategies is to not allow yourself to be selfish, and self-centered. The keys to a healthy relationship are to make sure that your partner's happiness and satisfaction is of extreme importance to you.
A real loving and committed relationship should be about me and you, you and me, and we as one. Being faithful and respectful, and truthful should be automatic.
If you do not respect your partner as you should, it means you are not sincerely interested in their happiness and well-being. If you truly have confidence in your love and relationship, you would never seek an additional outside interest or become involved in an emotional affair.
In a real relationship, there should also be from the very beginning open and honest communication regardless of the subject matter.
Do not allow boredom, anxiety, stress, familiarity, and changes in your normal living patterns and routines to cause you to create tension and seek unnecessary events outside of your relationship.
5. Say 'No' to abuse
The fifth in the list of relationship-building strategies is to say an absolute "NO."
Do not allow, for any reason for you or your partner to become physically, mentally, or emotionally abusive. This is almost certain to destroy your relationship.
In the video below, Stephanie Lyn discusses tips of having the strength to leave an abusive relationship. Watch it below:
There is nothing positive about being abusive. Always feel at liberty to be able to express with love, gentleness, compassion, respect, and kindness your thoughts and feelings as they occur with the intention of always seeking peace and harmony.
The most important factor to remember is to be a plus in one another's lives and to make each other's happiness, peace of mind, satisfaction, and comfort the priority in a 24×7 togetherness relationship. When it seems as though you cannot find an answer remember that love can always find a way.
With these relationship-building strategies, you are sure to have a successful relationship with zero negativity between you two.
Share this article on
Want to have a happier, healthier marriage?
If you feel disconnected or frustrated about the state of your marriage but want to avoid separation and/or divorce, the marriage.com course meant for married couples is an excellent resource to help you overcome the most challenging aspects of being married.
More On This Topic
You May Also Like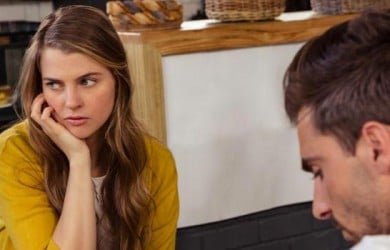 Popular Topics On Married Life