What Is Romantic Orientation & Ways to Discover It
In a world where love takes on many forms, understanding one's romantic orientation is essential for self-discovery and building meaningful relationships. Exploring different types of romanticism goes beyond sexual attraction and delves into the emotional and romantic connections we seek.
We are here to shed light on the intricacies of romantic orientation, list of romantic orientations, and its significance in our lives.
What is romantic orientation?
Romantic orientation refers to the pattern of emotional, romantic, and affectional attractions that individuals experience towards others. It encompasses the specific qualities, traits, or genders that evoke feelings of love and attachment.
While often intertwined with sexual orientation, romantic orientation focuses primarily on the romantic connections we form.
Types of romantic orientations
Discovering one's romantic orientation is an important aspect of self-discovery and understanding. Explore eight different types of romantic orientation examples, shedding light on the diverse romantic orientation list individuals experience and express romantic attraction.
Heteroromantic:

Heteroromantic individuals experience romantic attraction towards people of the opposite gender.

Homoromantic:

Homoromantic individuals are romantically attracted to people of the same gender.

Biromantic:

Biromantic individuals experience romantic attraction towards people of both their own gender and different genders.

Panromantic:

Panromantic individuals

are romantically attracted to people regardless of their gender or gender identity.

Aromantic:

Aromantic individuals

do not experience romantic attraction towards others but may still have deep platonic or other types of non-romantic connections.

Demiromantic:

Demiromantic individuals

develop romantic attractions only after forming a strong emotional bond or connection with someone.

Gray-romantic:

Gray-romantic individuals experience romantic attraction on a spectrum that falls between aromantic and fully romantic orientations.

Quoiromantic:

Quoiromantic individuals have difficulty or find it challenging to understand or label their romantic orientation.
Differentiating romantic orientation from sexual orientation
While romantic and sexual orientations are interconnected, they represent distinct aspects of attraction.
Sexual orientation focuses on sexual attraction, encompassing desires and preferences regarding sexual partners, while romantic orientation revolves around emotional and romantic connections.
For example, an individual may identify as gay (homosexual) in terms of their sexual orientation, meaning they are primarily attracted to people of the same gender sexually.
However, their romantic orientation may vary, such as being biromantic or homoromantic, indicating the gender(s) towards which they experience romantic attractions.
How to discover your romantic orientation
Discovering one's romantic orientation is an important aspect of self-discovery and understanding. It involves exploring one's feelings and attractions towards others in order to gain a deeper understanding of one's own desires and preferences.
Here are 4 key steps that can help in this journey:
1. Self-reflection
Take the time to reflect on your past and present experiences and feelings towards others. Consider the patterns and intensity of your romantic attractions. Ask yourself questions such as: Who have you felt strongly attracted to in the past?
What qualities or characteristics do you find appealing in potential romantic partners? Reflecting on these aspects can provide valuable insights into your romantic orientation.
2. Explore your emotions
Pay attention to the individuals who evoke strong emotional connections or romantic desires within you. Notice the people who make your heart flutter or with whom you feel a deep sense of emotional connection.
Exploring these emotions can help uncover the types of relationships that resonate with you on a romantic level.
3. Seek support
Engaging in conversations with trusted friends, support groups, or professionals who are knowledgeable about romantic orientation can be immensely helpful.
Sharing your thoughts and feelings with others who have gone through similar experiences or who can provide guidance and understanding can provide valuable perspectives and support throughout the process.
4. Be patient
Understanding your romantic orientation is a personal journey that may take time and self-discovery. Embrace the process and allow yourself to grow.
It's important to remember that there is no rush or pressure to label yourself. Take the time you need to explore your feelings and understand your romantic attractions at your own pace.
Why does understanding romantic orientation matter?
Understanding romantic orientation is incredibly important for various aspects of our lives. Let's delve into why it matters:
1. Promotes self-acceptance and self-love
First and foremost, understanding your romantic orientation promotes self-acceptance and self-love. When you discover and acknowledge your romantic orientation, you validate your own feelings and desires, which leads to a greater sense of self-acceptance.
Embracing who you are romantically attracted to allows you to build a positive relationship with yourself.
2. Forming meaningful relationships
Furthermore, knowing your romantic orientation plays a crucial role in forming meaningful relationships. By understanding your own romantic orientation, you can seek out individuals who align with your emotional and romantic desires.
This knowledge empowers you to connect with partners who share your values and are more likely to meet your relationship needs, fostering deeper and more fulfilling connections.
3. Promotes healthy communication
Effective communication is another significant benefit of understanding your romantic orientation. When you have a clear understanding of your own romantic orientation, you can confidently communicate your needs, boundaries, and expectations to potential partners.
This level of self-awareness promotes open and honest communication, allowing for healthier and more satisfying relationships.
4. Develop a support networks
Identifying your romantic orientation also opens doors to communities and support networks. By connecting with individuals who share similar experiences, you can find a sense of belonging and support.
These communities provide a safe space to share stories, seek advice, and form connections with people who understand and validate your experiences.
5. Promotes personal growth
Lastly, exploring and understanding your romantic orientation is an opportunity for personal growth. It allows you to gain a deeper understanding of yourself, leading to increased self-awareness and emotional well-being.
This journey of self-discovery and self-reflection can enhance your overall quality of life and contribute to personal development in various areas.
Understanding your romantic orientation holds immense significance. It promotes self-acceptance, facilitates the formation of meaningful relationships, enables effective communication, connects you with supportive communities, and contributes to personal growth.
Embracing and exploring your romantic orientation is a powerful step towards a more fulfilling and authentic life.
Discover the 6 unmistakable signs of being aromantic as we delve into what it means to lack romantic attraction. Watch now to understand yourself better:
Final thoughts
Romantic orientation goes beyond the realm of sexual attraction, focusing on the emotional and romantic connections we seek in relationships. By understanding different romantic orientations, we can embark on a journey of self-discovery, self-acceptance, and building meaningful connections with others.
Embrace the uniqueness of your romantic orientation, and remember that love knows no bounds.
Share this article on
Want to have a happier, healthier marriage?
If you feel disconnected or frustrated about the state of your marriage but want to avoid separation and/or divorce, the marriage.com course meant for married couples is an excellent resource to help you overcome the most challenging aspects of being married.
You May Also Like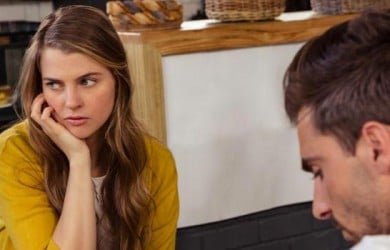 Popular Topics On Married Life