What is Relational Communication? Principals and Theory Explained
Man is a social animal, and since the ancient times has entangled into many relations as the capacity to form relations is something that comes as second nature to man.
Communication plays a key role in forming a relationship. It is a tool to strengthen relationship whenever a person requires love, satisfaction, and reassurance from the person he or she in relation with.
What is relational communication?
The relational communication definition talks about the process of communication involved in personal relationships, which may include friends, family, and a romantic partner. However, research on the subject of communication proves that it is referred to as a subset of interpersonal communication; a field which deals with the study of verbal and nonverbal communication in a personal relationship.
Relational communication examples
There are various examples which may illustrate the meaning of relational communication. For instance, the frown of your beloved has different meaning and influence rather than a frown of some stranger.
Similarly, the relationship of parents with their children that evolve over the period of time is also an example. Moreover, in the sense of disclosure, the sense of touch which ranges from affectionate to violent is also an example.
Principals of relational communication
There are five basic principles on which relational communication stands.
1. Relationship emerges based on interaction
Various authors suggest that relationship emerges, strengthens, or dissolves based on interaction i.e., by means of communication, which includes both verbal and nonverbal interactions.
2. The verbal or nonverbal message
This principal proposes that messages are always analyzed within the context of relationship. For example, a romantic stare from your partner decodes a different meaning than a continuous stare from some stranger at an empty footpath.
3. Communication is the key
Relational communication considers this as the most important principle as it lays the foundation on which a relationship stands and may flourish.
According to researchers, it is the primary focus in order to understand the verbal and nonverbal posture in an interpersonal relationship.
4. Communication is dynamic
As one can easily observe that as relationships change, so does the communication. In an interpersonal relationship, communication is a varying entity rather than a constant element.
For instance, the behavior of parents or their way of communication changes as their child grows older. This also can be more visibly demonstrated in a long-distance relationship.
5. Relational communication can follow a linear
There are two schools of thoughts over this factor of relational communication.
Relational communication follows a linear trajectory as one group of theorists believes i.e., it transcends from being formal to informal and forming an in-depth relationship.
However, other researchers believed a rather nonlinear path which may include ups and downs, misunderstanding, and contradictions.
Relational communication theory
There are numerous theories presented by various authors on relational communication to shed light on the importance of communication in a relationship. The basic theory presented by L. Edna Rogers and Richard V. Farace suggests that people make interpretation from messages which can be verbal or nonverbal. They can interpret them as an indicator of dominance versus submission, formal-informal interaction, orientation versus arousal, and a sense of affiliation or disaffiliation.
According to them, relational communication has these following themes
1. Dominance versus Submission
Relational communication theory suggests that both dominance and submission define how much a person can influence or be influenced in a relationship. They both have a verbal or nonverbal way of communication.
2. Intimacy
The level of intimacy depends upon the degree of communication as it has various dimensions from affection, trust to in-depth involvement. It can also be similar to dominance or submission can be expressive as well as nonverbal.
3. Chemistry
Chemistry is the degree of similarity between two or more than two persons.
This can be demonstrated by a number of ways. For instance, it can be shown by agreement with each other, common interest or common viewpoint, reciprocating disclosure, showing affection and fondness.
In nonverbal ways, it may include talking in a similar manner, dressing in a similar fashion, or picking a similar style of posture.
4. Emotional connectivity
This involves an emotional activity that affiliates with a person. In relational communication, this involves various emotions from love, anger, anxiety, distress, sadness, and also effective emotions which may strengthen relational communication such as a feeling of affection, excitement, and happiness.
5. Way of interaction
The way people interact while meeting clearly identifies their level of communication being in a relation. A formal and measured behavior reflects an overall tone of the absence of interpersonal communication.
6. Social composure in the presence of someone
This reflects how a person is socially comfortable or awkward while interacting publicly. This may include eye contact and usage of appropriate words on the right moments and speaking with fluency.
7. Orientation to a task or a social activity
According to relational communication theory, people are more task-oriented when they are more related emotionally rather than talking or doing things off the table.
Share this article on
Want to have a happier, healthier marriage?
If you feel disconnected or frustrated about the state of your marriage but want to avoid separation and/or divorce, the marriage.com course meant for married couples is an excellent resource to help you overcome the most challenging aspects of being married.
Learn More On This Topic
You May Also Like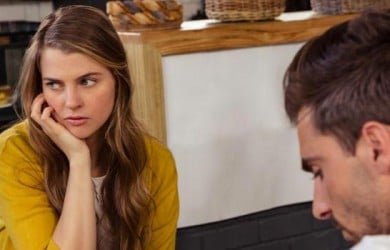 Popular Topics On Married Life