15 Possible Ways to Know if a Girl Wants to Hold Hands
We all may have been there – those moments when you're with someone special, and you wonder if she's thinking the same thing as you are: "Should we hold hands?" It's a simple gesture, but it can mean so much.
Holding hands is a sign of closeness, trust, and a budding connection. But how do you know if the girl wants to hold hands? The world of relationships can be like trying to solve a puzzle. Every glance, every touch, every word carries meaning.
There can be clear signs that she might be hinting at wanting to hold hands. From the way she places her hand near yours on the table to those fleeting touches when you both laugh, these signs can be your clues.
Understanding these signals can make your time together feel even more special. It's about more than just holding hands; it's about building a bond and taking steps closer to one another. So, before you make that move, let's learn these signs and help you feel more confident in your decision.
15 telltale signs the girl wants to hold hands
One of the most heartwarming gestures in any budding romance can be holding hands. But how can you be sure she's ready to take that step? Whether a girl wants to hold hands can be a mystery to many. However, that may not be the case anymore.
Here's a list to understand the signs a girl wants to hold hands and what they can potentially mean.
1. Observation is key
When you notice that a girl always wants to hold hands and is interested in you, it's more than just a casual gesture. It can be a sign that she feels a deep connection with you.
Whether you're taking a stroll in the park, watching a movie, or simply sitting side by side, her desire to intertwine fingers speaks volumes about her feelings. It's a silent yet powerful way of saying, "I cherish our bond."
2. Taking the lead
One age-old question might be, "Can a girl initiate holding hands?" In today's world, absolutely! Relationships have evolved, and it's not uncommon for women to make the first move. If she feels the moment is right, she might reach out, breaking traditional norms and showing confidence in her feelings.
3. Consistency matters
If you find that your girlfriend wants to hold hands all the time, it's a testament to her affection. She seeks reassurance and intimacy through her consistent desire for physical connection.
It's not just about the act of holding hands; it's about the comfort and security she feels when her hand is in yours.
4. Questioning the gesture
Have you ever pondered, "Does she want to hold hands?" The answer often lies in her body language. Subtle hints like leaving her hand open near yours or brushing her fingers against your palm can be telling signs.
These small gestures are her way of signaling a deeper desire for connection.
5. The direct approach
She might not always wait for the perfect moment when she wants to hold your hand. Sometimes, she'll take the direct approach, placing her hand confidently in yours or intertwining her fingers with yours. Such a bold move can be an indication of her affection and trust in the relationship.
6. Creating the desire
If you're wondering, "How to make a girl want to hold your hand," the answer often lies in emotional connection. Building trust, understanding, and genuine affection can naturally lead to such intimate moments. It's not just about the physical act but the emotional bond that precedes it.
7. Reading between the lines
The art of understanding "How to tell if a girl wants to hold hands" goes beyond mere physical cues. It's also about listening. If she often talks about the warmth of touch or reminisces about moments when she held hands in the past, she's subtly expressing her own desires.
8. Understanding the meaning
What does holding hands mean to a girl? For many, it's more than just a simple gesture. It symbolizes intimacy, trust, and a bond that's growing stronger. She shares part of her soul when she holds your hand, expressing that she values the relationship deeply.
9. From the other side
While we often focus on the girl's perspective, it's worth understanding: "Why do guys want to hold a girl's hand?"
Just like for girls, for guys, this gesture can be a sign of affection, a protective instinct, and a genuine desire to be close. It's a mutual feeling that strengthens the bond.
10. The emotional connect
Holding hands is more than just a physical act; it's a bridge between two souls. It's a silent yet profound way of saying, "I'm here with you, and I care." When she reaches out to hold your hand, she's expressing trust, affection, and a deep emotional connection.
11. Subtle touches
Those fleeting moments when she brushes her fingers against yours might seem accidental, but they often carry deeper intentions. These gentle touches are her way of testing the waters seeing how you respond.
It's a delicate dance of emotions, where she's hinting at a desire to be closer, waiting to see if you feel the same.
12. Lingering near
It can be a sign if she consistently keeps her hand conspicuously close to yours, especially on surfaces like tables or armrests. This proximity isn't just about physical closeness; it's an invitation. She's creating opportunities for your hands to meet, hoping for that intimate connection.
13. Mimicking movements
Have you ever noticed her hand movements mirroring yours? This subconscious act of mimicking is a psychological sign of connection and rapport. When she mirrors your hand movements, it's her mind's way of saying she's in sync with you, and holding hands might just be the next step.
From down-facing palm, one-finger hook, arms linked, relaxed lace to passive handhold, and more, watch this video to learn what holding hands reveals about your relationship.
14. Frequent eye contact
Her lingering glances, first into your hands and then into your eyes, are loaded with meaning. It's as if she's silently asking, "Is now the right time?"
Eye contact is one of the most powerful forms of non-verbal communication. It can be a clear hint when combined with attention to your hands.
15. Playful teasing
She drops hints if she playfully points out how well your hands would fit together or jokes about holding hands. This light-hearted teasing can be her way of introducing the idea, making it a topic of conversation, and gauging your reaction.
Commonly asked questions
We have a list of commonly asked questions to help you understand the subtle cues and gestures, primarily focusing on the delicate dance of hand-holding.
What are some other signs that a girl is interested in me?
Beyond the obvious sign that a girl wants to hold hands, there are numerous cues to watch for when a girl likes you. She might maintain prolonged eye contact, laugh at your jokes more often, or initiate conversations.
Her body language, such as leaning in when talking to you or frequently touching her face or hair can also indicate interest. Remember, genuine attention and time investment are strong indicators of her feelings.
Is it okay to hold hands with a girl on the first date?
Holding hands is a personal gesture, and its appropriateness varies. If you sense that the girl wants to hold hands and the moment feels right, it can be a beautiful way to connect.
However, always prioritize comfort. If there's any uncertainty, it might be best to wait for a clearer sign or a more intimate moment in the future.
What should I do if I'm unsure if a girl wants to hold hands?
If you're uncertain whether a girl wants to hold hands, it's always best to communicate. Open dialogue can clear misunderstandings and set boundaries. Alternatively, you can watch for more signs or create opportunities for natural touch, like guiding her through a crowd and gauging her reaction.
How can I make a girl feel comfortable holding hands?
To ensure a girl feels at ease when she wants to hold hands, prioritize building trust and emotional connection. Choose a relaxed environment, and ensure your hands are clean and warm. Gentle touches or caresses can also make the experience more comforting and intimate.
What if she doesn't want to hold hands?
If a girl doesn't want to hold hands, respecting her boundaries is essential. Everyone has their own comfort levels, which doesn't necessarily reflect her feelings toward you. Give her space, be understanding, and let the relationship progress at its own pace.
In a nutshell
Understanding when a girl wants to hold hands or gauge her comfort level with physical intimacy can be challenging. However, you can understand these moments gracefully with patience, communication, and empathy.
Always prioritize mutual comfort and remember that every individual and relationship is unique. Let connections unfold naturally, cherishing each step of the journey.
Share this article on
Want to have a happier, healthier marriage?
If you feel disconnected or frustrated about the state of your marriage but want to avoid separation and/or divorce, the marriage.com course meant for married couples is an excellent resource to help you overcome the most challenging aspects of being married.
You May Also Like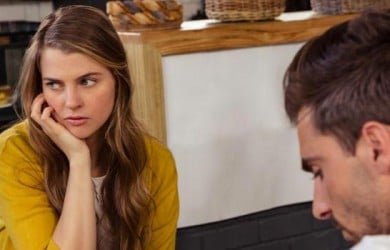 Popular Topics On Married Life