How to Identify Four Horsemen of Relationships & Ways to Avoid Them
Relationships can be tricky. Think of them like a car. If you don't take care of it, it can break down. There are four big problems, or "Four Horsemen of Relationships," that can cause a lot of damage to relationships.
They are like warning lights on a car's dashboard. These problems are constantly finding fault, treating partners with disrespect, always being on the defensive, and shutting down communication.
If we see these warning lights in our relationships, it's a sign that something's wrong. Just like with a car, if we ignore the warning lights, things can get worse. But if we pay attention and fix the problems, our relationships can run smoothly again. In this article, we'll look at these "Four Horsemen" closely.
We'll learn what they are, how to spot them, and how to avoid them to keep our relationships healthy and happy.
What are the four horsemen of relationships?
The four horsemen of relationships, a term popularized by Dr. John Gottman, refers to four negative communication patterns that can predict the end of a relationship. These patterns are so detrimental that they are likened to the apocalyptic Four Horsemen, signaling significant trouble if not addressed.
1. Criticism
This is the first of the four horsemen in the relationship. Criticism goes beyond just voicing a complaint or pointing out a specific issue. It's an attack on the partner's character or personality.
Instead of saying, "I wish you'd help more with the dishes," a critical partner might say, "You're so lazy and selfish."
2. Contempt
This is the most dangerous of the relationship's four horsemen. Contempt is expressed through sarcasm, cynicism, name-calling, eye-rolling, and sneering. It comes from a place of superiority and can make the other partner feel despised or worthless.
Contempt erodes the bond between partners and is a clear sign that the relationship is in deep trouble.
3. Defensiveness
When faced with criticism, it's natural to want to defend oneself. However, constant defensiveness, one of the four horsemen of communication, can prevent issues from being resolved.
It's a way of shifting blame and not taking responsibility for one's actions. For instance, in response to "Why didn't you pay the bills?" a defensive reply might be, "You know I've been busy. Why didn't you do it?"
4. Stonewalling
This is the last of the four horsemen in communication. Stonewalling occurs when one partner withdraws from the interaction, shuts down, and stops responding to their partner. It's a way of avoiding conflict, but it leaves the other partner feeling abandoned and invalidated.
Why are they so destructive?
The four horsemen of relationships, identified by the Gottman Institute, are like warning signs that a relationship is in trouble. They are destructive because they create negative patterns of communication. Criticism makes partners feel attacked, not loved.
Contempt makes someone feel looked down upon, hurting their self-worth. Defensiveness stops problems from being solved because partners blame each other instead of working together. Stonewalling shuts down communication, making partners feel alone.
The good news is that the Gottman Institute also offers "four horsemen antidotes" – solutions to fix these problems. By understanding and using these antidotes, couples can heal and strengthen their relationships.
How to identify and avoid the four horsemen
Relationships are complex, and maintaining a healthy one requires understanding potential pitfalls.
One of the most insightful frameworks comes from the Gottman Institute, which identified the Four Horsemen of Relationships. These are negative communication patterns that can damage a relationship. Here's how to identify and avoid them:
1. Criticism
Identify:

Instead of addressing a specific behavior, you or your partner attack each other's character or personality.

Avoid:

Focus on the specific issue at hand. Use "I" statements to express feelings without blaming, e.g., "I feel hurt when you forget our dates" instead of "You're always so careless."
2. Contempt
Identify:

Actions like eye-rolling, sarcasm, or name-calling that come from a place of superiority.

Avoid:

Build a culture of appreciation. Regularly express gratitude and admiration for each other.
3. Defensiveness
Identify:

Instead of accepting responsibility, you or your partner make excuses or blame the other.

Avoid:

Listen to your partner's concerns and take responsibility where it's due. Respond with understanding.
4. Stonewalling
Identify:

One partner shuts down, withdraws, and stops responding during disagreements.

Avoid:

If feeling overwhelmed, ask for a break and return to the conversation later. Ensure open communication channels.
How to repair damage caused by the Four Horsemen
When relationships are marred by the Gottman Institute's Four Horsemen, it's essential not to lose hope. Recognizing these negative patterns is the first step, but repairing the damage requires intentional effort. Here's a guide on how to mend the rifts caused by these destructive behaviors:
1. Criticism
Replace critical statements with constructive feedback

Apologize for past hurtful remarks

Express feelings without attacking character
2. Contempt
Express appreciation regularly

Reminisce about positive memories

Rekindle admiration for each other
3. Defensiveness
Practice active listening

Apologize when necessary

Seek solutions together instead of placing blame
4. Stonewalling
Commit to staying engaged in conversations

Take short breaks if feeling overwhelmed, then return to the discussion

Seek therapy or counseling to improve communication skills
The video explains silent treatment or the meaning of stonewalling that can be a form of infantile punishment in the relationship and emotional manipulation.
FAQs
The complexities of relationships can be challenging, especially when faced with the detrimental patterns identified as the Four Horsemen. Here are some frequently asked questions to guide you through understanding and addressing these issues.
How do we heal from a relationship that was damaged by the Four Horsemen?
Healing from a relationship affected by the four horsemen of relationships involves a multi-faceted approach. First, it's crucial to acknowledge and accept the presence of these negative patterns. Open communication is key: create a safe space where both partners can express feelings and concerns without fear of judgment.
Given the depth of issues the Four Horsemen can cause, seeking professional help is often beneficial. Couples therapy can provide tools and strategies to address the root causes and teach partners how to communicate more effectively.
How to find a therapist who specializes in couples therapy?
Finding a therapist who specializes in couples therapy can be a game-changer for relationships impacted by the four horsemen of relationships. Start by asking for recommendations from primary care doctors, friends, or family.
Online platforms like the American Association for Marriage and Family Therapy have directories of licensed therapists. When reaching out, ask potential therapists about their experience with couples therapy and their familiarity with the concepts of the Four Horsemen.
What are some books or articles that I can read to learn more about the Four Horsemen?
To go deeper into the concept of the four horsemen of the apocalypse relationship, consider reading Dr. John Gottman's "The Seven Principles for Making Marriage Work." This book provides a comprehensive look at the Four Horsemen and offers practical advice on how to fix contempt in a relationship, among other issues.
Additionally, the Gottman Institute's website offers numerous articles and resources on the topic. Another recommended read is "Hold Me Tight: Seven Conversations for a Lifetime of Love" by Dr. Sue Johnson, which provides insights into attachment and connection in relationships.
In a nutshell
Understanding and addressing the Four Horsemen of relationships is crucial for maintaining a healthy partnership.
By recognizing these patterns and seeking guidance, couples can rebuild trust, enhance communication, and foster a deeper, more resilient bond, ensuring their relationship thrives amidst challenges.
Share this article on
Want to have a happier, healthier marriage?
If you feel disconnected or frustrated about the state of your marriage but want to avoid separation and/or divorce, the marriage.com course meant for married couples is an excellent resource to help you overcome the most challenging aspects of being married.
You May Also Like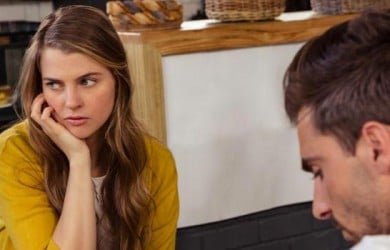 Popular Topics On Married Life