Comprehending the Estranged Wife and Her Rights
An estranged wife isn't your divorce or separated wife; she isn't your ex either. An estranged wife has all the right on you and your property just like an average wife has, as she is still married to you.
So what is an estranged wife?
She is your spouse, who has become a stranger to you. There are many conditions and factors that involve an estranged couple.
You might live in the same house but never talk to each other. You might live separately and not talk to each other.
In both of these conditions your estranged wife is still married to you, hence has all the rights a normal wife does. She can come and go into the matrimonial house as she pleases. By matrimonial house, it means the house a couple was married in to.
What does estranged wife mean according to official dictionaries?
Looking for estranged wife meaning? When asked to define estranged wife, estranged wife definition according to Merriam Webster was, "a wife who no longer lives with her husband."
According to Collins, "An estranged wife or husband is no longer living with their husband or wife."
According to the Cambridge Dictionary, "an estranged husband or wife is now not living with the person they are married to"
What is the difference between estranged and divorced?
Divorce has a legal status; it means the end of the marriage has been legalized by the court, and there are papers to prove it. The court has resolved all matters, and there is nothing pending related to custody of the kids, alimony, child support, inheritance or property distribution. Both of the spouses, when divorced, have a single status and can remarry any time.
Meanwhile, estranged has no legal status.
It simply means that the couple has separate and are now living as strangers. There is no communication whatsoever between them. But since they haven't been legally divorced, some matters still remain unsolved. Such as inheritance and estranged wife rights.
She has all the rights that a properly married loving wife does.
Estranged means that your wife is hostile towards you and she doesn't want to be on speaking terms with you, it's like being separated but more like being on non-speaking terms.
She might still be your current wife, but no more on talking terms or in love with you. When you are an estranged wife, you can't be an ex, because your legal status will still say married. Also, estranged couples aren't free to marry another person, unless they get a proper and official divorce from the court with all legal documents.
Estranged wife rights on inheritance
A spouse gets half of everything, including, property, shares, cash, and any other assets that have been accumulated in the course of the marriage.
Any gifts made to the will in the will are revoked when the divorce is filed, but that isn't the case within every state. So, always get your will updated if such a case is about to happen.
So what happens in case of an estranged wife? Well, legally she hasn't been divorced, which means she is still married. It doesn't matter to the court whether you are on speaking terms or not. So by law, half the inheritance goes to the wife, estranged or otherwise.
Since the US law makes it mandatory to leave an inheritance to one's wife, an estranged wife automatically gets the lion's share of your inheritance, though the laws of every state differ.
However, this is a general idea. Unless the husband has a will to prove that the couple hasn't been on speaking terms and was just married on paper for the sake of their kids or any other reason.
Inheritance can be tricky; to avoid confusion, it's better to have an updated will with lawyer all the time. This will save the family from any confusion as well as unnecessary arguments.
Estranged relationship vs. divorced
There are many reasons a couple would prefer an estranged relationship over divorced or being separated. The reason can be kids, disturbing the lives of the kids, or thinking about their mental health can be a huge reason.
Other prevailing reason can be the economic conditions. It's cheaper to be estranged than divorce, especially if there are joint loans and mortgage to think about.
If a couple isn't thinking about getting remarried and they have sorted their affairs regarding the will and inheritance, and then there shouldn't be an issue of having an estranged wife or husband. As far as the rights of an estranged wife are concerned, she has as much right as any other wife, because she is still legally married.
Being in an estranged relation, living as strangers but still married is a confusion state to be in. You aren't in love with the husband, but you are still his wife. Regardless of the reason, it's a sorry state to be in.
Share this article on
Want to have a happier, healthier marriage?
If you feel disconnected or frustrated about the state of your marriage but want to avoid separation and/or divorce, the marriage.com course meant for married couples is an excellent resource to help you overcome the most challenging aspects of being married.
More On This Topic
You May Also Like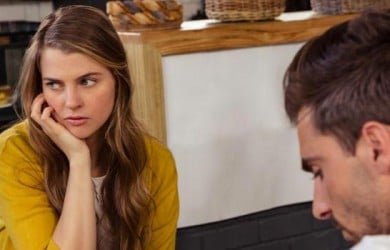 Popular Topics On Married Life