Startling Misconceptions About an Enmeshed Relationship
Too much of a good thing is bad. It is an old adage that applies to a lot of things, including love. An enmeshed relationship is when one person loves someone too much that it literally takes the life out of them.
At first glance, idealists and romantics would say that it's the only true way to fall in love. In a way, they are right, but in the practical sense of individual development and the golden mean, it sits in the extreme end of excess.
The lack of clear personal boundaries defines an enmeshed relationship.
Family members are supposed to love and empathize with each other. However, when personal boundaries no longer exist between them, it becomes an unhealthy enmeshed relationship.
What is an enmeshed relationship and why are there misconceptions about it?
Drawing a line between family love and enmeshed relationship
Here is a list of signs that you are in an enmeshed relationship according to Ross Rosenberg, a psychotherapist who specialized in relationships.
Your world revolves around one person. You neglect other relationships apart from that single one.

Your personal happiness and self-esteem are dependent on the happiness of one person. You feel whatever they feel.

You are not whole if there's a conflict with that person. You will sacrifice anything just to make things up.

You feel a strong sense of separation anxiety when your away from that person for a short time.
One of the biggest hurdles of an enmeshed relationship is that people who are suffering from the disorder are the last to realize it, and when they do, they will not find anything wrong with it.
It's very difficult to explain why it's wrong for anyone to love their family too much. But according to Rosenberg, the permeable boundaries people in enmeshed relationships make them lose their individuality and become slaves to the relationship.
There are also times when the dysfunction spills over outside the relationship and ruins other parts of their lives. In the end, one or both parties in an enmeshed relationship ends up losing everything for its sake.
Convincing people inside such a relationship that they are looking at a future of isolation and dysfunction, a lot of them would not care. People in such a relationship prioritize the welfare of their enmeshed relationship over the world. Since they are family, in a way, it makes logical sense.
Families do not see individual boundaries. In fact, a loving family should have very little. That is the plan of attack, use the same love that's smothering them and turn it around into a healthy relationship.
Removing the training wheels
All children learned to walk by letting go of their parent's hand. The happiness of both parent and child when the baby took their first steps is one of the most rewarding things in the world.
Psychologists such as Rosenberg, believe that codependency and enmeshment is a dysfunction because it hinders individual development. It does that by never letting go of the baby's hand, and they don't learn to walk on their own. The child will go through life biking on training wheels. It only looks like they know what they are doing, but it's far from the truth.
For example, in an enmeshed father daughter relationship, the doting parent will keep his daughter away from what he considers a threat. Growing up the daughter is sheltered and protected. She fails to develop the right interpersonal skills to interact with people and protect herself from the "threats." because her father does it for her.
Over time, the overprotection became her weakness. She just fails to recognize and avoid "threats" because she never learned how, or worse she subconsciously imagines the perfect man modeled after father and gets into an enmeshed romantic relationship herself.
A lot of young adults today complain that schools don't teach adulting. Adulting is a modern term meaning practical and common sense knowledge to survive in the real world. It's a direct result of too much hand-holding. These people forget that, if you can read, type, and Google, you can learn anything. School or no school.
Stepping into an enmeshed landmine
Enmeshed relationships are everywhere. So it's possible to meet and care someone who is in one. For example, marrying into an enmeshed family. At first, even while you're still dating, you may find it cute that your lover is close to their family.
Eventually, it starts to annoy you. You start to notice the effects of Rosenberg's first symptom regarding neglect. It piles up making you feel like you're the third wheel in an already existing relationship.
You will find yourself in a moral dilemma of selfishly wanting to break a wedge between your partner and their family. The misconceptions are all rooted in this predicament. It would appear that in the options available, the worse one is making your partner choose between their family and you.
There are lots of emotional blackmail involved in enmeshed relationships. It is why sometimes when one party wants to spread their wings, someone reels them back into it.
Here is a list of what can go through your mind.
Since it's been like this forever, there is little risk of consequences.

There is nothing inappropriate going on, It's normal for families to be close, some more than others.

Your current relationship is in a different league than their family, but over time it will improve and reach that level.

Enmeshed family members are only interested in the well being of the individuals and the family as a whole, there are no underlying malicious motives.

It is wrong to fix an enmeshed relationship. It is only a form of love.
Any rational person will come with one or a few of these conclusions. They will try to quiet the voice in their head that something is wrong by convincing themselves they are only overreacting. Any action on their part will only lead to uninvited conflict.
In an enmeshed relationship, it's one of those times when your intuition is correct. Your logical conclusions are all generalized misconceptions. You will find out sooner or later what you already know but refuse to accept.
Share this article on
Want to have a happier, healthier marriage?
If you feel disconnected or frustrated about the state of your marriage but want to avoid separation and/or divorce, the marriage.com course meant for married couples is an excellent resource to help you overcome the most challenging aspects of being married.
More On This Topic
You May Also Like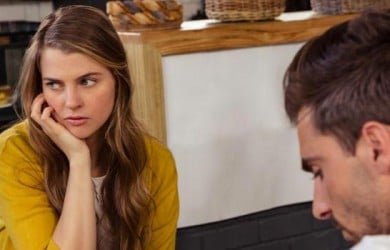 Popular Topics On Married Life